A few days ago I was lucky enough to capture Jupiter's triple moon transit right from my driveway in Denver.
Read more…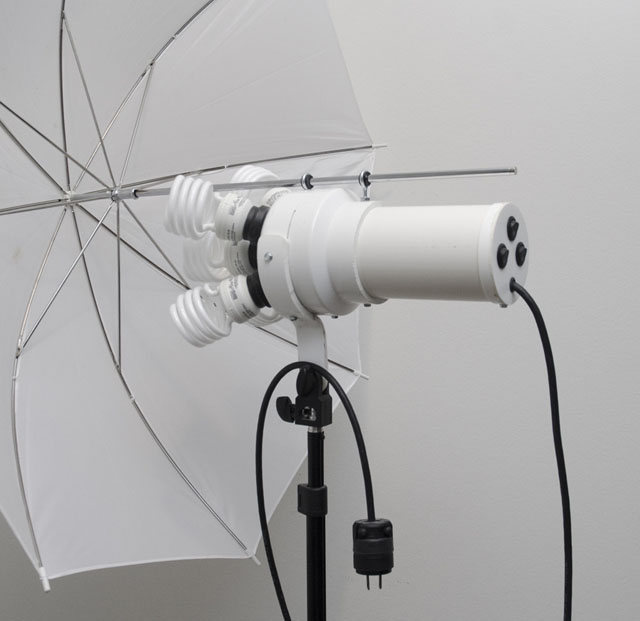 I recently made myself a DIY Spider Light as a thrifty alternative to the Spiderlite that costs hundreds of dollars. The entire project ended up costing $40 per light and can be built entirely with parts from a local home improvement store.
It turned out pretty well I think, with the added benefit of being bulletproof — you can stand on the body without breaking it.
Read more…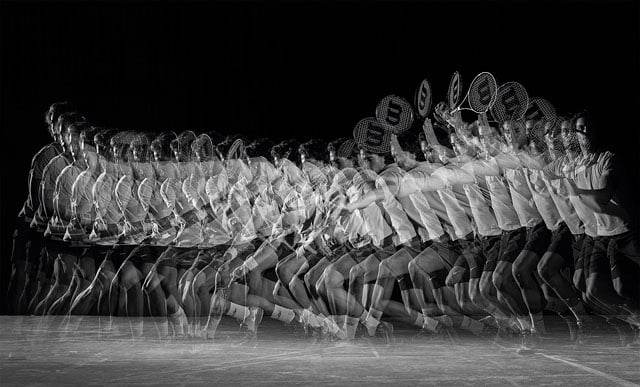 For a series of photos titled "Chronophoto," photographer Jean-Yves Lemoigne paid tribute to old strobe photography camera tests with his own series of images that explore the movements of tennis players.
Read more…
Yesterday's front page of the New York Times featured a story about the snow that has been falling on the Northeastern United States. Accompanying the article and dominating a large portion of the page were 9 Instagram photos of the snow as snapped by Times readers.
Poytner points out that this appears to have been the first time the New York Times published audience-submitted photographs on the front page of its printed newspaper.
Read more…
If you want to see the mechanics of how a modern DSLR shutter works, one way to do so is through slow-motion captured with a high-speed camera. That's what Gavin Free of The Slow Mo Guys recently did by pointing a Phantom Flex at his Canon 7D and capturing what goes on inside the mirror box during exposures of various shutter speeds.
By slowing down the movements after shooting at up to 10,000 frames per second, we get to see exactly what goes on in the camera in the blink of an eye.
Read more…
"Photographs" is a touching 6-minute-long animated short film about an elderly woman who comes across an old (but working) Polaroid camera. She begins snapping instant photo selfies and uses those images to relive her younger days.
The film was created back in 2010 as an undergraduate animation thesis project by animators Brendan Clogher and Christina Manrique while they were studying at Loyola Marymount University in Los Angeles.
(via DigitalRev)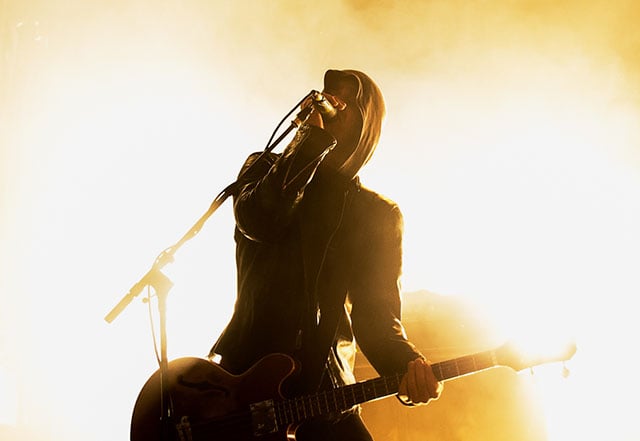 I was a month and a half into the photography program at the Art Institute of Colorado in Denver when I decided to skip school for a day for a concert. I had a ticket to see Mumford & Sons playing in Laramie, Wyoming, before they hit Red Rocks in Colorado.
At the time, I was already contemplating dropping out of school, due to feeling that I would never be good enough to make it in the photography world, and would just be wasting time and money.
Read more…
Earlier this month, we shared some sample photos showing how Lytro's Illum light field camera performed in capturing the NFC Championship game. Here's another look at the camera with a very different subject matter: wedding photographs.
Read more…
Self promotion has been one of the most difficult things for me to overcome as a photographer. I constantly ask myself "Who cares?", "Is this relevant?", and "Do I sound like a douche bag?". I've decided to get over myself this year and just put the work out there and let the chips fall as they may.
To that end, I started this year with a new promotional piece that focuses exclusively on my sports and fitness work. Here is a look at my simple new promotional material.
Read more…
GoPro is planning to release some firmware updates in February 2015 that will add new features to its HERO4 Black and Silver cameras. One of them in particular is 240FPS recording at 720p in the HERO4 Black, allowing the camera to shoot high definition and slow motion at the same time.
Brent Rose over at Gizmodo got his hands on the firmware update for an advanced look, and shot the sample video above at the 2015 Winter X Games. The footage was captured at 240fps and then played back at 24fps.
Read more…