16 Best Gifts for Photographers in 2023
Need to buy a gift for a photographer in your life but have no idea what to look for? We have scoured the world of photography to put together this list of best gifts for photographers you can find right now.

The gifts below cover a wide range of budgets and are ordered by price from lowest to highest.
At a Glance
1. A Camera-Shaped Multi-Tool
Kikkerland's Camera Multi-Tool is a clever little product that contains 13 different functions in a single easy-to-carry product. It has a blade, flat head, Phillips screw driver, two wrenches, a saw blade, a prybar nail puller, direction auxiliary, bottle opener, butterfly screw wrench, ruler, Sunny 16 rule guide, and keyhole. The camera-shaped product is made of stainless steel and measures 3×1.26×0.08in (7.6×3.2×0.2cm).
Available for $5.50 from Kikkerland.
---
2. Photographers Keychain Multi-Tool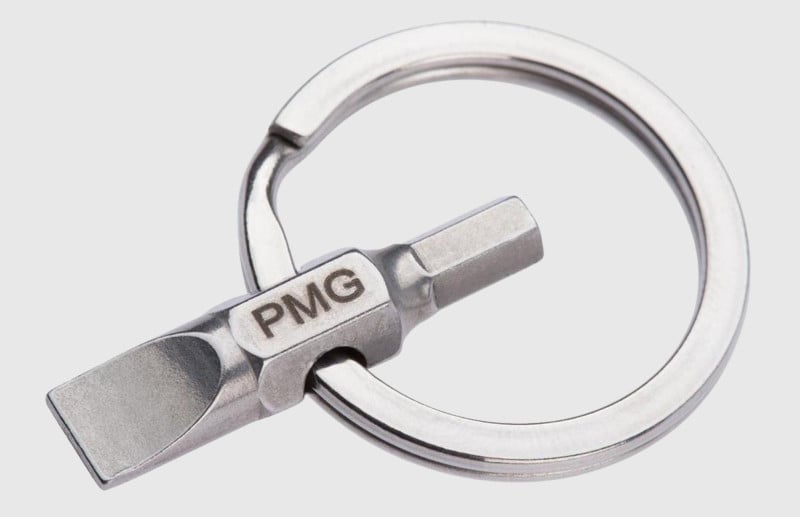 This multi-tool by ProMediaGear features a flathead screwdriver on one end and a 5/32 (4mm) hex key (AKA Allen wrench) on the other, which are both often used for things like adjusting tripods or mounting cameras. Best of all, it sits on a keychain so that it's always available whenever the photographer needs it.
Available for $10 from Adorama.
---
3. Custom Film Roll Keychain
Gift some of your favorite photos in the form of a customized film roll keychain that looks like a roll of 36-exposure ISO 200 Kodak film. You can choose 10, 15, and 20 photo sizes, and the recipient can enjoy looking through each of the photos one-by-one as the film strip is pulled out of the canister. A personal message is chosen for the tab at the beginning of the strip as well.
Available for $12 from Amazon.
4. Camera Bangle Bracelet
Share your love of photography on your sleeve with these Camera Bangle bracelets by Luca + Danni. Available in brass or silver, each bracelet is handmade in the USA and features a camera charm accented with a crystal as the lens. The bracelets have hook and catch closures and are oval in shape with regular, petite, and large sizing options.
Available for $13 from Amazon
---
5. Say Cheese Retro Camera Socks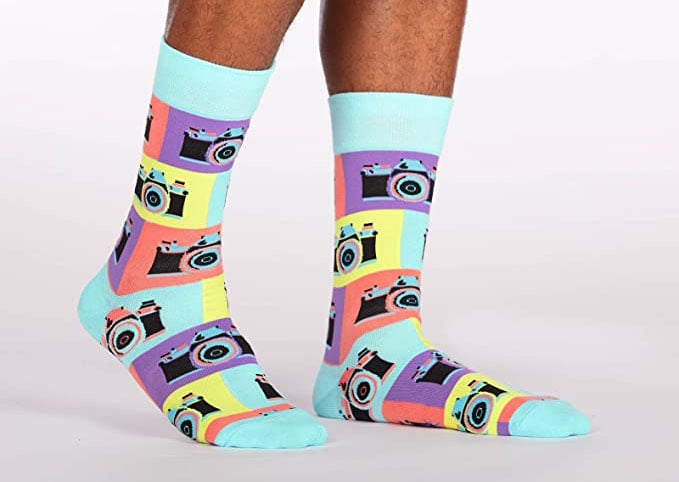 Know someone with a love for photography and an eccentric fashion sense? These bright and eye-catching crew socks feature a Warhol-esque pattern of vintage cameras.
Available for $14 from Amazon.
---
6. Vintage and Digital Camera Ornaments
These resin camera ornaments are the perfect way to add a photography theme to your Christmas tree or holiday decor. The set comes with a vintage silver camera in a brown case and a black digital camera.
Available for $14 from Amazon.
---
7. Haida Anti-Fog Belt
For photographers who regularly shoot in cold environments, the Haida Anti-Fog Belt attaches to a lens with hook-and-loop fasteners and is powered by USB. It warms up the lens in order to prevent it from fogging up at lower temperatures.
Available for $20 from Haida and Amazon.
---
8. Photography Gloves
These special gloves have thumb and index finger caps that easily flip back, freeing the wearer's fingers to operate the smaller buttons, touchscreens, and other controls on a camera. The rest of the hand is protected by neoprene breathable and windproof fabric lined with plush fleece for warmth, perfect for shooting in the winter and in cold environments.
Available for $22 from Amazon.
---
9. Peak Design Anchor Links
Photographers can be picky about camera straps, but Peak Design's Anchor Links are a universal upgrade for pretty much any camera neck strap on the market. They attach to the ends to give the strap quick-release capability — click the Anchors into the housings when you want the strap attached, then pop them out to instantly detach it.
Available for $24 from Adorama.
---
10. Camera Pendant Necklace
This small camera pendant sits alongside a tag that says "Keep Good Memories." It comes with a quote card that reads: "Life is like a camera. FOCUS on what is important. CAPTURE the good times. DEVELOP from the negatives. And if things don't work out, take another SHOT." The pendant itself is made of pewter and the ~17-inch chain is made of stainless steel.
Available for $25 from Amazon.
---
11. Photography Cheat Sheet Playing Cards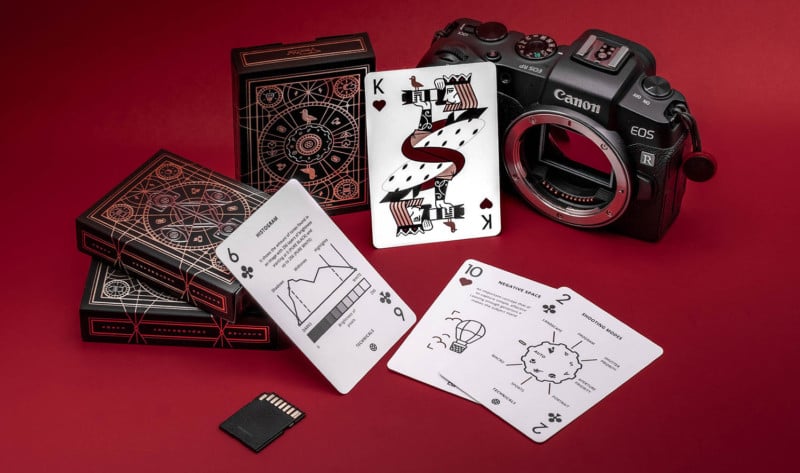 Travel9to5's Photography Playing Cards could be both fun and useful to someone just starting out in photography. Each numbered card features a tip, trick, or setting that educates on some of the most important rules and techniques used by photographers. Spades feature camera basics, hearts are about composition, clubs pack technical information, and diamonds discuss shooting styles.
Available for $25 from Travel9to5.
---
12. Custom View-Master-style Photo Reels
If you grew up looking at photos through a View-Master, you know the magic of stereoscope reel viewers. You can gift this joy to someone by turning your own photos into a custom reel. 7 photos fit on each reel and come with a red, blue, black, or white stereoscope viewer to enjoy it.
Available for $30 from Uncommon Goods.
---
13. 35mm Pint Glass
These drinking glasses have real 35mm film canisters permanently embedded in them. Each glass is made by hand and is perfect for drinking everything from beer to water to smoothies.
Available for $35 from Photogenic Supply Co.
---
14. Scented Candles
Want some photography-inspired fragrances to fill your living or work space? Check out these scented candles designed for photography lovers. Each premium soy wax candle is poured by hand in Philadelphia, PA, and has roughly 70 hours of burn time. Blue Hour is for kickstarting your creative juices, Golden Hour is for enjoying the end of a day, and Midnight is for calming the mind. Individual candles are $36, but you can pick up the full set of 3 for $100.
Available for $36 from Photogenic Supply Co.
---
15. Haukland 7in1 Photography Jacket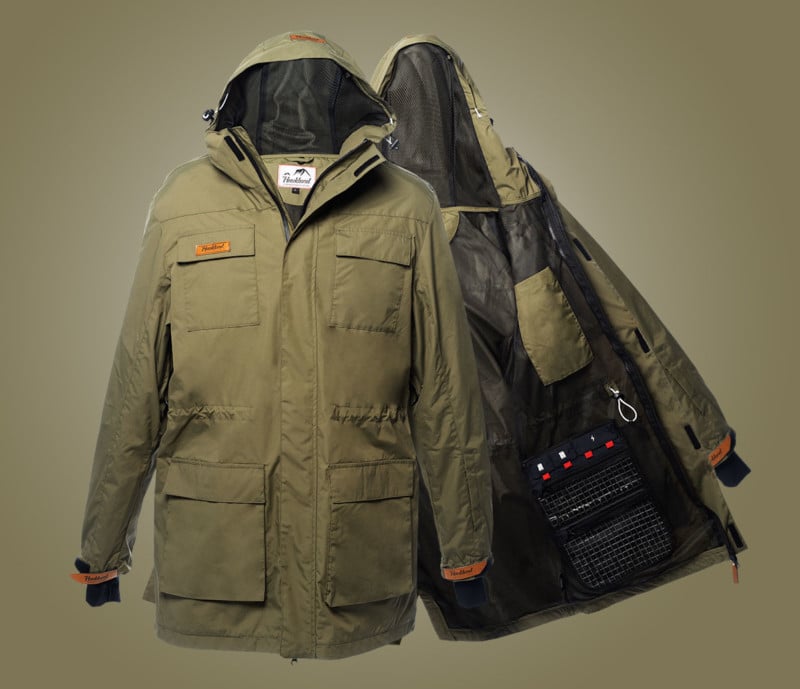 The price tag may not seem cheap, but Haukland's stylish 7in1 Photography Jacket is actually a fantastic deal given that it's designed specifically for photographers and the fact that it's a fleece, raincoat, and winter coat all bundled into package. The jacket is windproof and rainproof while staying breathable, and it features 27 different pockets for keeping all the gear, accessories, and knickknacks you may want to bring with you on an outdoor shoot. Photography features include a built-in lens cleaning cloth and dedicated storage for batteries and memory cards.
Available for $349 from Haukland.
---
16. The TACS ATL Wristwatch
The ATL watch by TACS features a design inspired by the iconic twin-lens reflex (TLR) camera. The 46.5mm watch face has a bezel that looks like a focusing ring, index markings that look like a depth of field scale, a crown that looks like a focusing knob, a crown protector that looks like a camera strap eyelet slot, and much more. Inside the automatic watch is a CITIZEN MIYOTA 8N24 movement with 21 jewels.
Available for $465 from TACS.
---
We hope you enjoyed these gift ideas for photographers.
PetaPixel will continually add gift suggestions to this list as they surface. If you know of a product that deserves a spot, please get in touch!
---
Image credits: Header illustrations from Depositphotos