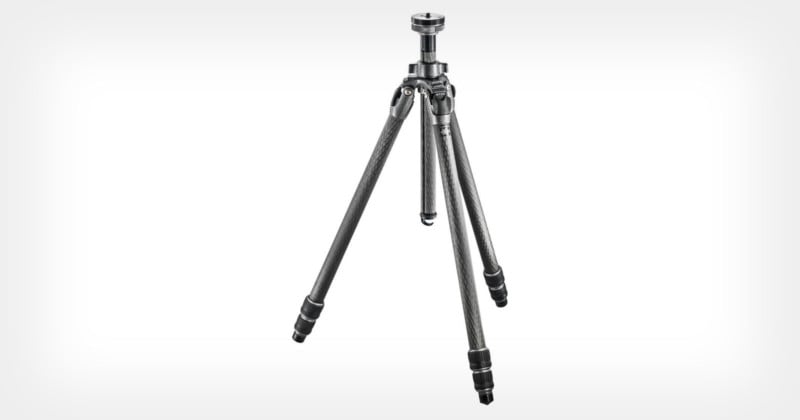 You've probably heard it before: a great tripod is one of the most valuable investments you can make as a photographer. Conversely, one of the worst investments you can make is buying a mediocre or straight-up bad tripod.

If you skimp on the support, you might as well tack on the cost of those useless legs to the price you tried to avoid paying for one that does its job. Not to mention the headaches you'll experience as you wonder why your photographs haven't improved.
The best tripods can last decades and withstand rain, snow, mud, sandstorms, and just about everything else. Because of this, they are perhaps the absolute best investment you can make as far as gear. Spend a little more, save a lot, in this case.
Unfortunately, it is very difficult to choose one amidst the sea of hundreds of different models and brands. So, to help guide you in the right direction, we have compiled a list of the best tripods on the market, broken down into eight different categories.
At a Glance
The Best All-Around Tripod: Gitzo Mountaineer GT2532 Series 2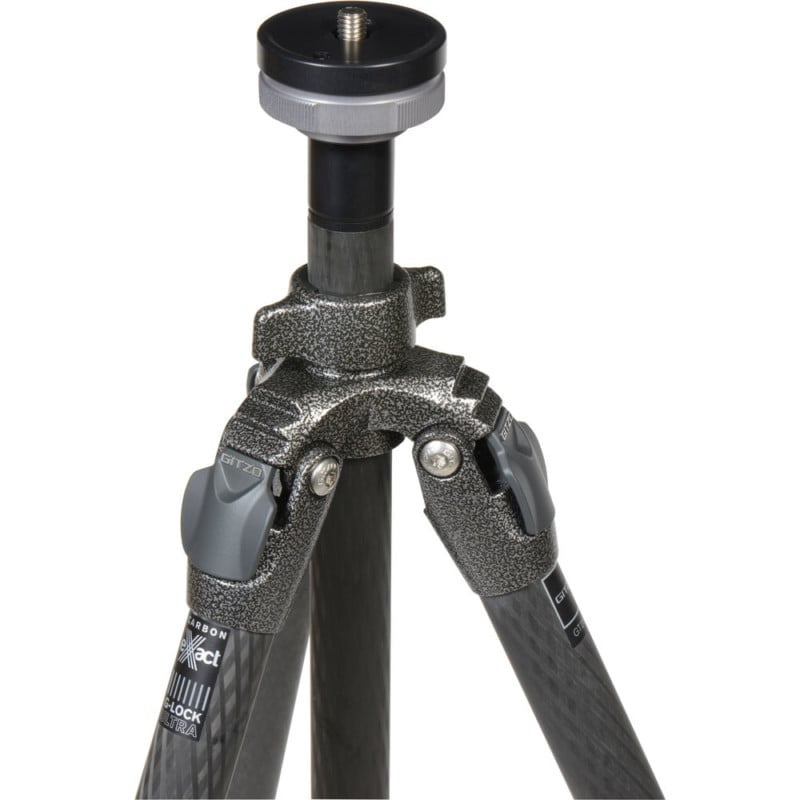 I won't mince words: Gitzo tripods epitomize quality and craftsmanship. I have yet to be disappointed or even underwhelmed by any Gitzo tripod. Their attention to fine details, extraordinarily build quality, and unique features make their products among the best in the world.
Maybe the nicest feature of the Gitzo Mountaineer GT2532 Series 2 — beyond its overall build quality and compact, lightweight design — is Gitzo's G-lock system which is hands down the best leg-locking system I have used. They look like simple twist locks, but you can lock/unlock all legs at once, or lock/unlock one section without the other sections being locked. On other tripods, this would cause the leg to spin endlessly unless you locked the other sections first. This G-lock system is true not just for the Mountaineer series, but also for their Traveler and Systematic models.
My only complaint is that, for a tripod at this price, they do not come with a center column hook. You have to shell out an extra $30 for the Gitzo D104214 accessory hook, which screws into the bottom of the column.
The Best Tripod for Travel: Peak Design Carbon Fiber Travel Tripod
First released to the world via a Kickstarter campaign that ultimately raised over $12 million, the Peak Design Carbon Fiber Travel Tripod has received a lot of attention over the years — there might be more reviews for this across the Internet than any other specific tripod model. But there are some very valid reasons for the hoopla.
This tripod doesn't reinvent the wheel — at its core, it is an extremely well-made, incredibly sturdy carbon fiber tripod, just as many others are. Where the Peak Design sets itself apart is with several very cool and highly unique features.
For example: Peak Designs supplies a high-quality soft carrying case (with a nifty multi-tool in one of its pockets), a fold-out smartphone mount hidden within the center column, and the ability to tighten the legs' lever locks — a feature I have never seen in a tripod like this.
Most notably, however, is the tripod's integrated ball head boasting a very bizarre design. Most of the time I am averse to tripods that are bundled with a head — to be frank, they are usually garbage, and almost nothing out there lives up to the world-class Arca Swiss p0 as far as I'm concerned.
When I said integrated, I meant fully integrated — the ball head is actually part of the center column. If you too prefer to use a head of your choice, fear not: the integrated ball head is easy to remove and can be replaced with a Universal Head Adapter.
However, after using the Peak Design for the better part of one cold Minnesota day, I must admit: the ball head is phenomenal and on par with the Arca Swiss p0 in most respects. Actually, it has a very similar design that I haven't seen outside of these two. Instead of locking down via a knob on the side, both the p0 and the Peak Design use a knurled ring around the base of the clamp. This allows you to adjust the camera into position with both hands and then lock it without ever letting go to reach for an external knob. In practice, it is extremely fluid and most importantly, it makes steady, precise framing significantly easier.
The only niggle with the head is that it has no independent panning function. So, if you intend to do panoramic work, pick up the Arca Swiss p0 (you can thank me later) and attach it with the adapter.
If I could go back in time and tell myself to get this tripod instead of a Gitzo Traveler, I would. I love Gitzo to death, but this tripod is a masterpiece of design.
The Best Heavy-Duty Tripod: Gitzo GT5543LS Systematic Series 5
There isn't a whole lot to say here that wasn't covered above regarding the Mountaineer — Gitzo's proprietary features and exceptional build quality all remain the same.
The Gitzo Systematics are more tripod than almost anyone could ever need. The rated load capacity is 88 pounds — I struggle to imagine what kind of system would be too much for this thing. You could probably use it as a barstool if you were short on seats.
The biggest disadvantage of the Gitzo GT5543LS Systematic Series 5 is, of course, the price tag. At over $1,000, this is a tripod that is overkill for most photographers. Not to mention, if you work largely in the field or travel a lot, you'd almost definitely be better served by a Gitzo Mountaineer or Traveler. But those who need rock-solid stability will be hard-pressed to find a superior alternative.
If you need the best, here it is.
The Best Tripod for Macro: Manfrotto MT055CXPro4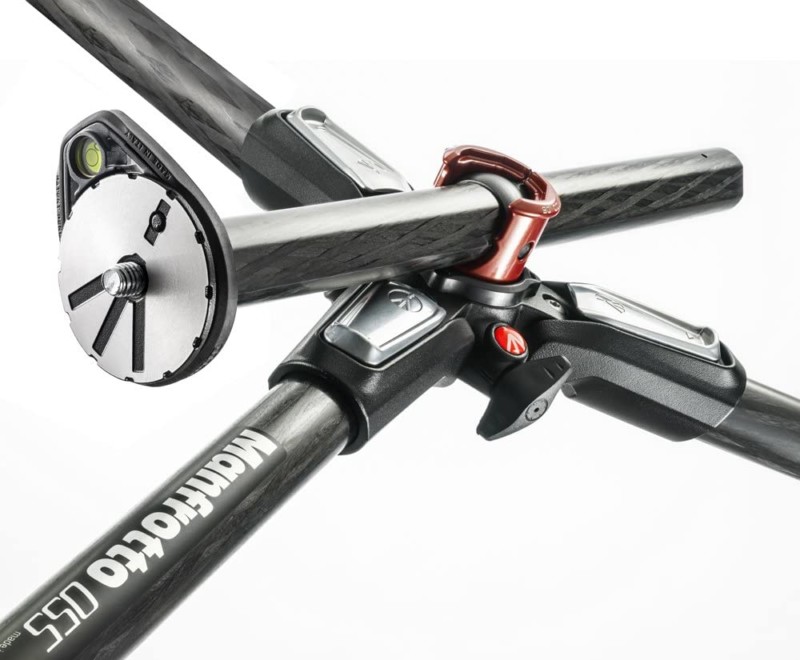 At a more mid-level price range, the Manfrotto MT055CXPro4 is a very good all-around tripod for both studio and location work. It doesn't fold up particularly small (21.3") nor is it particularly light-weight (4.6 lbs.), but it's a great compromise between portability and stability, along with several nice features that make it useful for a lot of studio work.
The chief feature is its Q90 center column that can be rotated on its side by 90 degrees, which is an excellent feature for overhead product or macro photography. The Q90 column can also be helpful in other ways: it has been quite useful for placing lights overhead or at an angle several times for me.
This Q90 column, combined with the tripod's admirably low minimum height of just 3.5 inches, makes it an excellent choice for low-angle shots and macro photography. You can pretty much orient your camera to suit any situation with this thing. Oh, it also has a bull's eye bubble level that rotates 360 degrees — you can access it from virtually any position.
Manfrotto is perhaps the most well-known name in the industry for tripods. And with this one, they have created a tripod that is incredibly solid and extremely versatile at a reasonable price. Features like the Q90 center column and very low minimum height make it a superb choice for macro work.
The tripod comes with a paltry 6-month warranty. However, this is extendable to 10 years with product registration. For better or worse, this extra step is commonplace across almost all manufacturers, so make sure to register within the specified time frame because a 10-year warranty is quite a deal.
The Best Tripod Under $200: Benro TMA28A Series 2 Mach3
I always prefer to recommend carbon fiber tripods for stills photography — they are significantly more efficient at dispersing oscillations (vibration damping) and settles much quicker than aluminum. It is also lighter in weight and has higher tensile strength, though I consider these to be secondary considerations since the primary purpose of a tripod is to eliminate camera shake.
However, at the same time, I would prefer to recommend a very high-quality aluminum tripod over a decent or mediocre carbon fiber tripod. Otherwise, as was said at the beginning, you will be back to square one and looking for a new one sooner than would be ideal.
In the sub-$200 budget arena, the Benro TMA28A Series 2 Mach3 takes the crown. Coming in at $165.95, it offers all of the most important features one looks for in a tripod. With a rated load capacity of 30.9 pounds, you can be confident using just about any DSLR or mirrorless system — keep in mind, the quality of your tripod head often matters a lot more when it comes to heavy-weight setups.
The Benro extends to a respectable maximum height of 61.2 inches, and the center column can be replaced with a short column (included with the tripod) to get down as low as 12.4 inches.
If you unscrew one of the legs and attach it to the center column, you can have yourself a monopod. The feet of the tripod can be replaced with metal spikes for use on surfaces like ice, snow, grass, dirt, or carpet. And the center column includes a hook should you want to attach counterweights for enhanced stabilization.
The tripod comes with a 3-year limited warranty, which is extendable to 5-years with registration. Not a bad deal for a $165 tripod!
The Best Special Use Tripod: JOBY GorillaPod
The JOBY GorillaPods are unusual and not exactly the first thing you should reach for if you are looking for your first tripod. I bought one on sale out of curiosity and the fact that I wanted a small tripod for my iPhone — I was surprised how versatile these things are.
There are five different versions that you can choose from based on your own needs — all of them are the same in terms of basic design, but they differ in their size, length, and weight capacity. Available, from smallest to largest, are the GorillaPod 325, 500, 1K, 3K, and 5K. The numbers correspond to their rated load capacity in grams. The 325 weighs a mere 2.2 ounces and is 6.7 inches in length. The longest, the GorillaPod 5K, weighs just over one pound and measures 15.2 inches in height.
The 1K, 3K, and 5K are available with or without a ball head (Arca Swiss compatible) — personally, I added my own ball head (Benro IN00). The 325 and 500 models have a ball head built-in — given their diminutive size, there was not much of an option.
These tripods are useful for so many different things and I guarantee I have only considered a fraction of their potential uses. Naturally, they make excellent table-top tripods or if you need to position your camera very close to the ground. I have used the 5K with a Nikon Z7 and 24-70mm lens without any problems (rated load capacity is 11 pounds).
The headlining feature is the legs of the GorillaPods — they're flexible, so you can bend and twist them in any direction. This allows the tripod to conform to uneven surfaces and even wrap around posts, polls, fence railing, and so on. Recently, I used mine to wrap around the branch of a tree while fitted with a Blackmagic Pocket 6K — this allowed us to get a perfect angle downward without the need to use heavy and cumbersome equipment.
The possibilities are essentially endless and with the 5K version clocking in at just over $100, there are a lot of reasons you should consider one for your kit. It won't replace a regular tripod, nor will it be appropriate most of the time, but in those situations where it excels, you'll probably fall in love.
The Best Tripod System for Video Under $2,000: Sachtler Ace XL with flowtech 75
Sachtler is one of the most revered names in the film and video industry when it comes to top-of-the-line support — their tripods and fluid heads are regularly considered among the best options on the market, especially for those who don't have eight grand to shell out for a Miller or Cartoni system. The company has perpetually been at the forefront of tripod technology and in partnership with Vinten, they launched the highly venerated Sachtler Ace XL with flowtech 75 tripod in 2017.
I have used the Sachtler flowtech tripods several times and I cannot dispute their claims — the implementation of a single release lever for each leg was an earth-shattering experience for me. With a vast majority of tripods, each section of each leg has its own lock — this means you must unlock, extend the section, lock, and then move on to the next section. Rinse and repeat for the other two legs. It is honestly one of my least favorite things to do as a DP.
Sachtler's flowtech uses a single lever at the top to lock/unlock the sections of each leg. Thanks to their precision engineering, the legs will smoothly extend themselves once you unlock them — no need to fiddle around and do it yourself.
Furthermore, by borrowing a common design from stills tripods, the flowtech can achieve a minimum height of just 10 inches without the mid-level spreader. All you need to do is slide a hinge locking mechanism to switch the legs into a three-stop position. If you're like me and hate messing with mid or ground-level spreaders, this is a godsend. The best part? Even without the spreader, the entire setup is rock solid.
There are other nice touches — like magnets that hold the collapsed and folded legs together so that they don't separate while you're carrying them. Gone are the days of elastic cords to prevent such irritants.
All in all, if you want the best there is to offer as far as a cinema-level tripod paired with an amazing fluid head — and don't want to shell out more than $2,000, these are the ones to get.
It's worth noting that if you want to purchase the flowtech 75 tripod legs themselves without the Ace XL head, you can do — they're sold under the name Vinten Flowtech 75 Carbon Fiber Tripod. You can save some money this way if you want to choose your own fluid head or already have one.
The Best Budget Tripod for Video: Benro A373T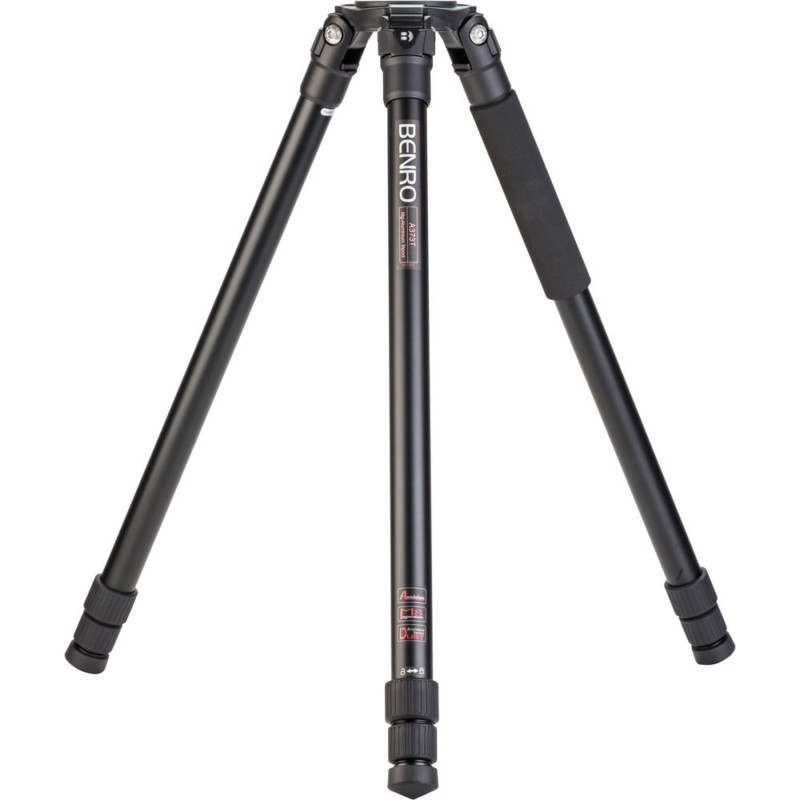 I purchased a Benro A373T in a pinch when I needed a second tripod for a B-cam and didn't want to spend a ton of money. I was blown away when I used it — build quality, rigidity, sturdiness, and ease of use were all far beyond what I anticipated. It has a rated load capacity of up to 55 pounds and I have no reason to disbelieve it. It was more than enough for an Arri Alexa Classic (15 pounds) fitted with an Angeniuex cinema zoom lens, plus the litany of necessary accessories.
I have simply never seen this level of quality in a roughly $200 tripod. This could easily cost $500, and I wouldn't feel ripped off.
It is a 75mm bowl design, however, if you have a flat-base head as I did, you can purchase a half-ball adapter for about $50 — I purchased the Benro BL75. There is also a 100mm bowl version (Benro A474T) should you need that.
While the one recommended here is aluminum, there is also a carbon fiber version (Benro C373T) for a little over twice the price. Carbon fiber is less important to me for video work than it is for photography, so I went with the aluminum — but both options are there for you (and if money were no object, I would always go for carbon fiber, but unfortunately it is an object for me).