Keliy Anderson-Staley is an assistant professor of photography at the University of Houston. Her work has been exhibited at the National Portrait Gallery of the Smithsonian, the California Museum of Photography and the Portland Museum of Art, and is currently on view at the Houston Center for Photography.
Her book of portraits, On a Wet Bough, is forthcoming from Waltz Books. She is represented by Catherine Edelman Gallery. Read more…
We've introduced you to best friends CJ Kale and Nick Selway before, back in 2012 when we first shared the beautiful photography they created for their gallery "Lava Light Galleries." But today, you get to go into the water with them while they tell you about capturing amazing shots while, at times, swimming in 110°F water. Read more…
This piece originally appeared in PhotoShelter's guide Building Your Outdoor & Adventure Photography Business – for the full article download the guide here.
Elizabeth Krist, Senior Photo Editor at National Geographic, and the rest of the Nat Geo team seek photographers who have an eye for composing striking and electrifying images. But perhaps even more importantly, they want photographers who have a real curiosity about the world around them — those who aren't afraid to delve into the intellectual and research aspects of an assignment.
To give photographers a better sense of what goes on behind the scenes at National Geographic, Elizabeth provided some insight into what type of work the magazine commissions, how photographers can pitch Nat Geo, and what you can do to get noticed. Read more…
When an alpinist wants to climb the deadliest route in the Himalayas and needs someone to document it, he calls the extreme photographer. When a world class skier tackles an exposed, committed descent in the French Alps, she calls the extreme photographer.

These days, the man who often gets that call is a friend of mine, Jimmy Chin. [...] I reached out to Jimmy recently asking him to share a little more with us about what makes him tick.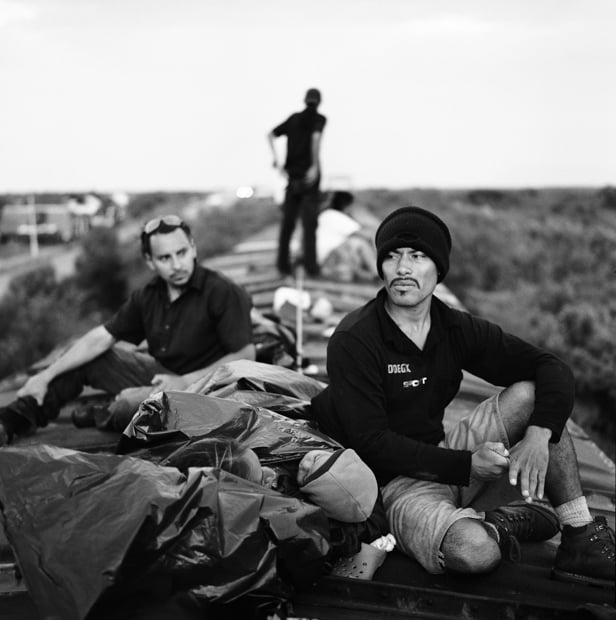 Born in Jerusalem, Israel, Michelle Frankfurter is a documentary photographer from Takoma Park, MD. Before settling in the Washington, DC area, Frankfurter spent three years living in Nicaragua where she worked as a stringer for the British news agency, Reuters and with the human rights organization Witness For Peace documenting the effects of the contra war on civilians.
Since 2000, Frankfurter has concentrated on the border region between the United States and Mexico, and on themes of migration. Read more…
During my first year of college, I told my teacher that I used clip art. He replied, "We don't use clip art, we make clip art." It was surprising to learn that I could create something original instead of using something made by another person—and that was the idea that led me to photography.
Conflict is dangerous. The biggest risk is being hit by something from relatively far away. A lot of younger shooters and journalists believe that their concern for the victims of conflict will somehow make them bulletproof. It may sound macho, but it's really not: after bonding with me, my subjects really don't want to f*** with me too much.
— Alexa Keefe at National Geographic
I was really inspired by how open and vulnerable they were, and how ready to learn something new they were because these guys are all established professionals, and it's an important reminder that we all need to grow until we are dead. People can get stuck in their ways. It was inspiring to see how game they were. It was really cool.
One of my favorite things about my day-to-day job is meeting photographers who are incredibly passionate about the stories they tell. While they all work in different ways and think about stories differently, what they have in common is an enduring dedication to storytelling.

One well established agency, VII (like the number "7"), will be in Washington D.C. this weekend to present their work and discuss issues in photojournalism today. In anticipation of the seminars, I corresponded via email with three prolific VII photographers — Ashley Gilbertson, Ron Haviv and Gary Knight — on the things that motivate and inspire them. What follows is a selection of their answers.