Posts Tagged 'streetphotography'
There's something inspirational about watching a seasoned photographer work at his craft — whether it's a studio photog who molds light to his will or a street photographer whose demeanor and results both scream professionalism.
Jack Simon falls under the latter of those categories, and in the video above, fellow street photographer Eric Kim takes us behind the scenes with Simon as he walks the streets of San Francisco. Read more…
Whenever I look online for information or advice relating to street photography, Eric Kim's name regularly surfaces. I've been reading his blog for a couple of years and in that time; I've watched his career and online prominence grow.
In comparison to other areas of photography, there's relatively little advice online about street photography. But a number of photographers like Eric are helping to tackle this problem as well as build a solid and much-needed community for street photographers. Read more…
In 2009, photographer Hannah Price made a cross-country move from Colorado to Philadelphia, and along with the inevitable change of scenery came a different, more surprising change: for the first time in her life she started having men catcall her on the street.
Being a photographer, she didn't react the same way most women might. Instead, she began turning her camera on these men, birthing the now-viral photo series City of Brotherly Love. Read more…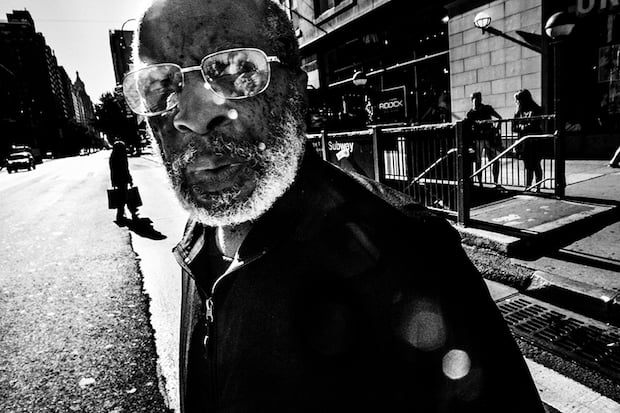 "Look at me," he said. Complying, I turned in the man's direction. "Look me in the eyes!"… I tried to raise my eyes and look into his, but I couldn't. Actually, I couldn't look anyone in the eyes at that point, it felt weird and uncomfortable. That man… was my own older brother. Read more…
One of the great things about photography is that inspirational stories aren't hard to come by — whether it's tragic circumstances that are being brought to light by a daring photojournalist or a success story about a young photographer who is just discovering his passion for this industry.
Street photographer Flo Fox's story is yet another kind of inspirational. It's a story of overcoming unimaginable adversity, and a rock hard determination not to let any of life's curveballs get in the way of doing what you love. Read more…
Photographer Richard Renaldi's 6-year-long project Touching Strangers has been an incredible success. From viral Internet fame to a full-fledged photo book that exceeded its Kickstarter goal eight times over, there's something profoundly moving about complete strangers posed together, sometimes quite intimately, on the streets of NYC.
In the video above we get a behind the scenes look at how Renaldi does what he does, and how his subjects, sometimes reticent at first, often wind up feeling at ease and connected to this perfect stranger they didn't know existed 10 minutes ago. Read more…
Photography student and street photographer Fernando Pereira Gomes is used to practicing his craft on the streets of New York, but recently, he's taken to shooting photos on the virtual streets of Los Santos, San Andreas, the fictional city of Grand Theft Auto V. Read more…
A couple of days ago we ran across this strange article online. Very short on details, what we know is that a man was seen taking photos of children in a suburb of Toronto a few days ago, and is now being sought after by police. Read more…
While on a half vacation, half business trip to the Philippines, photographer Dennis Sapong decided to spend one free hour at the local public market and do some street portrait photography. That hour-long session turned into Project One: a set of photos, each of which was taken with one setting, edited using one preset, and cost him one dollar. Read more…