Woman Confronts 'Creep' Photog in TikTok Video, Draws Backlash
A woman in Seattle, Washington, is facing criticism after sharing a video on TikTok in which she confronts an older man who was photographing her on a public outdoor path.

As
reported by Bellingham Metro News
, the woman named Natalie approached the man, who appears to be a street photographer with an interchangeable-lens camera, and loudly called him out for photographing her.
Natalie, a 19-year-old who has over 151,000 followers on TikTok, shared the video through @bestofwashington, which has over 217,000 followers.
"This old man is a creep," Natalie writes in a caption overlaid on the video. "[I] was just riding a lime scooter and he took pics of JUST ME so I was sticking up for myself and they called me crazy like [it's] crazy to take pics of a young girl… He had 5 pics of my whole body then zoomed in on my face."
"This man is taking pictures of me!" Natalie's voice is heard shouting in the video. Other voices are then heard speaking up in defense of the photographer.
"Call the cops then because they'll say when you're in a public area you can take…" a woman says before she's cut off.
"Not when you're aiming the camera at someone," Natalie replies.
"We'll vouch for him," a man is heard saying.
As Natalie continues to loudly protest the photographer's actions, he walks back to her, shows her his camera's screen, and deletes each of his photos of her one by one.
After the video was posted, commenters came to the photographer's defense as well, as these screenshots collected by Bellingham Metro News show: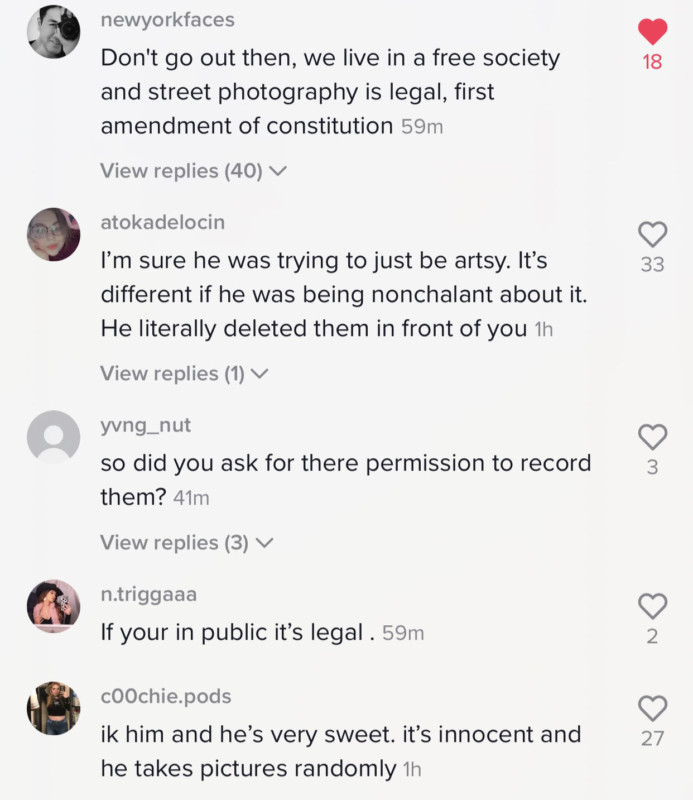 Natalie tells PetaPixel that she noticed the man photographing her while she was riding a scooter and when she asked him to delete the photos, he kept walking away. Natalie says her friend James then asked the man to delete the photos, a request the photographer denied while stating that his actions were not illegal.
She says that it was only after more pleading that she decided to pull out her phone and start recording the incident.
"I finally bring out my phone to record hoping maybe that will make him delete them and that's when I started getting really angry and I started recording and that's when he wanted to delete those photos," Natalie tells PetaPixel. "Then after I asked him to delete those photos and he deleted them, his family is saying that I'm harassing him and this is hysterical. If I was that man's family I would call him a creep because what he did was very creepy… The fact that I had to ask him 3 to 4 times to delete those photos is ridiculous.
"I'm 19 years old. I am a young girl. He is 60 to 70 years old. I just find it disgusting it wasn't even pictures with me in the background it was straight-up pictures of just me."
"You never know what he can do with those photos," Natalie says. "He could've Photoshop to me naked, he could've used it to [stalk] me, you could've used that to sell them. You never know people's intentions. That's why I wanted them deleted!
"The people telling me I'm overreacting and there's nothing wrong with that, how would you feel if your young daughter came home telling you that they feel scared because an old man was taking pictures of just them? I'm pretty sure it would worry every single parent and if you see nothing wrong with this, then you're a part of the problem…"
Spontaneous photos of strangers have long been a staple of street photography (AKA "candid photography"), which is defined as "photography conducted for art or enquiry that features unmediated chance encounters and random incidents within public places."
Some of the best-known photographers throughout history were known for their street photography work, including Henri Cartier-Bresson, Garry Winogrand, Helen Levitt, Robert Frank, Diane Arbus, Walker Evans, and more.
Photography in public places is also a right that's protected by the First Amendment, and US courts have upheld this freedom of expression even in cases of extremely "creepy" behavior: a 40-year-old Tennessee man who was arrested for following women and photographing their chests and buttocks had his charges dismissed in 2020 because the photography was done in public places. (Tennessee lawmakers have since responded by introducing legislation that criminalizes "offensive" nonconsensual photos.)
There has, however, been increasing debate in recent years about the topic of "informed consent" when photographing strangers, even in public places. The new Photo Bill of Rights, which has been signed by prominent individuals and organizations, stirred up discussion on the subject last year with a section on it in its Toolkit for Lens-Based Workers. Here's its sample dialog for photojournalists obtaining informed consent:
Hi my name is [X], I'm an independent photographer working for [X]. Do you feel safe with me making your photo at this time? [Listen for a confident yes or leave.] Here is my business card with my information. Contact me if you have questions later or if you'd like to follow up. This may be published on my social channels and there is a possibility that a publication licenses it after the fact.
"[T]he concept of including the issue of Consent from Subjects in Public spaces where for ages there has been no expectation of privacy, and the potential ceding of the right of a free press to operate using our own best judgment in our society, gives me the chills," photojournalist David Burnett wrote in response through an open letter. "Anything which gives away even the slightest freedom of observation is a detriment to both journalism, and society as a whole."
The New York Daily Post also sparked an uproar among photographers late last year when it published an op-ed that called candid street photography a form of "gender-based violence."