Posts Tagged 'humor'
Giving Lomography's Petzval lens the full Photo Geek treatment.
Jul 09, 2014 · Roger Cicala
· Comment ·
The didn't-turn-off-the-flash mirror selfie, the plane wing cloud porn photograph, the 'this is my office for the day' humblebrag, overuse of hashtags… all of them make an appearance in this humorous parody sketch by comedians Tripp Crosby and Tyler Stanton.
Dubbed 'Selfies Anonymous,' the video imagines what "a 12-step group for people who struggle with selfies" would look like.
(via Laughing Squid)
This is, bar none, the strangest Craigslist ad we have ever seen. In the past, the few ads we've shared typically involve people trying to hire photographers to work for free, but this is completely different.
Posted by a concerned family, they would like to hire a professional digital artist who can make it look like one of their relatives' boyfriends is cheating. In other words, they would like you to insert this guy's face into several pictures with another girl and make it look 100% believable. Read more…
Lovers of fun photography T-Shirts are gonna enjoy this one. A common play on words in the photo community, this shirt from Teespring warns innocent bystanders that you "shoot people," and then goes a step further by letting them know that you also "sometimes cut off their head." Read more…
In 2004, The Daily Show with Jon Stewart took on a burgeoning technology that they saw as a completely nonsensical mix of two things: the camera phone. As Ed Helms puts it in the "digital watch" segment above, the technology "combines the rapid battery depletion of a high-powered digital camera with the image production capability of a phone." Read more…
If something seems too good to be true, that's probably because it is. A great example of this was sent to us by a reader earlier this week when he found one of his photos had been purchased for use by an Austrian publication. Great news, right? Well, not entirely.
The photo is being used at the top of an article on shooting photos without expensive equipment, the caption implying that it was a smartphone camera that yielded these epic results. But of course, that's not the case. Read more…
Mr. Forthright — YouTube's own 'old and bold' advice giver who has taught people how to do everything from 'how to say no to drugs' to 'how to pretend to work at work' — today takes on the dreaded selfie. Read more…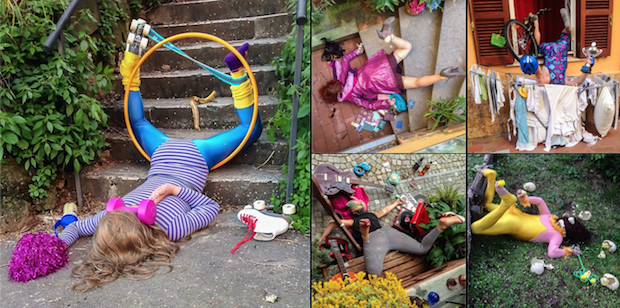 Italian photographer Sandro Giordoan has taken to creating an ongoing series of tragic-but-humorous images that brilliantly depict people's willingness to put the safety of their material objects ahead of their own. Read more…
Need a bit of a chuckle this morning? Check out the image above, published by Visualise.com. As sonyalpharumors points out, you'll notice that almost all of the photographers are wearing Sony branded vests (Sony is a major World Cup Sponsor) but not a single one of them is shooting with a Sony camera.
It's good for a little smile and a reminder that, while many believe Sony is currently one of the most innovative camera brands in the world, sports photography is definitely an area where the big two enjoy a well-deserved monopoly.
Here's a little chuckle for your Monday morning. You may have heard the stories of discrimination and sometimes outright violence faced by Google Glass users in some parts of the country.
People who are afraid they're being inconspicuously photographed or videotaped (and they sometimes are) by Glass wearers are at times lashing out against the would-be invaders of their privacy. Read more…