Adobe Turned the Worst Stock Photos Into a New Clothing Line
Adobe has come up with a strange and hilarious new idea for promoting its new Adobe Stock royalty-free image service. The company is turning infamously terrible stock photos into a new limited edition clothing line. It's called Adobe Stock Apparel.

Some of the most generic stock photo concepts are well represented in the apparel line's products. There's a T-Shirt based on "Laughing woman eating healthy vegetable salad":
A sweatshirt featuring "Happy senior couple piggybacking on the beach":
"Man at desk frustrated with technology"
"Smiling seniors using laptop"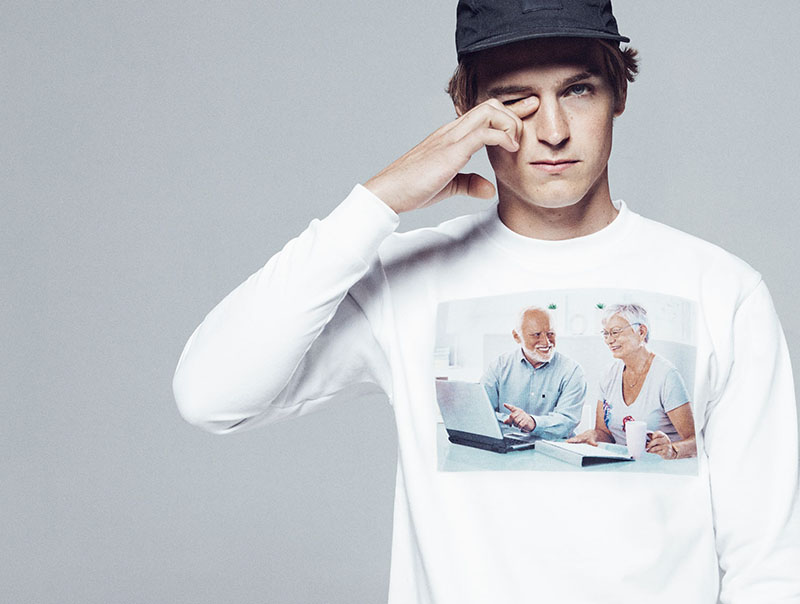 "International business team working around laptop"
"Firm handshake between business associates"
"Happy office workers pointing to blank sign"
"Call center woman wearing headset"
"Some stock images have earned their place in the history books," says ad agency Abby Priest Creative Director Oskar Hellqvist. "Classic motifs that have been overused and established as hilarious clichés, known, loved and/or hated by all. These images fulfil their purpose, surely. To me, however, they're a representation of the old world of stock imagery."
"It's time for them to retire and leave room for new classics, premium content and a smarter, more efficient way of working," Hellqvist continues. "Turning them into a limited edition clothing line is our way to salute them and an attempt to create something disruptive and unconventional in the genre."
You can download the Adobe Stock Apparel lookbook over on the Adobe website.