Posts Tagged 'funny'
Adobe has made several announcements over the past few days. We've seen a new version of Photoshop, Creative Cloud bundles geared towards photographers, and even a go at hardware with the "Mighty" Pen and "Napoleon" Ruler. But of the unveilings, none was as controversial as the announcement that we would be saying goodbye to the Creative Suite line — from now on, it's going to be Creative Cloud or nothing.
This has led to many a serious reaction and discussion online about the benefits and pitfalls of the new model. But of course, this is the Internet. What's a serious discussion if it's not balanced out by a good old fashioned meme? And so, YouTube's Evil Edison has captioned Hitler's fictional reaction to the announcement. Be forewarned: it is quite vulgar at times. Read more…
If you ever try your hand at shooting photos or videos from the sky using a remote-controlled helicopter, do your best to avoid trees, tall buildings, and… statues. Ohio-based cameraman Terry Cline found out the dangers of statues the hard way this past weekend. While capturing aerial imagery, Cline got his flying camera stuck in the arms of a statue 100 feet above the ground.
Read more…
You know those sometimes stylish, sometimes dramatic, and often funny pictures of the celebrity hosts that come up every time Saturday Night Live takes or comes back from a commercial break? Well, ever since 1999, it's photographer Mary Ellen Matthews who has been in charge of putting those together each week. And in this short video, Plum TV catches up with Matthews to ask her about her daily life at SNL. Read more…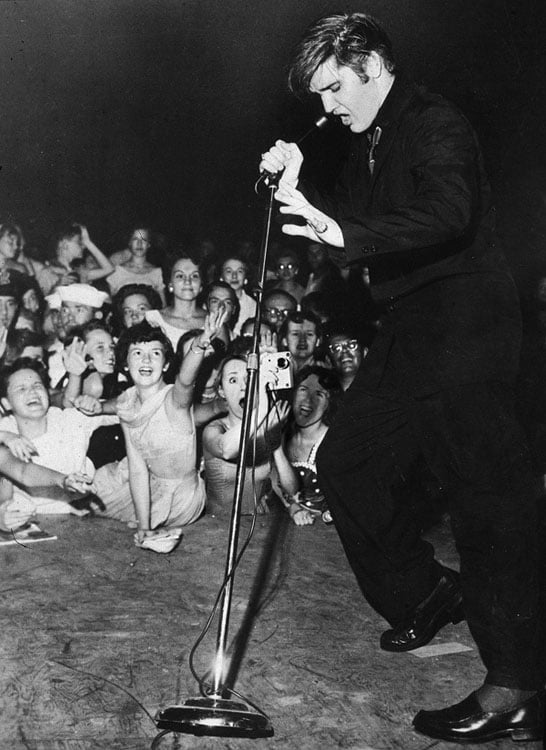 Hungarian photographer and retoucher Flóra Borsi created a popular series of photos last year titled "Photoshop in Real Life." The images imagined what various Photoshop Tools might be used for if they had physical powers in our world, and were quickly shared across the web.
Now Borsi is back with a new set of images that show off her Photoshopping prowess. Titled "Time Travel," the photos show Borsi inserted into various historical photographs of famous individuals.
Read more…
The New York Daily News reports that an anonymous commuter has decided to improve his boring ride to work everyday in a very unique way: newspaper photobombs. The paper won't reveal who the photographer behind the pics is, but he or she has made quite a splash using forced perspective photography to make fellow commuters look downright hilarious. Read more…
Remember how Usain Bolt grabbed a photographer's DSLR last year during the London Olympics and started snapping photos of his fellow athletes? A similar thing happened today in an NBA basketball game between the Chicago Bulls and Toronto Raptors.
Read more…
Have you ever wanted to get pics of cute sea lion or seal pups up close? Well, your best bet may be to grab your kayak or surf board and paddle out — camera in hand. Scuba diver Rick Coleman discovered this on a recent dive trip off the coast of Southern California. Read more…
April Fools' Day: the beautiful (or painful) day of the year on which the Internet is teeming with fabricated stories designed to fool and humor. We used to participate in the jokes and cover the silliness, but last year we started doing a single roundup post instead to keep you up to speed on April Fools' Day humor in the world of photography.
Read more…
This post could also be titled "How Not to Photograph Endangered Male Animals." The video above was uploaded to the Web by the BBC back in 2009 and shows photographer and zoologist Mark Carwardine finding and photographing a rare parrot in a New Zealand forest. Unfortunately for Carwardine — and hilariously for the rest of us — he gets closer to the bird than he was planning to.
Read more…