Kickstarter Wants to Replace Every Ad in a London Tube Station with Cat Pics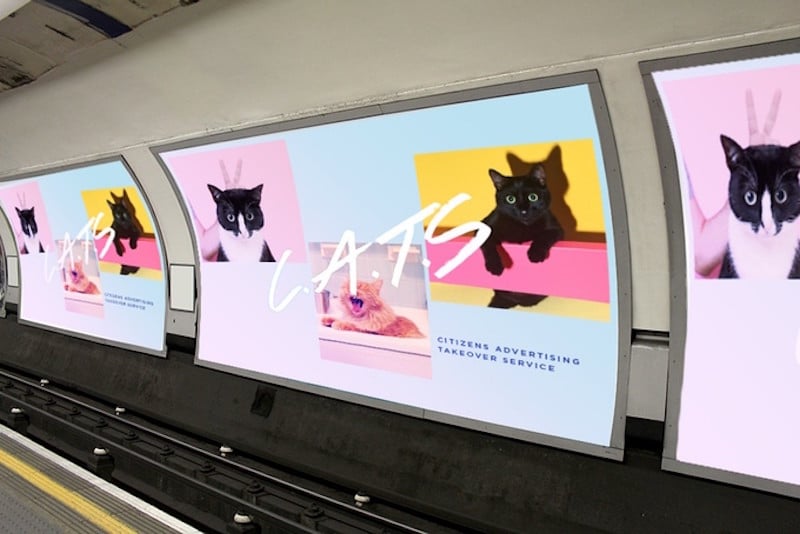 The Citizens Advertising Takeover Service (AKA C.A.T.S.) just launched a funny, ridiculous Kickstarter campaign that seeks to do something awesome: they want to replace every single ad in a London Tube station with pictures of cats.
This is not a very belated April Fools' joke. It's not a joke at all. It's a real Kickstarter campaign that seeks to raise £20,000 (approximately $33,000 USD) in order to buy out every ad slot in an as-of-yet unspecified London Tube location, and put up cat photos instead. Why?
They give two reasons: a) it would look amazing; and b) it's exhausting being asked to buy stuff all the time.
Here's their Kickstarter video in case you still can't believe this is actually a thing:
You might be wondering if the proper authorities would allow this and, according to the Kickstarter, they will.
"We've asked, and they actually will [let us do it]," it says the campaign page. "We can turn an entire station into a roaring festival of cats. If we raise £20,000 we can do a whole platform in one of the smaller stations – any higher and we're in the big leagues."
If they hit their stretch goal of £75,000 (~$110,000 USD) they could do an entire small station. The more they raise, the bigger a station they'll try to convert.
If you're thinking this is just downright silly or maybe even stupid, you're not alone. Even the folks at C.A.T.S. realize this. But, as they put it on the Kickstarter page:
Dumb yes, but also this is about trying something, flexing our collective voice in the most idiotic of ways. From all this madness something amazing could happen. Perhaps we'll start to realize that buying stuff isn't making us happy.

Maybe cats won't make us happy either, but it's got to be better than insurance adverts.
A £5 pledge will get you their special C.A.T.S. ad blocker, £15 will get you a C.A.T.S. sticker, £30 will get you a C.A.T.S. T-shirt, £100 gets your cat photo onto one of the ads, and £2,500 earns your cat photo its very own poster in the Tube.
To learn more or pledge to their cause, head over to the campaign page by clicking here.
(via Co.Create)
---
Image credits: Angry cat photo by Tambako The Jaguar