The Best Used Digital Cameras to Buy in 2023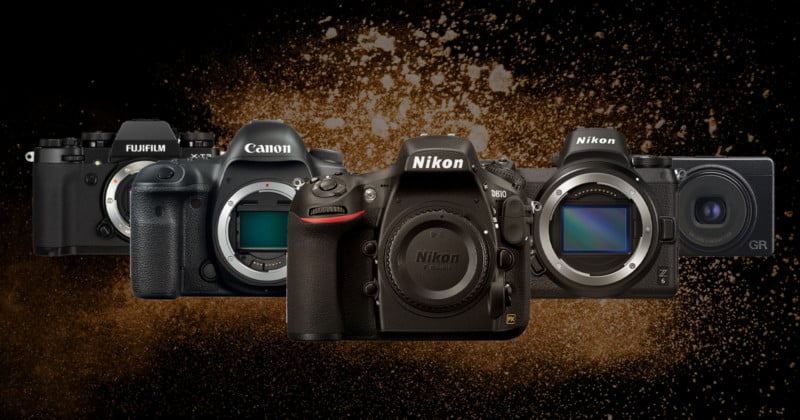 While there are many advantages to buying a brand new camera — including a manufacturer warranty and, well, the fact that it's never been used by anyone else — there are likewise a plethora of reasons to buy cameras on the used market.
Obviously, prices are lower, for starters. You have access to models no longer in production, which can represent an excellent price-to-performance ratio along with a far larger library of options. And many retailers that sell used equipment also offer warranties themselves — whether it's a standard warranty that comes with the purchase or an optional extended warranty.
What We're Looking For
For those seeking a new camera to add to their equipment bag, we've compiled a guide with our picks for the best used cameras, split into three categories (DSLRs, Mirrorless, and Compacts/Fixed Lens), then further broken down into four tiers based on price. Our selections, therefore, are chosen based on the available equipment in a particular category that provide the best value.
For a comprehensive list of your best places to find these cameras, reference our guide to the Best Places to Buy Used Cameras and Lenses.
At a Glance
The Best Used DSLR Cameras
Ultra-Budget (under $500): Nikon D700
The release of the Nikon D3 in 2007 is one of the preeminent milestones in digital photographic history. Canon had long dominated the market with the superior image quality of its EOS-1Ds (one of the earliest full-frame digital cameras), EOS-1D series, and EOS 5D series. With the D3 — Nikon's first full-frame digital camera — Nikon reclaimed the crown for its superior dynamic range, phenomenal high ISO quality, and stunning 3D autofocus tracking.
The following year, Nikon released its second full-frame digital camera: the professional-grade D700. It sported the same Nikon-made 12.1-megapixel FX CMOS sensor as the D3 inside a robust, more traditional body without the built-in vertical grip. The D700 features a continuous drive mode up to 5 frames per second (FPS) or 8 FPS with the MB-D10 vertical grip, Multi-CAM 3500FX autofocus sensor with 51 AF points, 3D focus tracking, 1,005-pixel RGB sensor, and 3D Color Matrix Metering II, maximum 1/8,000th shutter speed, and a built-in flash. Essentially, it boasts the same phenomenal features and image quality as the benchmark D3, but without the integrated vertical grip and 9 FPS shooting speed.
The Nikon D700 remains one of the most legendary and highly regarded digital cameras ever made — even more so than its bigger brother. To this day, you can find many users in comments sections and forums who still use the camera — I still have mine, and it's going strong at over 350,000 shutter actuations. While it doesn't have the resolution or dynamic range of cameras like the D810 and D850, it remains one of my all-time favorite cameras — the 1,005-pixel RGB sensor still makes for my favorite metering system of any Nikon DSLR.
Four years ago, I shot my sister's wedding with my D700 as a second camera to my D810, and the files are still a pleasure to work with — even up to its maximum ISO 6400 it produces insanely clean results for a 14-year-old camera.
In this price range, there simply isn't a better option.
Budget ($500-$1,000): Nikon D800/D800E or Nikon D810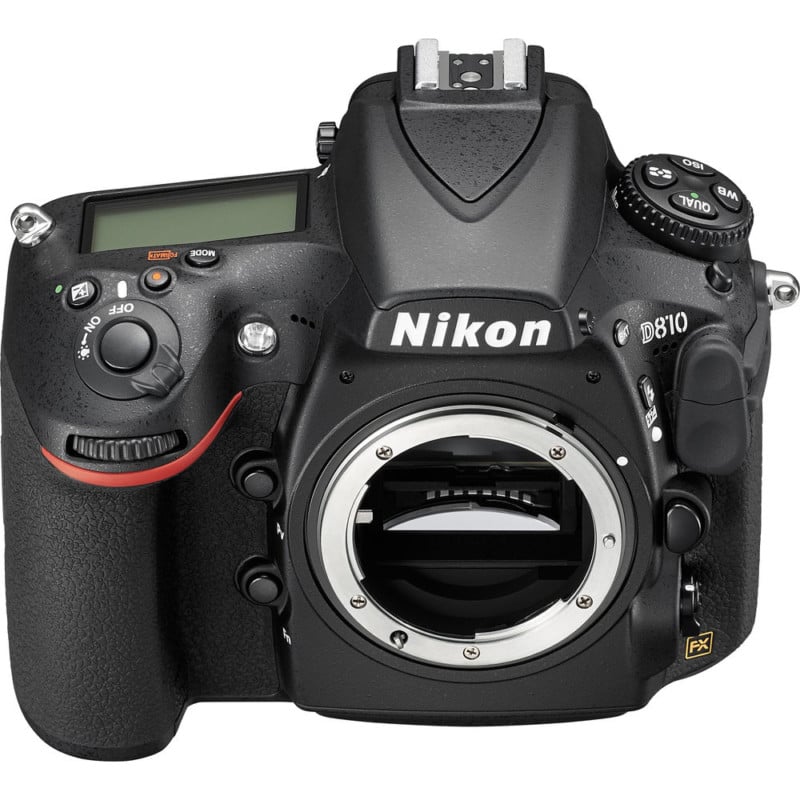 The Nikon D800 and D800E were yet another set of milestones, if not with the same splash and impact as the D3 and D700. While the latter two held titles for dynamic range and low-light abilities, Canon had pushed ahead again on resolution and video capabilities — that is, until the release of the D800 and D800E in 2012 followed by the D810 in 2014. Both sported a new Sony-made 36.3-megapixel sensor; the same one was later found in the Sony Alpha 7R and Pentax K-1.
The only difference between the two lay in the AA (anti-aliasing) filter — while both cameras have an AA filter, the D800E uses AA cancellation. This allows for increased pixel acuity and therefore greater perceptual resolution. This comes at the expense of the potential for moiré, which takes the form of strange, wavy, often rainbow-like patterns in areas of repetitive, high-frequency detail. This is almost always only seen in fabrics — you often see it in TV shows, where it appears as an almost "pulsing" or "vibrating" aberration in the actors' clothing — and sometimes in fine architectural details. For most, the D800E is the better buy, unless you happen to shoot a lot of fashion.
The successor D810 improves on the D800/D800E in many ways, though it retains the same 36.3-megapixel resolution, but with a new base ISO of 64 and improved microlenses for increased light gathering. It also foregoes the AA filter entirely, rather than the AA-cancellation of the D800E. There are other changes that add up to a better user experience — better live-view, redesigned controls and ergonomics, improved mirror damping, highlight-weighted metering mode, autofocus from the Nikon D4S, and a new EXPEED 4 processor.
While the D800/D800E proved to be excellent low-light cameras with seemingly endless shadow recovery, the D810's sensor is very highlight biased with exceptional latitude and roll off in the quarter tones and highlights. It still has phenomenal high ISO image quality but doesn't take extreme pushing of the shadows as well as the others.
I personally prefer the files from the D810 as they render much more natural images in my mind — and the native ISO 64 allows for exceptional dynamic range and tonality — but you can't go wrong with any of the three options.
Mid-Range ($1,000-$1,500): Canon 5D Mark IV or Canon 5DS/5DSR
While I have been a Nikon user since I bought a used D700 in 2013, I have had a few trysts with Canon cameras since then and there are plenty of advantages that I love about them over the competition.
My longest affair was with the Canon 5DSR, which I bought to compare against a friend's D810 because there were many enticing advantages to Canon: the resolution, the ability to easily adapt many lenses (such as Contax Zeiss, Leica R, and Nikon F), and native lenses like the Canon 40mm f/2.8 STM, 70-300mm f/4-5.6L, and TS-E 135mm f/4L Macro. I found the ergonomics superior, the color better for landscapes and portraits, the viewfinder brighter, the autofocus improved, and the ability to have custom shooting modes was a dream — why the pro-level Nikon D700/D800 series don't have custom setting modes but cameras like the D750 and D610 do is beyond my comprehension.
While I ultimately didn't keep the 5DSR, it didn't leave me with anything other than a positive impression and I still missed those lenses, for which Nikon has no equals. So, as far as mid-range cameras go, especially for those for whom the Canon system has more appeal, you can't go wrong with the 5DS, 5DSR, or 5D Mark IV. Why do I recommend both the 5DS(R) and the 5D Mark IV models, despite the former being cheaper on the used market? Because everyone has different needs.
The 5DS and 5DSR, released in 2015, feature the same 50.6-megapixel sensor — the highest resolution full-frame sensor on the market until Sony released the Alpha 7R IV — and the difference between the two is the same as that of the Nikon D800 and D800E. The 5DS has an AA-filter and the 5DSR has the AA-filter canceled.
The Canon 5D Mark IV, conversely, is a much newer camera and features a lower-resolution 30.4M-megapixel sensor — more than enough for 99% of photographers — and boasts far superior video features: DCI 4K at 23.976/24/29.97p and full HD at up to 59.94p.
To the ire of many Canonites, the DCI 4K is not oversampled and thus only uses the 4096×2160 central portion of the sensor, resulting in a 1.74x crop factor, even more than Canon's 1.6x APS-C crop factor. Canon also made the bizarre choice to limit the DCI 4K recording option to Motion JPEG (M-JPEG) which clocks in at a whopping 500 Mbps. Furthermore, it is limited to 8-bit 4:2:0 internally or 8-bit 4:2:2 externally. To its credit, implemented in the 5D Mark IV is Canon's renowned dual pixel autofocus which has long made Canon DSLRs and Canon EOS cinema cameras a prime choice for documentary, reality TV, weddings, and one-man-band productions owing to its brilliant autofocus tracking, which applies to both video and stills in live-view.
The Canon 5D Mark IV offers an excellent hybrid of stills and video capabilities, as well as the highest dynamic range, color depth, and high ISO performance of any Canon DSLR behind the recent EOS 1DX Mark III, exceeding the 5DS(R) by 1.2 stops of dynamic range (per DXOMark). For those who work in a studio or need the impressively high resolution, the 5DS and 5DSR are both superior and much cheaper options. After all, people obsess and argue in forums about a stop of dynamic range or marginally better low-light performance, yet a vast majority rarely (if ever) encounter situations that benefit from those differences.
High-End ($1,500+): Nikon D850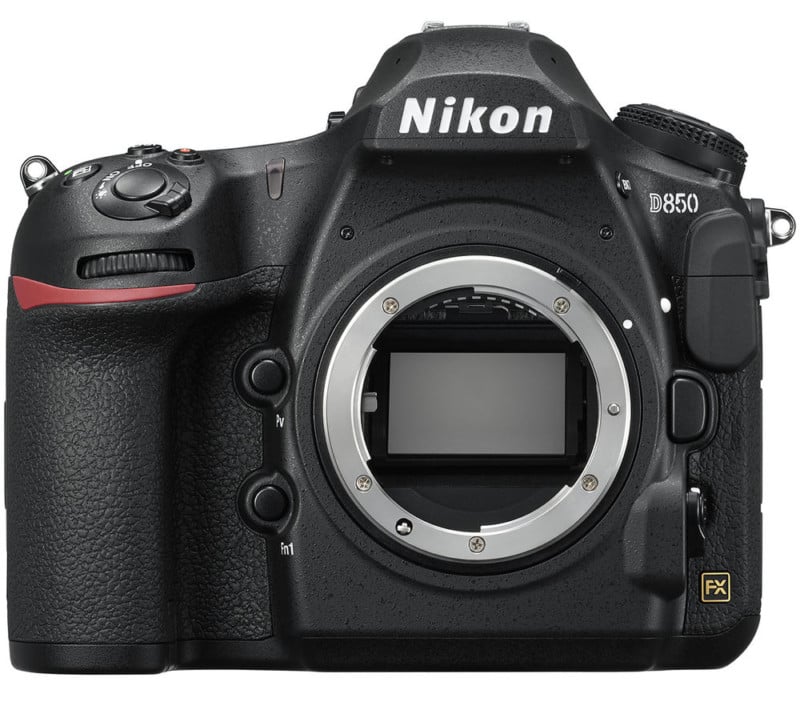 Successor to the benchmark Nikon D810, the long-awaited Nikon D850 was finally released in autumn of 2017 to massive success — Nikon was only able to send out less than 10% of preorders on its first shipping day.
The D850 headlines a 45.4-megapixel BSI sensor, Nikon EXPEED 5 processor, 180K pixel RGB metering system, 7 FPS (or 9 FPS with the battery grip), silent electronic shutter up to 6 FPS in live-view, a new viewfinder with 100% coverage and 0.75x magnification, focus-shift stacking mode up to 300 frames, Wi-Fi and Bluetooth Low Energy, a joystick, button illumination, Multi-CAM 20K autofocus system from the Nikon D5, 8K time-lapse video, intervalometer up to 9,999 frames, 4K UHD video at 23.976/25/29.97p H.264 using either the full sensor area or a DX crop, slow motion full HD video up to 120p, a negative digitizer mode for scanning film negatives, and a 3.2-inch 2.36 million-dot touchscreen LCD.
Many of these features are firsts not only for Nikon, but for any DSLR: silent electronic shutter, BSI sensor, focus-shift stacking, and the negative digitizer (best paired with the phenomenal Nikon ES-2 kit), for example. Others, like the tilting touchscreen, were unheard of for pro-level DSLRs, despite being readily available on lower-end Nikon and Canon APS-C models.
The D850 has widely been heralded as the greatest DSLR ever made, even by those who are not Nikon users, with many testing sites claiming that it rivals medium format with its resolution, dynamic range, color, tonality, and native ISO 64 — the latter of which bridges the gap between full-frame and 44×33 medium format cameras which have a base ISO of 100. It's a can't-go-wrong option.
Best Used Mirrorless Cameras
Ultra-Budget (under $500): Olympus OM-D E-M1 or Olympus E-M5 Mark II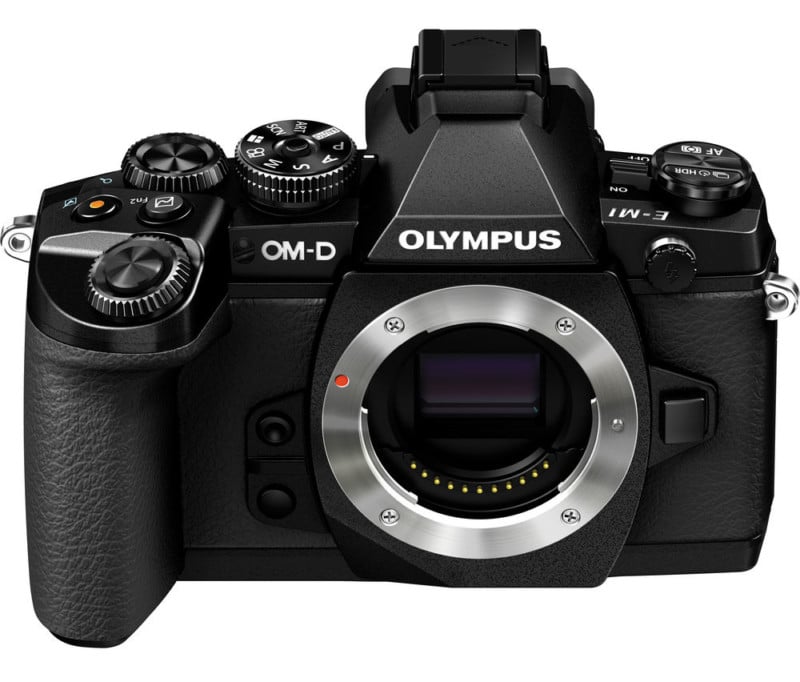 Olympus, known in the digital camera world for its Four Thirds DSLRs in the 2000s, made the move to the mirrorless with its PEN E-P1 in 2009, adopting the Micro 4/3 lens mount that premiered in the Panasonic G1 the prior year. Three years later, Olympus launched the OM-D line with the E-M5, which was followed by the Olympus OM-D E-M1 the following year.
The E-M1, the first of the new flagship Olympus line, boasted a completely new design from the compact E-M5. With a significantly more substantial grip, higher-resolution (2.36m-dots vs. 1.44m-dots) 1.48x magnification EVF, more control points/dials and function buttons (including two between the lens mount and grip), a new TruePic VI image processor, a more rugged design with improved weather-sealing, and a top shutter speed of 1/8000 (versus the 1/4000 of the E-M5). The flash sync has also received an upgrade from 1/250 to 1/320.
While the E-M5 featured blazingly fast contrast-detect autofocus, it struggled (like all C-AF systems) with subject tracking. The E-M1 made a substantial leap in this regard: 81 contrast-detection points (up from 35 on the E-M5) along with 37 phase-detection points allow the FAST (Frequency Acceleration Sensor Technology) focusing system to generate precise and fast autofocus results. Four AF area modes allow for fine-tuning to suit a variety of subjects, from wildlife or sports to pinpoint macro work.
The E-M1 employs the same 16.3-megapixel 17.3x13mm Live MOS sensor as the E-M5 but is now stripped of the anti-aliasing filter for improved pixel acuity.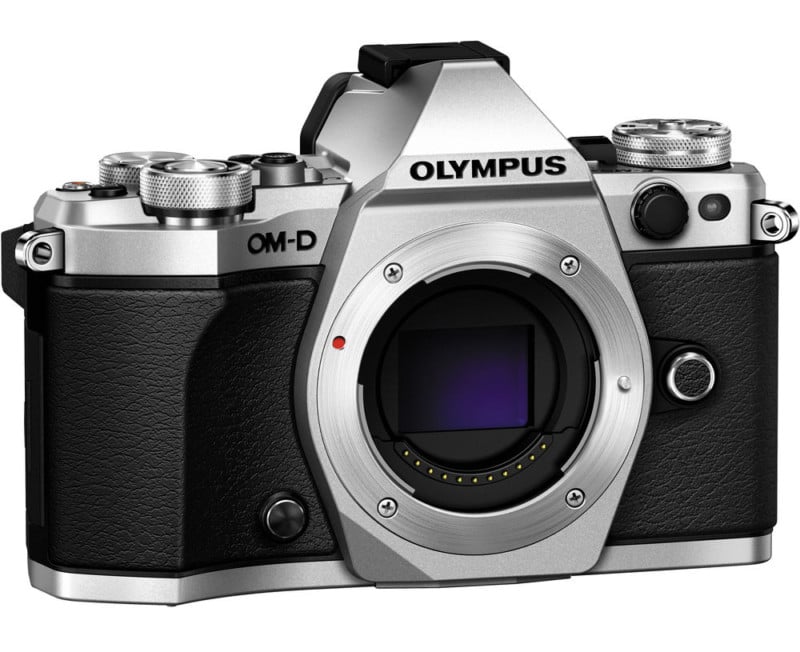 While the original E-M5 is quite long in the tooth, especially given all of the downsides that come with a first-generation product, it is a more than capable camera in and of itself and can often be found for under $200 with a lens. The E-M1, however, doesn't run much more — typically $300 or less — and the price difference is more than worth it. If you desire a truly compact camera and find the E-M1 to be too large, the E-M5 Mark II can be had for a bit more and has a significantly improved body design, LCD screen and EVF, button layout, and a new TruePic VII processor. The legendary Olympus IBIS is also improved over the E-M5 — about on par with the E-M1 — and it now has a sensor-shift high-resolution composite mode that generates 40-megapixel files, which is something the E-M1 lacks.
Budget ($500-$1,000): Fujifilm X-T3 or Fujifilm X-S10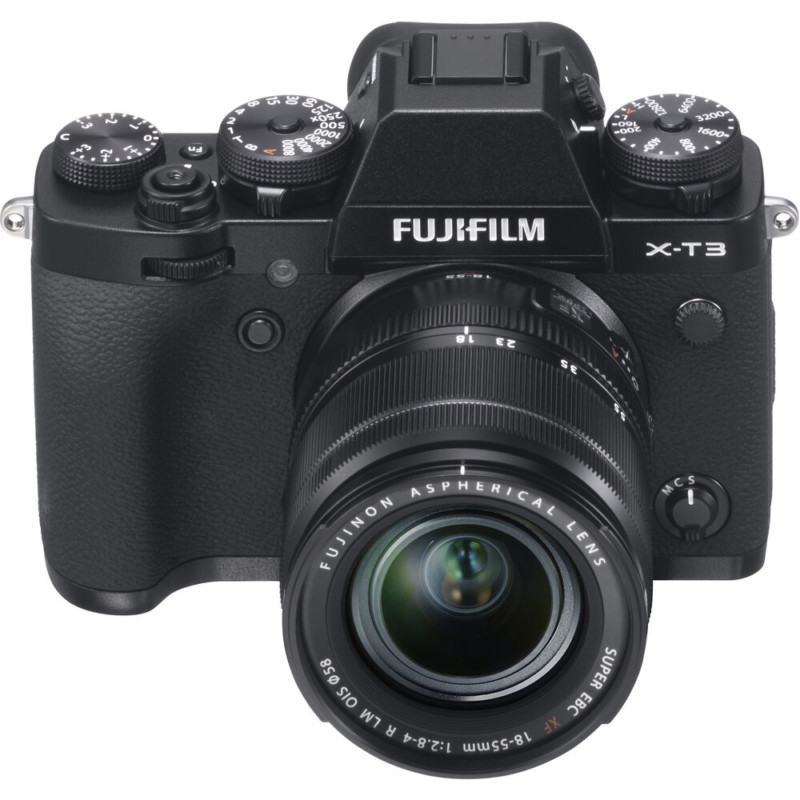 Both of these choices are still available for purchase brand new, though the black Fujifilm X-T3 is being discontinued and replaced with the X-T3 WW, which is simply the same model sans battery charger for a streamlined production — and comes with an slightly lower $1,100 price instead of $1,399.
At any rate, the original X-T3 — now an older model after the release of the Fujifilm X-T4 — is readily available on the used market for some very attractive prices. The X-T3 boasts considerable upgrades from its predecessor X-T2: a new 26.1-megapixel X-Trans IV BSI sensor, 2.16m-point phase-detection autofocus system, and a new X-Processor 4 with four CPUs allowing for continuous shooting up to 11 fps with the mechanical shutter and 30 fps with an electronic shutter and 1.25x crop.
Video features are significantly enhanced over the X-T2 and X-H1 as well: internal DCI/UHD 4K 10-bit 4:2:0 at up to 60p in either H.264 or H.265, bitrates from 100 to 400mbps, along with F-Log gamma to maximize dynamic range for color grading in post-production. The minimum ISO sensitivity when shooting F-Log has dropped from 800 to 640, and Fujifilm's beautiful Eterna film simulation is also available for those who don't intend to do intense color-grading.
A gorgeous 3.69m-dot OLED EVF with 0.75x magnification and rapid 100 fps refresh rate, blackout-free shooting in the electronic shutter mode, dual UHS-II SD card slots, a dedicated focus lever, and the incorporation of Bluetooth 4.2 Low Energy round out the list of the camera's upgrades.
For those who prefer the traditional PASM dial (with four custom modes) instead of Fujifilm's classic control dials, the Fujifilm X-S10 offers a very compelling, affordable, and feature-packed alternative. It sports the same sensor and processor as the X-T3 but adds a few welcome new features. Chief among them is the integration of 5-axis IBIS and a much more pronounced grip.
The X-S10 does have a few disadvantages to the X-T3: DCI/UHD 4K tops out at 30 fps, continuous shooting is a maximum of 8 fps with the mechanical shutter and 20 fps with the electronic shutter, the four-way directorial pad has been removed from the rear of the camera body, and the OLED EVF is 2.36m-dot instead of 3.69m-dot. The X-S10 also moves to the flip-out LCD design found in the X-T4, rather than the three-way tilt design of the X-T3 — this may be an advantage or disadvantage depending on your preferences.
Whichever you pick, both cameras offer an exceptional value and have access to what is easily the largest and most complete dedicated APS-C lens line. You can't go wrong either way in terms of image quality, either.
Mid-Range ($1,000-$1,500): Nikon Z6 or Nikon Z7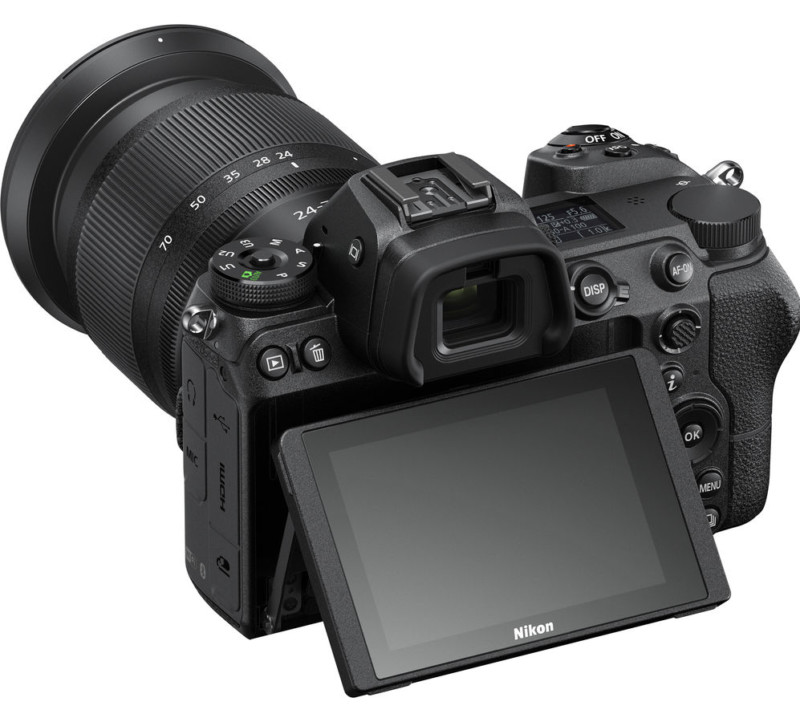 With Sony's launch of the Alpha 7 and Alpha 7R in 2013, the floodgates opened for a revolution: the shift from DSLR supremacy to mirrorless. Leica was the second company to enter the full-frame mirrorless arena with its Leica SL Typ 601 in 2015. Canon and Nikon, who had dominated the camera market for decades, resisted. Medium-format mirrorless even hit the market before either Canon or Nikon gave in — first with the Hasselblad X1D-50C in 2016 and the Fujifilm GFX 50S in early 2017.
Finally, though, the two companies relented. Canon announced its EOS R in October of 2018, while Nikon announced the Nikon Z6 and Nikon Z7 two months prior in August.
The Z6 and Z7 featured Nikon's new mirrorless Z mount. With a 16mm flange distance and a 55mm throat diameter (the shortest and widest of any full-frame camera on the market, respectively), Nikon was clearly aiming high — the deep 46.5mm flange distance and narrow 44mm throat diameter of the F-mount made for challenging optical designs. Alongside the Z6 and Z7, Nikon released the Nikkor 50/1.8S, Nikkor 35mm f/1.8S, and the compact Nikkor 24-70mm f/4S. While the moderate apertures were met with some criticism (despite being nearly identical or superior in specifications to Sony's first full-frame lenses), opinion quickly backtracked once users experienced the optical excellence of the lenses. Since then, Nikon has filled out a very complete ecosystem full of some of the best lenses ever made.
Unlike other manufacturers, the Z6 and Z7 share identical form factors — only the model badge on the front gives away the difference. Internally, the Z6 features a 24.5-megapixel BSI sensor with five-axis IBIS, 273 phase-detection AF points, 12 FPS continuous shooting, 4K UHD internal with 10-bit 4.2.2 4K out via HDMI, N-Log externally, and a 3.68m-dot OLED viewfinder. The Z7 boasts a higher-resolution 45.7-megapixel BSI sensor and 493 phase-detection points. While a used Z7 is usually a bit over $1,500 at many retailers, it's not uncommon to find it for less than that.
The only downsides are a single card slot and no option for a vertical grip with controls. While the autofocus has been criticized compared to its competitors, I found it more than sufficient for myself and what 99% of users actually need — and that was before last year's firmware update that significantly improved the camera's AF abilities, particularly eye-AF and subject tracking.
The lenses alone are worth joining the system and the new bombshell Nikon Z9 promises some amazing trickle-down features in future models.
High-End ($1,500+): Sony Alpha 7R III/Sony Alpha 7R IIIA
The third camera in Sony's high-resolution Alpha 7R line, which began in 2013 with the 36.4-megapixel Alpha 7R, was announced in October of 2017. The new model featured many notable improvements over its predecessor, the Alpha 7R II: an updated BIONZ X processor, 10 FPS with continuous autofocus, an updated Fast Hybrid AF system with 399 phase-detection and 425 contrast-detection points, enhanced video capabilities when shooting UHD 4K (either full-sensor or Super 35 from a 5K oversample), a 3.69m-dot OLED viewfinder, 3.0-inch 1.44m-dot tilting touchscreen LCD, dual SD card slots, redesigned shutter unit rated for 500,000 actuations with a new brake system to minimize shutter shock, and the new, high-capacity NP-FZ100 battery.
The body was also vastly improved, inheriting many of the same design changes from the Sony Alpha 9 — a significantly more substantial and comfortable grip, weather-sealing, redesigned and improved rear button layout with a new joystick, USB 3.1 Gen 1 Type-C port, Wi-Fi, and Bluetooth connectivity, and an improved lens mount to better support larger and heavier lenses.
While it employs the same, excellent 42.4-megapixel Exmor BSI CMOS sensor from the Alpha 7R II, the new model introduces a pixel shift mode — by using the IBIS, the camera can shift the sensor in single and sub-pixel increments, taking a photo each time, which can then be combined using the Sony Imaging software suite to create a 169.6-megapixel file with improved color accuracy. Obviously, such a feature only works on a tripod and with static subjects like fine art, product, macro, or landscapes with little or no movement (like wind).
The most significant changes from the prior model come down to the enhanced autofocus features, much longer battery life, and the vastly improved body — many look at the third generation Sony cameras as the point at which the Sony Alpha line was finally mature.
The Alpha 7R IIIA is identical to the original model, with two changes: a much improved rear LCD screen with a (long overdue) resolution bump from 1.44m-dots to 2.36m-dots and a jump from USB 3.1 Gen 1 Type-C to a faster USB 3.1 Gen 2 Type-C.
While some will point to the Sony Alpha 7R IV/IVA as an improvement — and it certainly is in several ways — many users have said they either found little difference in performance (aside from the higher-resolution) or preferred the Alpha 7R III due to its smaller file sizes and better noise performance.
Being an older model, the Alpha 7R III also offers a significantly higher price-to-performance ratio, as it can regularly be found for under $2,000 used, but it also depends on your needs. For most, the Alpha 7R III is far more than sufficient — PetaPixel's editor Jaron Schneider actually argued this the day the Alpha 7R IV became available and it's still true today.
Best Used Compact/Fixed Lens Cameras
Ultra-Budget (under $500): Sony RX100 III/RX100 IV
The Sony Cyber-shot DSC-RX100 series has been around since 2012 and all have featured a 20.2-megapixel 1-inch type sensor (2.7x crop factor) and a very similar, tiny, take-anywhere body design. The original model, the RX100, was fitted with a 28-100mm equivalent focal length and an f/1.8-4.9 maximum aperture range. The RX100 II sported an updated Exmor R BSI sensor, tiltable LCD screen, along with Wi-Fi and NFC connectivity.
The RX100 III was released with even more significant updates: a new BIONZ X processor, a new Zeiss Vario-Sonnar T* 24-70mm (equivalent) lens with a significantly faster f/1.8-2.8 maximum aperture. While it loses the 70-100mm range, it gains 24-28mm, and most critically, about three stops of speed on the long end — though this isn't quite an apples-to-apples comparison because the former models were only f/4.9 at the very long end, which has now been lost. It also gains a new pop-up OLED electronic viewfinder, an impressive design given the extraordinarily small size of the camera.
The RX100 IV took its specs to another level. The sensor has been upgraded to an Exmor RS BSI with a redesigned photodiode layout resulting in enhanced light-gathering capability and 16 FPS of continuous shooting. Video features are greatly improved: UHD 4K recording at 100 Mbps in the XAVC S format with S-Log2 gamma and slow-motion options of 240, 480, and a stunning 960 FPS in full HD.
While the camera retains the same maximum 1/2000 leaf shutter speed as the former models, it now has a "Super-Speed Anti-Distortion Electronic Shutter" with a maximum speed of 1/32,000. Combined with a built-in three-stop ND filter, you can shoot wide-open in the middle of the Mojave at high noon should you choose.
All models prior to the RX 100V have been discontinued, but the RX100 III and IV can routinely be found at exceptionally low prices on the used market. While the RX100 and RX100 II can be sourced for even less money, the advancement in features like a tilting LCD and pop-up OLED EVF, along with substantially improved shooting and video specs, make the third and fourth generation models the best value by a considerable margin.
I do highly recommend the accessory Sony AG-R2 grip — the camera body is quite slick and smooth.
Budget ($500-$1,000): Ricoh GR III/GR IIIx
The Ricoh GR line is one of the oldest still in production, dating back to the Ricoh GR1 released in 1996. Like most of the models, both film and digital, the GR1 featured a 28mm f/2.8 retractable lens in a super-compact, pocketable body.
The Ricoh GR III was released nearly three years ago in March of 2019. Unlike the prior GR II, which was a very incremental update to the GR, the GR III headline upgrades include a new 24.2-megapixel APS-C (up from 16.2-megapixel) sensor and GR Engine 6, a redesigned 6 element/4 group 28mm f/2.8 (equivalent) lens, three-axis Shake Reduction System (IBIS), AA-filter simulation, dust reduction via an ultrasonic cleaning system, a new 3.0-inch 1.037m-dot touchscreen LCD, greater control over assignable button functions, the addition of Bluetooth LE, a USB 3.0 Type-C port for file transfer or charging, decreased start-up time to 0.8 seconds, and a hybrid phase and contrast-detection autofocus system. It does lose the pop-up flash, however, which is a point of issue for some users. To me, it's a logical and acceptable tradeoff for the addition of IBIS and possibly some of the other new features.
The newer Ricoh GR IIIx diverges from the rest of the line by adopting a longer 26.1mm f/2.8 lens, equivalent to a 40mm f/2.8 full-frame lens. For many, myself included, this was a very welcome addition to the line — 40mm is a perfect "normal" focal length for general photography. As a newer product, the GR IIIx is harder to come by on the used market, but not impossible. I bought mine used from Adorama.
The cameras also boast the famous "snap focus" mode: push the shutter button down quickly, past the half-stop for autofocus, and the camera will default to a pre-set distance and snap the photo. You can set this distance in the menu from six options: 1m, 1.5m, 2m, 2.5m, 5m, and infinity. This feature is paired with a brilliant digital depth-of-field scale that will show how much will be in focus at your set aperture and snap focus distance. Setting the GR III to 2m and f/8 will show everything from about 1m to infinity in focus — perfect for most street and general photography. Naturally, the GR IIIx will have less depth-of-field for any given f-stop and distance, so more care has to be taken.
Best of all, the GR's 18.3mm f/2.8 lens (28mm f/2.8 full-frame-equivalent) is one of the best lenses ever made, whether in a compact or otherwise. So good was the original GR1's 28/2.8 lens, Ricoh produced a limited line of them in Leica Thread Mount. The GR III lens is several steps up from that one: sharp corner to corner wide-open, almost completely free of aberrations once you hit f/4, and seemingly immune to flare. It also produces beautiful sunstars stopped down, which seems to be a trait of leaf shutter lenses. The GR IIIx's 40mm-equivalent lens is even better: sharper and with less distortion. Both cameras share the same sensor, body, and other internals, and thus produce practically identical images — matching color and tonality between the two is as simple as it could possibly be.
The Ricoh GR line is one-a-kind; there simply isn't anything else on the market like it. Compact cameras come in two forms: small enough to actually be "pocketable" (fit in a jeans pocket, for example) or large enough that you need a bag or purse of some kind — maybe a jacket or coat pocket in a best-case scenario. In terms of the former, the only cameras that fit the bill are a 1.0-inch type or smaller (such as the RX100 series) and the Ricoh GR, which is the only camera that combines true pocketability with a large APS-C sensor. The Nikon Coolpix A also fits this bill, but it is no longer in production, unfortunately.
Mid-Range ($1,000-$1,500): Fujifilm X100V
Fujifilm's lauded X100 series began in early 2012 with the Finepix X100, featuring a 12.3-megapixel EXR CMOS sensor — a descendant of Fujifilm's unique Super CCD sensors and featuring an array of paired pixels rotated 45 degrees. With the X100S, the series moved to the X-series designation and inherited the X-Trans design that premiered in the X-Pro1. All the models share the same basic gestalt: a "rangefinder" compact with a hybrid electronic and optical (with frame lines) viewfinder, a 23mm f/2 Fujinon lens yielding a 35mm f/2 full-frame equivalent, and "classic" on-body controls in the form of a shutter speed/ISO combination dial and an aperture ring on the lens.
From the Fujifilm X100S to the X100T to the X100F, there were minor upgrades from model to model, primarily related to haptics and autofocus, though the X100F saw the jump from the 16.3-megapixel X-Trans II sensor to the 24.3-megapixel X-Trans III sensor with a lower base ISO of 160 (versus 200 for the prior models).
The Fujifilm X100V, however, took several big leaps forward. Perhaps most significant of all is the new 8 element/6 group lens that now includes two aspherical elements for improved close-focus performance and superior suppression of optical aberrations such as fringing, distortion, lateral and axial CA, and coma. A new Super EVC coating has been applied for more effective flare control.
The X100V features a tilting 3.0-inch 1.62 million-dot LCD touchscreen for the first time in the X100 series, a new 26.1-megapixel BSI X-Trans IV sensor, expanded phase-detection autofocus with 425 selectable points covering almost the entire sensor, focusing down to -5 EV, updated X-Processor 4, DCI and UHD 4K recording up to 30 fps with 10-bit 4:2:2 out via HDMI, a new viewfinder with a higher-resolution 3.69 million-dot EVF and 0.52x optical finder, and the ability to make the camera weather-resistant with the optional AR-X100 Adapter Ring. There's also a wide conversion lens, the Fujifilm WCL-X100 II, and a teleconverter lens, the Fujifilm TCL-X100 II, each of which result in 28mm and 50mm equivalent focal lengths, respectively.
The X100V does lose the 4-way directional pad on the rear of the camera body, moving to a joystick/touchscreen-only interface. This seems to be a common and (in my opinion) very unfortunate direction Fujifilm is taking across almost all of their camera lines, including the X-E, X-Pro, X-S10, X-Tx0, and GFX models. At least the touchscreen and joystick work quite well, even if that doesn't make up for this bizarre choice.
While the camera is currently on backorder and has been for some time, you can find used versions — bookmark the sites from Petapixel's list of the Best Places to Buy Used Cameras and Lenses and check them daily. They tend to get snatched up quickly.
If you don't mind a non-tilting screen, you don't lose a lot of supercritical features by picking up a used X100F instead. The lens doesn't reach the same level of performance, but it is still very good — most of the advantages of the newer design are apparent at close/semi-macro distances.
High-End ($1,500+): Leica Q (Typ 116), Leica Q2, or Leica Q2 Monochrom
Announced in June of 2015, the Leica Q (Typ 116) features a full-frame 24.2-megapixel sensor designed by CMOSIS, in front of which sits a new Leica Summilux 28/1.7 ASPH lens. With 11 elements/9 groups, including 3 aspherical elements and a floating lens element for the camera's close-focus "macro" mode (6.7-inch minimum focus), the lens is a complex formula for a camera of this nature. Then again, it's also an extremely fast lens designed to cover a full-frame sensor. Best of all, a physical aperture and focus ring allow you to easily adjust your f-stop and take control of your focus point. While focusing is still fly-by-wire, Leica's implementation doesn't give that away — it has a very smooth, tactile operation with hard stops and linear travel.
The Leica Q — built from a solid machined aluminum top plate and magnesium alloy body — sports a 3.68m-dot LCOS EVF, contrast-detect autofocus, a 3.0-inch TFT 1.04m-dot LCD touchscreen, full HD 1080p recording, up to 10 fps continuous shooting, built-in Wi-Fi with NFC, and Digital Frame Selector crop modes of 1.25x and 1.8x for 35mm and 50mm equivalents, respectively.
Like all Leica cameras, the design is elegant and simple, with an intuitive and easy-to-navigate menu system. The 28mm f/1.7 Summilux lens is one of the best lenses on any compact camera — it strikes a nice balance of excellent microcontrast and moderate macrocontrast, along with high sharpness across most of the frame wide-open and sharp into the corners by f/4. Lens aberrations are kept at bay via both corrective elements within the lens and digital correction. The lens does feature some noticeable field curvature wide-open, which likely makes it unsuitable for flat-field work. Another common complaint is that Leica employs significant digital corrections for lens distortion — this is likely true, though to be honest, I don't care. I see digital correction in digital cameras to simply be a different form of optical correction. If it allows for smaller, cheaper, and simpler lens designs while yielding superior image quality, who cares?
The Leica Q2 features the same basic body design and lens as the original Q, but updates include: a new OLED EVF (improved from the Q's LCOS EVF), IP52-certified weather sealing, adoption of the BPSCL4 battery from the Leica SL (boosting battery life by 30%), and a built-in rubber seal for even greater weather resistance. It also inherits haptics along the lines of the Leica M10: three-button rear controls, a programmable function button in the thumb-dial, and a pronounced thumb grip instead of the Q's recessed dint. The sensor has been updated to 47.3-megapixels with a native 50 ISO (down from ISO 100) and no AA-filter, along with 4k DCI capability. Finally, the SD card slot has been updated to UHS-II and the camera now features an additional 75mm-equivalent crop mode.
The Leica Q2 Monochrom is identical to the Q2 but stripped of the RGGB Bayer array. This allows the sensor to receive an unfiltered luminance-only signal and therefore the files require no interpolation. This makes for superior tonality, dynamic range, high ISO performance, and pixel acuity. It does, however, come at the expense of adjusting the luminance values of different color channels in post.
---
Image credits: Elements of header photo licensed via Depositphotos.