How to Check Your Camera's Shutter Actuation Count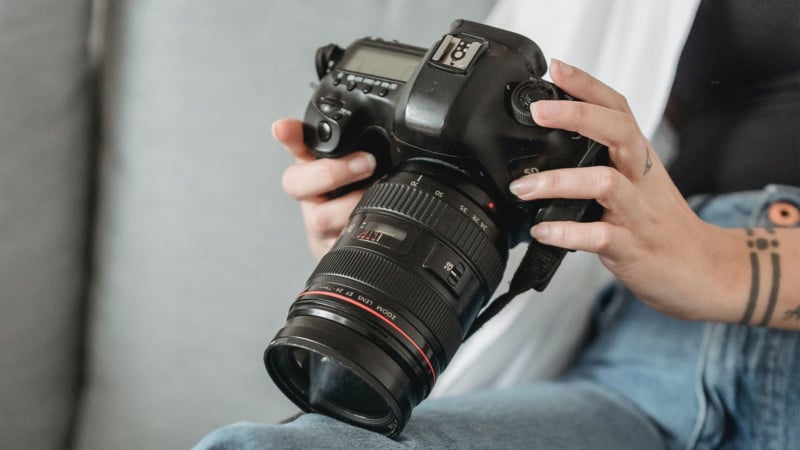 Want to check how many individual photos a camera has taken in its lifetime? Here's a guide to looking up the shutter actuation count for most of the most popular camera brands on the market.

Table of Contents
Why Does Shutter Actuation Count Matter?
All digital cameras have a life expectancy because their moving parts and electronic components give out over time (though the Nikon Z9, having eschewed a mechanical shutter, presumably has a much longer lifespan in this regard). The life expectancy is measured in shutter actuations (individual photographs) because this is a good indicator of how worn the camera will be before it needs replacement parts through servicing or before it needs to be replaced altogether if the cost of fixing is uneconomical.
The rated shutter counts stated by camera manufacturers vary between models, with professional-grade cameras built to last a lot longer than more entry-level options. General shutter counts range anywhere from 500,000 on high-end cameras down to 200,000 for cheaper models, but the actual lifespan of each camera can vary massively depending on how well the device has been cared for over time.
So why is it important to know your camera's shutter count? If buying pre-owned it can give a good indication of how much it's been used already, or for owners of new cameras, it'll show roughly how much life it has left before a serious repair or replacement is needed.
How Do I Look Up the Shutter Count?
A digital camera will generally store a little piece of data on each file as it records a still image, located in the EXIF metadata part of the file. The EXIF data includes all kinds of information related to the photo such as camera settings, GPS location, lens and camera information, and of course, the shutter count.
Most image editing programs do not read or display the shutter count because on a day-to-day basis it's not that important while editing images. And while there are purchasable apps and software that can display this information for you (such as ShutterCount), there are myriad websites that do this job for free.
Each site works roughly in the same way, so follow the steps below to get started:
Take a photo on your camera (JPEGs work fine, RAW also work with most sites)
Upload the photo, unedited to the site
Get your results
The only thing is that some sites aren't compatible with specific camera models or RAW files, so take a look below for some of the best sites to use for your camera system.
Checking Shutter Actuation Count for Nikon Cameras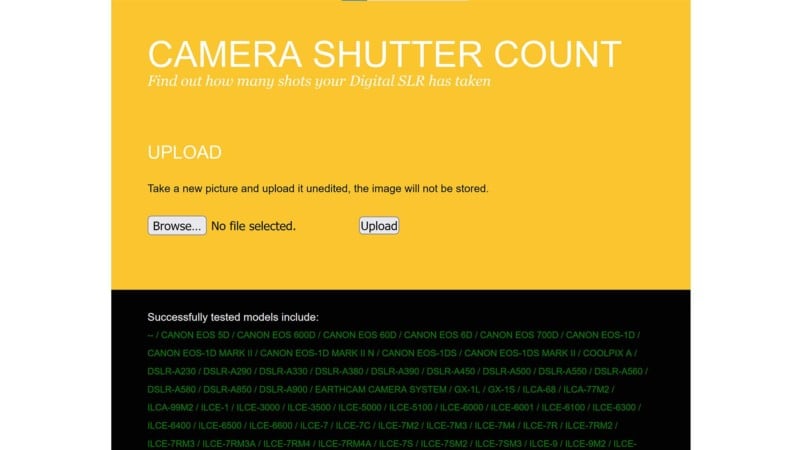 Camera Shutter Count works with 69 models of Nikon cameras as stated on the site, and possibly more that they haven't tested. The great thing is that this site is compatible with a bunch of other camera makes and models too, including Canon, Pentax, and Samsung but it's not quite as comprehensive in its compatibility as it is for Nikon cameras.
Checking Shutter Actuation Count for Canon Cameras
Some Canon cameras' shutter counts can be looked up using Camera Shutter Count but for wider compatibility dedicated software may be more appropriate, depending on the model owned. For Mac users software such as ShutterCount or ShutterCheck should work fine, and Windows users might want to try EOSInfo.
Checking Shutter Actuation Count for Sony Cameras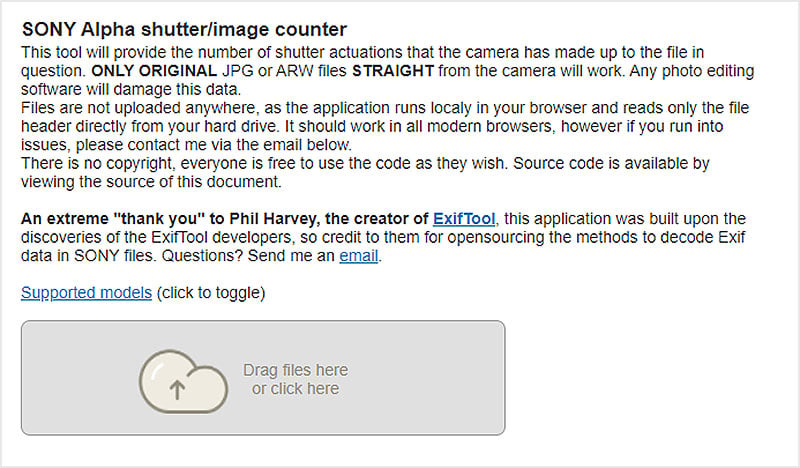 Compatible with at least 59 different Sony models Sony Alpha shutter/image counter is a free-to-use resource that runs locally through your computer's browser to read the EXIF data and display the shutter count quickly.
Checking Shutter Actuation Count for Olympus Cameras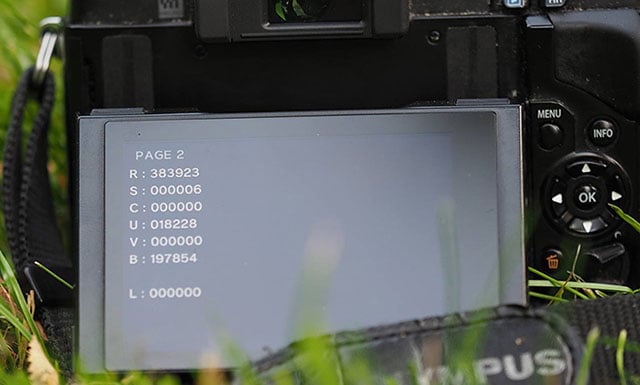 To check the shutter count of an Olympus camera we can forgo the usual uploading to websites as there's a built-in "cheat code" that we can use to check the count directly on the camera itself. It's a little convoluted, but anyone used to putting in cheat codes to video games should manage it no problem.
It should work for almost all Olympus cameras, too, so follow the steps below to access the count in-camera:
Turn off the camera.
Press and hold the menu button.
Turn the camera on again.
Let go of the menu button and repress it once.
Navigate to the LCD brightness submenu and press Right on the selector pad.
Press Right, Info, and then OK.
A black screen should now appear, now press Up, Down, Left, Right, Shutter Button, and Up.
The hidden menu now appears, now just press Right to navigate to the next page and the shutter count is displayed under "MS:"
Checking Shutter Actuation Count for Pentax Cameras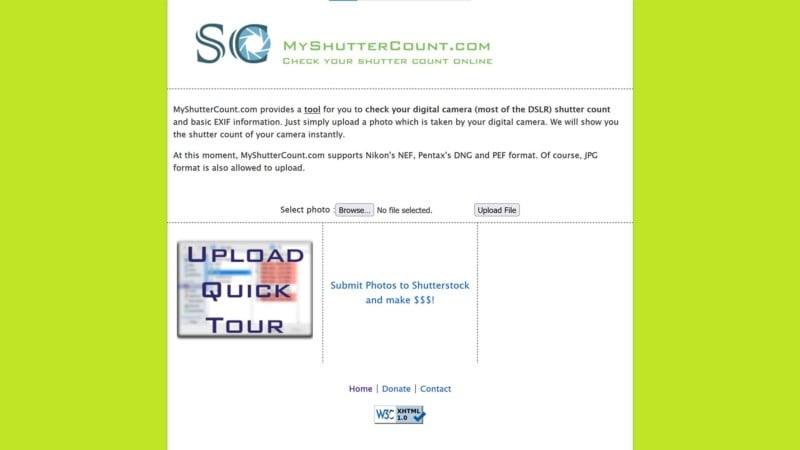 For some reason, Pentax and Nikon shutter count compatibility is often lumped together on shutter counting websites. As such, both Camera Shutter Count and MyShutterCount are good options for checking the camera shutter count on a Pentax camera.
Checking Shutter Actuation Count for Leica Cameras
While there are some button-pressing sequences for certain models similar to that described in the Olympus section online, it might be easier to use a Mac to identify the shutter count using the Preview app. To do this follow these steps:
Right-click and open the file in Preview.
Click on Tools.
Click on Show Inspector.
In the window that appears navigate to the "I" tab.
Click on the appropriate tab, it should say "Leica".
The shutter count should be displayed in the window.
This method also works for many other cameras across different makes and models so Mac users may want to do this instead of uploading to websites to check the shutter count. It should work with both JPEG and RAW files, depending on the version of Preview available.
A slightly more difficult and risky method for Leica owners who don't use a Mac involves entering the secret service mode through a specific combination of button presses, just like with Olympus cameras. The secret button sequence is:
Press Delete
Press Up 2 times
Press Down 4 times
Press Left 3 times
Press Right 3 times
Press Info
This sequence should work on a number of popular M series cameras, including the M8, M9, M Monochrom, and more. A word of warning: there may be things in the service menu that can cause issues with your camera if you edit them without knowing what you are doing, so be sure to avoid going into anything other than the shutter count checking area.
Once the secret service menu is opened, choose the Debug Data option to view basic info about your camera. The shutter actuation count should be displayed with the label NumExposures.
Checking Shutter Actuation Count for Fujifilm Cameras
If you use a Fujifilm camera, Apotelyt has a page for checking the actuation count. Simply drop a new, unedited JPEG photo into the dialog box on the page to discover the count.
The website says it uses the upload only for returning the count and that the file is immediately deleted from the server once the EXIF data has been read.
Checking Shutter Actuation Count for Other Brands
Owners of other camera systems such as Panasonic and Samsung should be able to use one of the sites or apps aforementioned to find their shutter count. If this doesn't work with a specific model it's best to either get in touch with the manufacturer or search an appropriate forum for this camera model to find more detailed instructions.