Photographer's Mystifying Images are Based on Polish and Celtic Folklore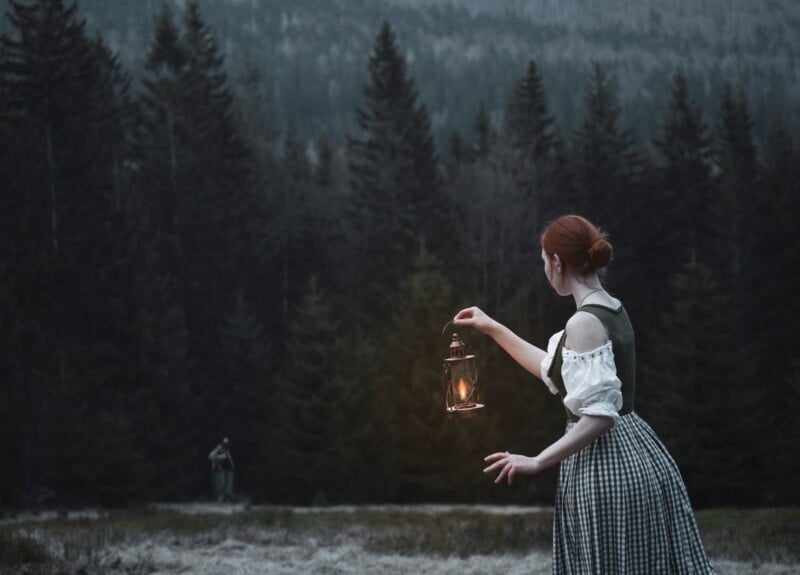 Journeying through misty mountains and deep forestry, photographer Erinthul takes refuge in capturing her dark and cryptic self-portraits that serve as an invitation into folklore and the arcane wildernesses of Poland.
Leaning into vulnerability and imagination while exploring the most fanciful and ghostly characteristics of folklore, the conceptual self-portrait photographer aims to manifest the fantasy elements she holds most dear.
"In my photography, I was inspired mostly by tales from Polish folklore and of course nordic and Celtic mythology (not to mention Lord of the Rings). I was also really inspired by the places I found while hiking and the weather. I love snow, heavy fog, and dancing mists in the Summer. I think that's why I went into creating more dreamy and sometimes dark photos." Erinthul says, speaking to PetaPixel.
Beginning her journey in photography in her youth — where she basked in the joy of simply capturing shots of nature, people, and self-portraits — Erinthul spent years away from the medium, only to be reacquainted in college.
"I remember taking 'artsy' photos of nature, my friends…the pictures weren't good at all, but I had a lot of fun taking and editing them. I came back to it when I went to college but my education path was completely opposite to photography or even fine arts. I wanted to go into the military, so I thought that this is my last chance in trying something different…"
Getting lost in her introspection and desiring to escape into her daydreams, the exploration and focus on self-portrait photography felt like a good path to traverse.
"I wanted to create my own little fantasy world where I could escape whenever I wanted some space. That's when the idea of creating self-portraits came. I like being alone and having a model just wasn't an option for me. It would be very limiting to wait for someone every time I want to take a photo and in nature, photography time is really important," she says.
With a softness and depth and using her body as narrative elements, Erinthul's images highlight an intriguing balance of the feral and the dainty, combined in untamed environments.
"I always liked the contrast of showing a naked and fragile human body in raw, sometimes even dangerous environment," she tells PetaPixel.
Erinthul explains that her process at times is "chaotic" but yields some of the best results.
"I rarely plan my photoshoots. I just go with the flow most of the time. Some of my favorite photos were unplanned and came as a surprise to me."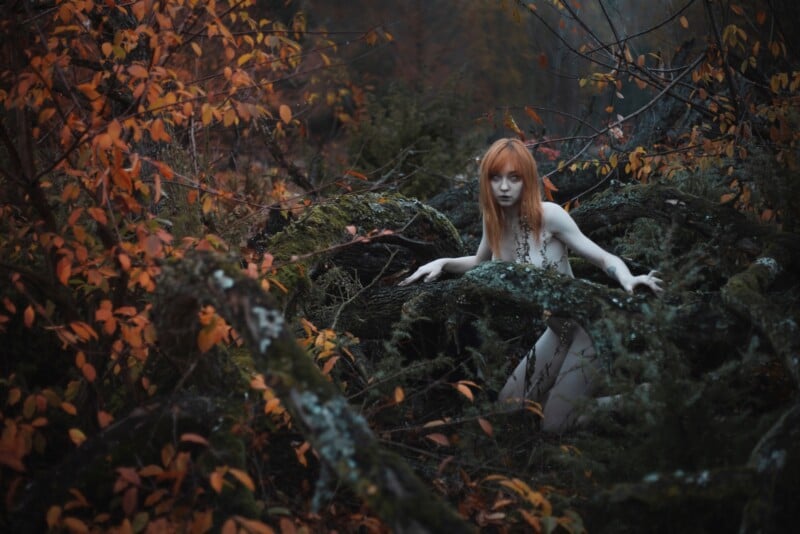 She also shares that traveling for shoots takes hours as she often has to search for areas that spark imagination, inspiration, and curiosity.
"I tend to look for weird or cool trees and rocks, but I also pay a lot of attention to the light because when the light is right even the most boring place looks magical. Lately, I've been inspired by the weather conditions. I started using more colors in my photos so I've been trying to photograph sunsets and colorful sunrises," she explains.
Indulging in the spontaneity of stumbled upon "magical" moments, lighting, and the simplistic joy of the craft, she begins her shoots.
"When I find the perfect place I set my camera equipment and I try different poses. I like to show movement […] I take about five to 20 photos from one location and then I move on to the next."
Over the last two years, the photographer has been utilizing her eye for composition and attuned sense of color to showcase her unique expressions and contribution to the genera, while also acknowledging areas of needed growth.
"I am pretty new to all of this and there's still a lot of room for a change. I edit some of my photos quite a bit because I love the process of playing with them in Photoshop. […] When I like the edit I feel so fulfilled […] It's like you almost add a bit of magic to already existing places. Some photos I leave almost untouched tho. It depends on my mood. I don't always love my edits and when that happens I just leave the photo behind and come back to it months later."
For as much as Erinthul's images showcase a seamless bonding with nature and the unknown, these present themselves as challenges for the photographer as well.
"The biggest and obvious challenge in the type of photography I do are people. I can't always run around naked and I have to constantly focus on my surroundings to not be seen by anyone — mostly to keep me safe and to not force anyone to look at a naked body," she says. "In addition to that I hate mosquitoes and ticks because in the Summer they can make taking photos a living nightmare."
As for equipment, she predominantly uses a Canon 6D with 50mm f/1.8 lens and sometimes her 70-200mm /2.8L USM.
"I also have a really basic and cheap tripod and I use an app from Canon that connects my phone to the camera and helps me find the right frame and set a 10 seconds timer every time before taking a photo."
Desiring to leave viewers with feelings of positivity and wonder, Erinthul also is committed to opposing what she feels is misguided censorship on various social media platforms.
"I would love to show that a naked woman's body doesn't always have to be sexualized; it can also be viewed as something natural. Social media these days are censoring every photo with even a little bit of nudity in it. I am not talking about pornography but the natural and soft nudity everyone was born with […] censoring art is an awful thing and instead of putting the effort in writing new bots and algorithms, bring back the human factor (at least to some degree) in reviewing shadowbans," she says.
"Can you imagine a Renaissance painting with black squares over body parts? That's just hilarious."
Erinthul says the feedback on her images have be overwhelmingly positive and encouraging, and is helping her to master her craft in storytelling.
"I get so many useful words of advice and inspiration that it makes me smile every time I am thinking about it. The best kind of comments I get are the ones from people telling me that my photos made them really emotional. That every photo tells a different story on its own and that the nudity in my photos is not sexual at all and my self-portraits made them change their mind on this subject."
Despite a few errant negative comments about the nudity in her images, Erinthul remains focused on how to best represent the folklore and mythologies she draws inspiration from.
"I love pictures that tell a story. The story doesn't always have to be clear for the viewer but I like to see that a photographer put some thought into it. Also, it doesn't have to be perfectly exposed or edited because when it conveys emotions those things are less important."
As for the future, the city-based photographer is hoping to move to a more secluded spot closer to nature.
"Then I can truly focus on creating more photos and evolve with my photography. I'd also like to travel more, and see different countries because there's so much beauty outside of Poland."
For more from Erinthul, make sure to visit her website and Instagram
---
Image credits: Erinthul