Posts Tagged 'story'
How the blue-chip company was bankrupted by one of its own innovations
Jun 10, 2013 · Kenny Suleimanagich
·

28 Comments »

·
(Today is National Doughnut Day. I am of the opinion it should be a National Holiday, but other people in my studio don't share the belief. They would be wrong.) 
(The DH stands for "darling husband," although in light of the following conversation that took place upon entering the studio this morning, I am doing away with that adjective.)
DH: "Hey, last minute change this afternoon. Got a shoot for two bodybuilders, so I need your help."
Read more…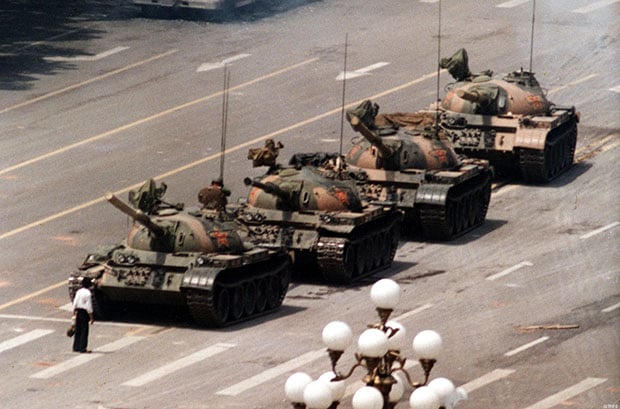 When the Chinese military moved into Beijing's Tiananmen Square on June 5, 1989 to forcibly remove pro-democracy protestors, an anonymous man famously decided to place himself in front of the long column of Chinese tanks that were rumbling into the area. Photos and videos of the incident were immediately published and broadcast around the world. AP photographer Jeff Widener's "Tank Man" photo, shown above, is widely considered to be one of the most iconic photos of the 20th century.
Read more…
Hey everyone! I'm really excited to share a personal story with you all. This past weekend I asked my partner to marry me. After weeks of planning, the time had come to decide how I was going to capture the moment.
Unfortunately some of my colleague photographers were unavailable and so the thought of doing it myself crossed my mind. I felt ready for the challenge: photographing my own proposal! (As if it wasn't enough to plan for the actual proposal, I now had to plan on how to capture it.)
Read more…
If you make your money unscrupulously as an identity thief, you might want to refrain from sharing about your life through photographs online. Two identity thieves in South Florida found that out the hard way earlier this year after they were busted thanks to an Instagram photograph of food.
Read more…
Patriots Day. This Massachusetts holiday celebrates the battles of Lexington and Concord, which were the first battles of the American Revolutionary War in 1775. The day always begins with battle re-enactments. Then the Red Sox play an 11AM game, and during and after the game there is the running of the Boston Marathon, a race that first ran in 1897.
Read more…
Professional photographers using their smartphones is just a fad, I thought, but it all came to me sooner than I expected. Some 3 weeks ago I was diagnosed with central serous retinopathy in my left eye and was hospitalised for 3 days. In the process, I finally discovered smartphone photography!
Read more…
I focus on a relatively obscure (though rapidly becoming more popular) area of photography called gigapixel-resolution photography. I use a robotic panoramic mount to capture tens if not hundreds of images of the same location and then stitch the images together to create a single massive photograph. I've combined this technique with High Dynamic Range imaging to create HDR photographs that are anywhere from 200 megapixels to 4 gigapixels in resolution size.
Read more…
You know that moment when you agree to do a favor for a friend, and it turns into something a bit… well… more? This past weekend I ended up taking headshots of 80 people during six non-stop hours of shooting. Here is the story of what happened, things I learned from it, and some random thoughts on the experience.
Read more…
Here's the story of how I was in the right-place at the right-time for a special series of eagle photographs.
I was driving down a dirt road near my house when I spotted a red-tailed hawk sitting on the ground. I pulled over for a shot, thinking it may be feeding on something, but it took off and flew across the road in front of me.
Read more…