How I Managed to Photograph Obama on a Beach in 2008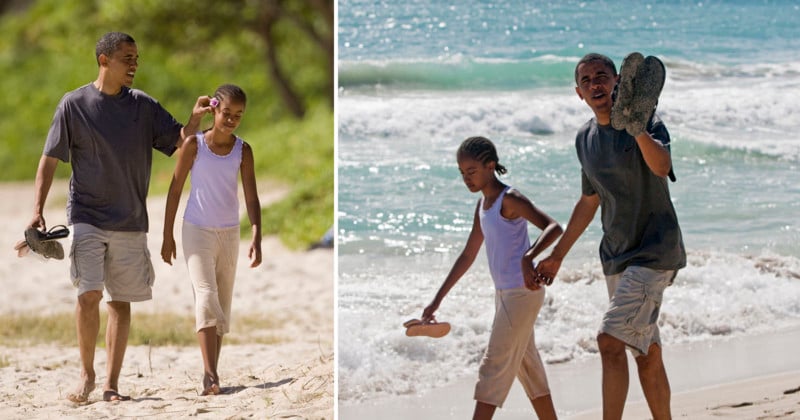 In the fall of 2008, Barack Obama had just become the Democratic candidate and was heavily favored to win the White House to become the first African American President of the United States. His popularity created media frenzy as the world was thirsty to learn more about the young Senator from Illinois. Because Obama was a presidential candidate, a media corps began to follow and report on Obama's every move.

The media press corps, made up from members of major media outlets, accompanies a political candidate or President wherever they go, reporting and distributing news dispatches to a wider audience. Usually a pool consists of a group of writers, video and sound operators, and still photographers.
That fall, Obama traveled to Hawaii taking a break from his hectic campaign schedule. The traveling press pool followed, but Secret Service protection, along with Obama's strict media handlers, limited their access to the candidate.
However, photos of Obama in Hawaii were surfacing all over social media and paparazzi shots were widely published. Despite complaints from the credentialed press traveling with him, Obama's handlers continued to limit access. This irked many, so news organizations began to utilize freelance photographers to work outside those restrictions.
The Associated Press hired me to shadow Obama in hopes of getting some photos of the elusive candidate. I had been freelancing for AP for several years in Hawaii, so they knew I was able to handle the stressful job. Since Obama's schedule was kept secret, we had to guess where he might go that day and I'd try to arrive before security locked everything down. Many times, I'd end up empty-handed. But my luck changed when AP assigned me to sit on the beach outside Obama's beach house in Kailua.
Obama's beach rental sat between two public access points on the famed, white sand beach. Because all of Hawaii's beaches are public and have mandatory public access, security was only able to rope off a small area directly in front of the residence. Anyone could essentially wander the beach walk up to the house.
On the first day, I arrived before 5 a.m. carrying two Canon 1D Mark II DSLRs, one with a 400mm f/2.8 IS and the other with a 70-200 f/2.8. I kept a 24-70mm f/2.8 and flash in a bag. I also brought along water and snacks, as I knew I was up for a long day of waiting. I walked down one access point near his home and settled myself facing towards the house. Almost immediately, security arrived and asked me what I was doing. I identified myself and since I was in public view and a respectable distance away, they had no choice but to leave me alone.
The first day was unremarkable as nothing happened. Beach goers walked by the house but nothing more. I sat there for about eight hours until AP called, releasing me as Obama left the house.
The second day was unremarkable like the first. I arrived at dawn and sat in the same spot as before. Some local media joined me, but they quickly lost patience and left knowing Obama was not going to come out. A long day dragged on and AP dismissed me late in the afternoon. That night I cleaned sand off my equipment and worried something was going to get damaged.
I arrived at dawn on the third day and made my way to the same vantage point. As the hours ticked on, I grew weary of the sun, the salt, and the wispy, Kailua sand. My nose was starting to peel and I dreaded a fourth or fifth day of this assignment. I almost called it quits, realizing I was nothing more than a doorstop for AP. But I was determined to lure Obama out of his home.
Local news reported beach goers were meeting Obama taking selfies with the future President. I knew Obama was coming out to the beach but he was only coming out once he knew I wasn't there. So mid-morning on the third day, I abruptly walked off the beach. But instead of heading for my car, I ran to the opposite access point and came around the backside of the home. I figured I had nothing to lose if I moved.
And just as I turned the corner, I saw Obama and his two daughters walking down the beach.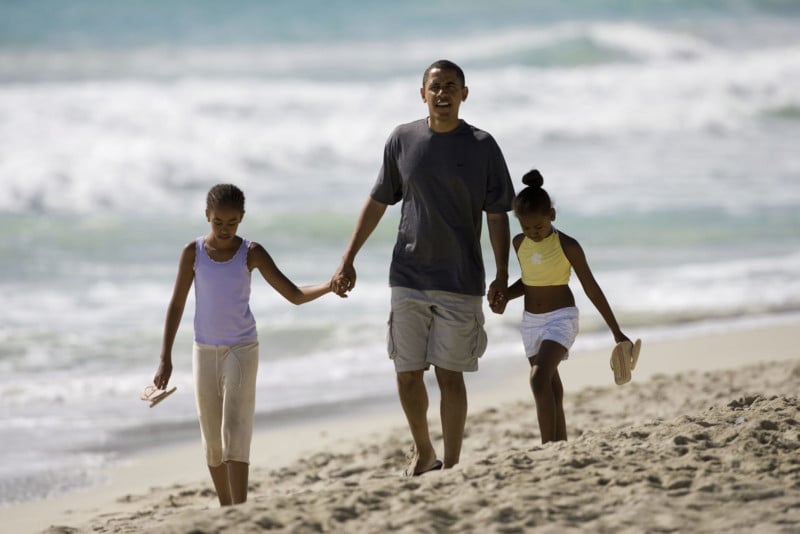 "I GOTCHA!"
Obama was trapped out in the open and he had nowhere to hide. Secret Service never figured I'd turn and come around, so they gave Obama the all clear. By the time I got into position, he was too far from his rental to escape.
As his back was towards me, he never saw me coming allowing me to catch some very unguarded moments. Obama walked hand in hand with his daughters and they splashed around in the tide together.
In one picture, he placed a flower behind the ear of 10-year-old Malia, and in another he cozily sat on the shoreline holding Sasha, 7, on his lap.
I continued to take photos for about ten minutes before Obama finally noticed me. And once he did, his demeanor changed from father-of-the-year to a man caught out in the open. He began to frown and briskly started to head back home. His anger did not deter me and I continued to shoot.
As he got within earshot of me, Obama berated me and angrily swung his arms in my direction. With the ocean just yards away I regrettably couldn't hear what he said.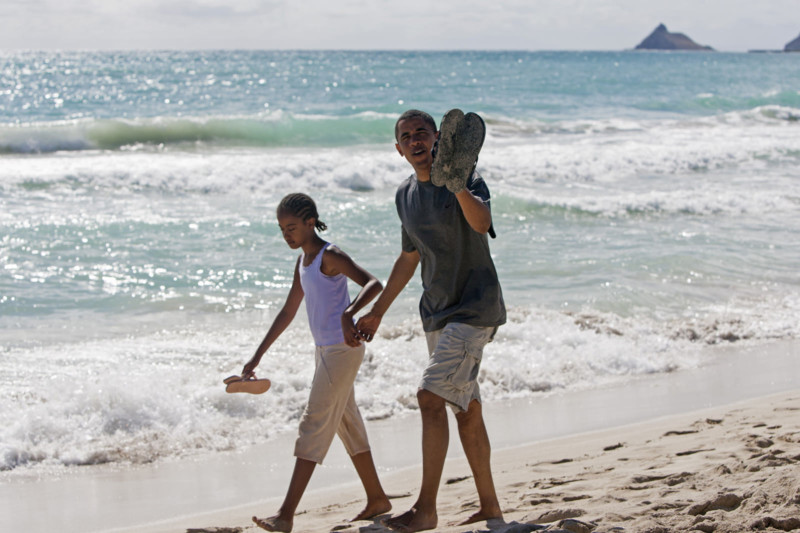 "I got it! I GOT IT!," I screamed as I pumped my fists in the air running back to my car to transmit the images. I drove a good distance away fearing security would abduct me and confiscate my images. My hands shook with adrenaline as I worked my computer and I actually remember calling AP with tears in my eyes as I excitedly told an editor about my pictures. They nonchalantly received them and moved the photos around the world.
I knew my images would never be repeated as public access to Obama became impossible once he became President. And once he took office, AP staffers traveled along with the President during his many Hawaii vacations and I was pushed aside. I did catch a break during his second term as AP hired me as a writer in the pool but the hours were dreadfully long and the White House continued their strict media policy.
Obama's election was a historic moment in American political history. My pictures, along with those of my colleagues became a part of the visual legacy of the "Yes We Can" president. The images we took of candidate Obama gave the public a rare glimpse of the popular politician. Regardless of if he was pissed that I caught him on beach, I, in some small way, helped put him in office.
---
About the author: Marco Garcia is a professional photographer and writer based in Honolulu, Hawaii, freelancing there for the past 14 years. The opinions expressed in this article are solely those of the author. He's represented by Wonderful Machine. Recent clients of his include Condé Nast Traveler, the New York Times, the Wall Street Journal, American Airlines, Getty Images, Sony, and Hawaiian Airlines. He's available for portraits, food, and travel assignments across the Hawaiian islands and the Pacific. You can find more of his work and writing on his website, blog, and Instagram.
---
Image credits: All photographs by Marco Garcia for the Associated Press and used with permission