Nikon Z8 Recalled: Some Cameras Won't Accept Lenses
The Nikon Z8 has proven very popular with photographers since its release last month, helping Nikon make a commercial impact that has thus far evaded the iconic camera company in its mirrorless era. However, some unlucky early adopters have experienced an issue preventing them from mounting a lens to the full-frame camera.
On June 23, Nikon issued service advisories in Japan, Europe, and the United States. In the advisory, Nikon explains that it has identified a specific batch of Z8 cameras that may encounter the lens mounting issue.
"Users of the Z8 camera have informed us that in some rare cases, a lens cannot be mounted on the camera because the lens cannot be rotated to the locked position. Based on our investigation into the matter, it has become clear that this issue may occur with Z8 cameras. We have identified a range of Z8 camera serial numbers with which the issue may occur and will address the issue as follows. Nikon will repair affected Z8 cameras at no cost to the customer, including the cost of shipping affected Z8 cameras to Nikon, as well as their return to customers, even if the warranty has expired," Nikon promises.
Nikon has created a special Z8 service advisory webpage where Z8 owners can enter their Z8's serial number to see if the camera is in the affected batch.
"If your Z8 camera is one of those affected, instructions for requesting service, including receiving your free return shipping label, will be displayed onscreen. If your Z8 camera is not one of those affected, then this will be displayed onscreen and you may continue using your camera without concern for this issue," Nikon explains.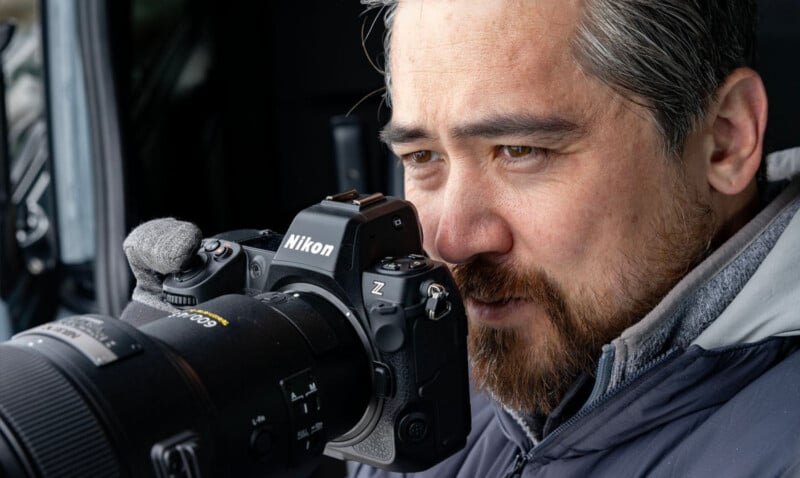 Customers can locate their Z8's serial number behind the camera's rear display. The serial number is printed on a label affixed to the camera body, as shown in the image below.
Nikon does not say how many cameras it believes are affected. However, Nikon Rumors reports that a Twitter user in Japan, @nankadaione, has determined that 6,630 units are affected by the recall, with serial numbers ranging from 2002516 to 2009146.
NikonZ8リコール
ー
総当たりで調べると
対象シリアルナンバー
2002516~2009146 累計6630台と思われます

お早めにニコンプラザから修理をお勧めします
東京より大阪のニコンプラザの方が空いていますのでお勧めです

— ハチロクさん (@nankadaione) June 26, 2023
Nikon Rumors also reports that a reader emailed the website, saying that they believe a single assembly line experienced the issue, and that the affected serial numbers are not sequential. The reader adds that most European models seem to be affected.
PetaPixel describes the Nikon Z8 as a "paradigm-shifting camera," noting that the Z8 shares almost its features with Nikon's flagship camera, the Z9. "Outside of a smaller battery and some light downgrading of the weather sealing, the Z8 is the Z9," PetaPixel's editor-in-chief Jaron Schneider wrote last month.
At the time, Schneider reasonably did not anticipate that the Z8 would inherit more than the Z9's amazing photo and video features; the Z8 has seemingly also inherited its forebearer's manufacturing faults. Last December, Nikon issued a service advisory for the Z9, noting that some Z9 cameras had issues with the lens release buttons.
"Users of the Z9 mirrorless camera have informed us that there are cases in which the lens release button on their Z9 cameras when pressed does not function as it should and does not allow for rotation and removal of a lens or mount adapter from the camera," Nikon explained at the time, in a statement very similar to the one Nikon released concerning the Z8 last week.
Nikon also has a similar web page for its Z9 camera, allowing customers to enter their camera's serial number to find out if they own an affected camera body.
Like all other Nikon Z cameras, including the Z9, the Z8 is made in Thailand. The first Z cameras, the Z6 and Z7, were made in Thailand while Nikon still manufactured some of its cameras, like the D6, in Japan. However, at the end of 2021, Nikon moved all its camera production to Thailand, ending a 70-year run of making at least some of its cameras in Japan.