Nikon Z8 Hands-On: This Apple Didn't Fall Far From the Z9 Tree
As a parent, you hope that your children will emulate your best traits, but also blaze new trails and achieve greatness beyond their own. You hope that lessons will be learned from your own mistakes and that your weaknesses will not be theirs. Is the Nikon Z9 a proud parent?
---
This episode is brought to you by Picflow! Picflow is a client gallery made for commercial photographers and creative studios. You can add markups, change approval status, add comments and labels, and customize the whole experience to fit your project. Visit picflow.com to learn more.
---
I think many people will naturally look at the Nikon Z8 as a younger sibling to the Z9 or as a child to a well-respected parent. I declared the pre-production Z8 sample, a "baby Z9" when I first held it in my hands. As I used the camera extensively, that moniker became more and more true. It became clear that at the very core of the Nikon Z8 was the beating heart of the Z9.
I was very fortunate to revisit the gorgeous wilderness that is Yellowstone National Park. What a perfect place to test out what I believe will be a hugely popular new camera.
The Park gave us high-contrast sunny days and white-out condition snowstorms. Ample wildlife opportunities abounded thanks to the astute eye of our Park guide, Evan Stout; owner of Yellowstone Wildlife Guide Co.
Reflecting pools and boiling geysers provided us with some captivating landscapes to shoot and the trip was ideal for testing a new camera, especially given the short time available to us.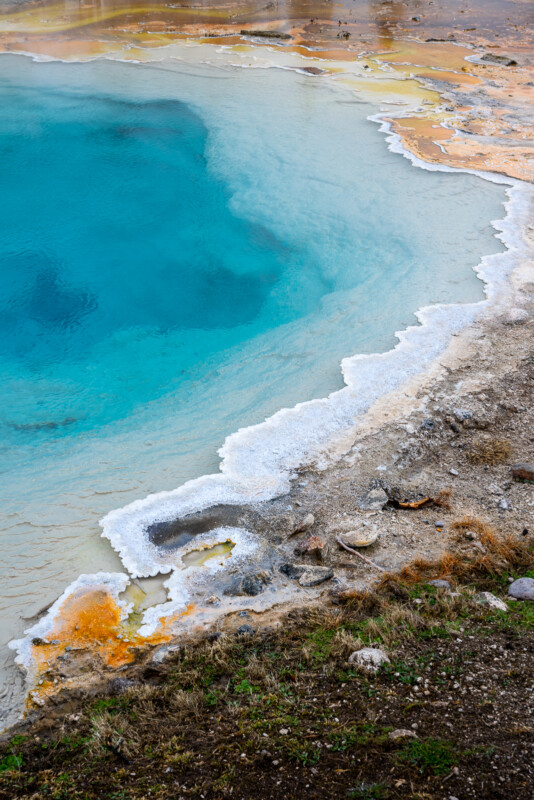 Design and Build Quality
My chief complaint with the Z9 was its large chassis; very akin to a classic flagship SLR. Even compared to contemporary cameras like the Canon EOS R3, the Z9 felt overbuilt and bulky. I also personally prefer cameras without integrated vertical grips. I know I'm in the minority, but I'm happy to crane my hand awkwardly over the camera when shooting vertically. Sure, the battery life is lesser thanks to the smaller EN-EL15 style batteries. But the trade-off is a minor one, for anyone who wants a smaller camera overall.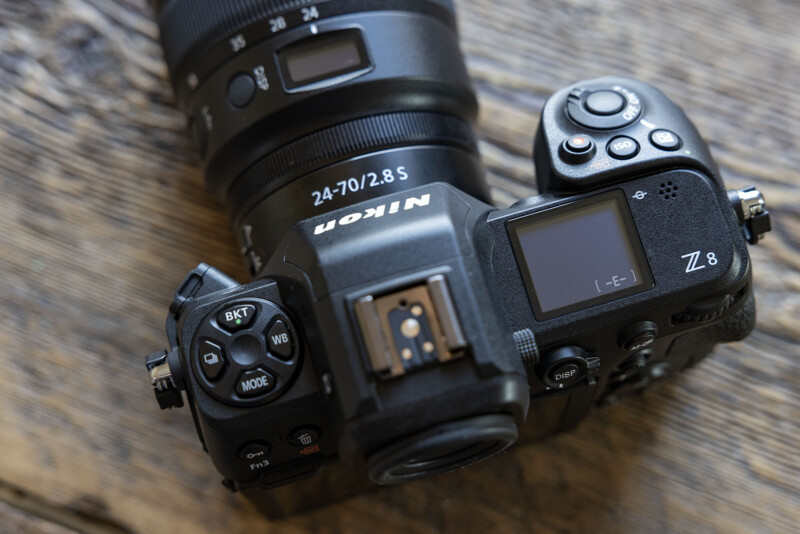 When I first picked up the Z8 I instantly felt at home. Now we have a camera which is lighter at only 910 grams, and far smaller.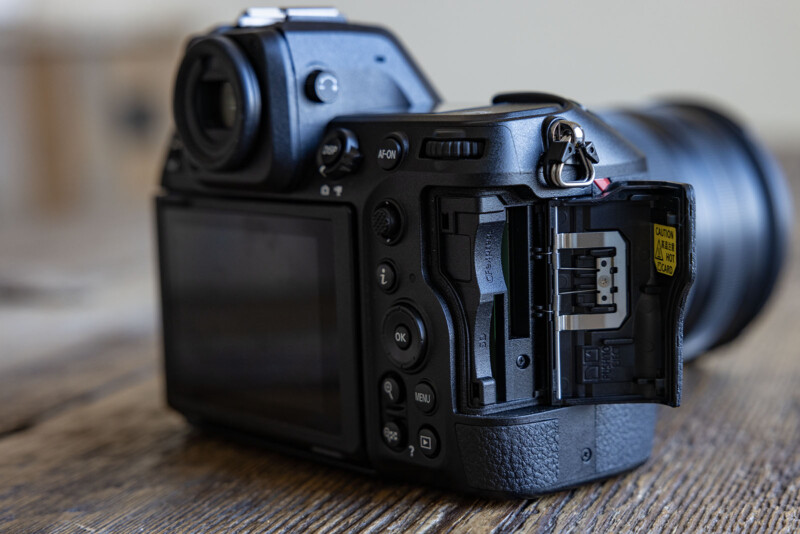 Fitting it into a smaller camera bag is easy. Slinging it over your shoulder is comfortable. It's natural to draw comparisons to a similar relationship between the Nikon D5 and D850. I, and I also imagine many of you, will prefer the more compact size of the Z8.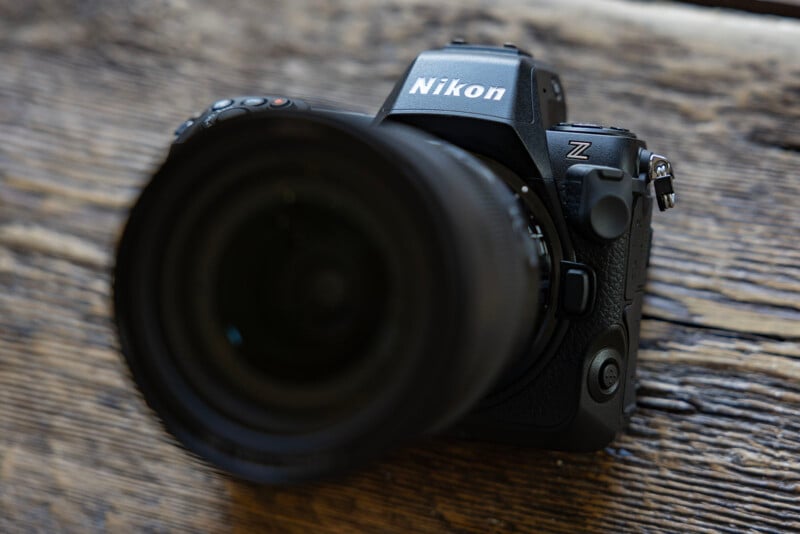 Regardless of where you fall on preferred camera size, there is no faulting the intuitiveness of the Z9 design. Therefore, I'm happy to see that the menus and controls on the Z8 are very similar. The autofocus joystick is present along with lots of customizable buttons.
Everything about the mode dials and control dials feels familiar. Although the camera is not weather-sealed to the same extent as the Z9, I still feel that it is built to a professional standard. We certainly exposed the Z8 to some nasty sleet and snow, with nary an issue.
In Use
The Nikon Z8 features the same excellent autofocus interface as the Z9. We see the return of Nikon's 3D tracking system, which is intuitive to set and offers an experience similar to Sony's lauded real-time tracking autofocusing feature.
The subject detection modes that we tested for wildlife and portraits worked as expected, and the only major hiccups found were also present on the Z9. You can largely rely on the Z8 autofocus to get you the shot unless there is snowfall or heavy rain present. Sometimes the camera will drift out of focus in these situations, and reacquiring the subject can be frustrating.
Thanks to the same 45-megapixel sensor setup as the Z9, the shooting experience is similar, too. There is no need for a mechanical shutter mechanism, as the sensor reads out fast enough to avoid rolling shutter issues. Operation can be completely silent, and with no shutter to delay the camera, the burst rates are impressive too.
The camera can effectively shoot up to 20 frames per second while still recording RAW image quality. If you're okay with JPEGs only, the camera will shoot up to 120 frames per second with a healthy crop and, therefore, some loss of resolution. Regardless the Z8 can easily handle its own in a sports or wildlife situation.
Image quality is excellent with rich colors and tones, even in low-light situations. Despite a very minor loss of dynamic range due to the electronic shutter, the files still have so much room to edit your exposures and tweak your image to your heart's content. 45 megapixels is perfect for accommodating large print sizes or cropping heavily afterward to get closer to the action.
We have the same fully articulating LCD back panel as the Z9. At 2.3 million dots, it's easy to confirm focus, zoom in heavily in playback, or see clearly in bright sunlight.
The Z8 also has the same 3.69 million dot EVF as the Z9. At first, this might seem slightly low for a camera at this price. However, it's important to point out that the EVF has extremely low lag, a very important benefit when shooting fast-action situations.
Do You Even Hybrid?
The Z9 brought a lot to the videography table, and the Z8 is exactly the same. The headline feature is going to be internal 10-bit recording in 8K at up to 30 frames per second. 4K recording is also 10-bit and can push up to 120 frames per second, making the Z8 excellent for slow-motion setups. You can also record 12-bit RAW in both N-Raw or ProRes formats, making the Z8 a flexible video camera for almost any application.
The Z8 also has good exposure tools like Waveforms, albeit with limited ability to customize how those are shown. Video autofocus is reliable and customizable, but still suffers in the same situations as it does in shooting stills. Get past these minor issues and you are left with what is the most compelling video platform at this price.
It's a Healthy Baby
Even though this is a first look at a pre-production camera, I feel like I could almost fully review it now because everything about it is a known commodity: it is essentially a Nikon Z9 without the bulky vertical grip design.
Most surprising, however, is the bold decision to offer a more affordable $4,000 price and yet take nothing away from the capabilities between it and the Z9. Basically, you are getting a far more affordable Z9, in a far more compact body, with very little compromise.
The obvious conclusion is that Nikon wants to sell a ton of these and win back some serious market share. I think that is exactly what it will do.
---
Image credits: Product photos by Jaron Schneider, all samples photos by Chris Niccolls for PetaPixel.