Several Nikon Z8 Owners are Reporting Broken or Loose Strap Lugs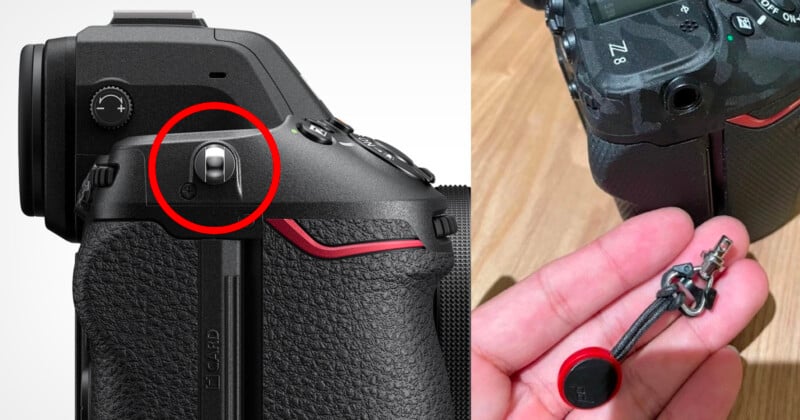 Despite being one of the best cameras for enthusiast and professional photographers, the Nikon Z8 has some issues. Last month, PetaPixel shared news that some Nikon Z8 cameras won't accept lenses. When it rains, it pours. Nikon Rumors reports that some users are experiencing broken strap lugs.
---
Update on July 24: Added links to Bart Ros' website and Instagram.
Update on July 18: Nikon has provided the following comment to PetaPixel: "We recognize this matter and currently are looking into it."
Original story below.
---
Photographer Bart Ros explains in a private Nikon Z8 Facebook group that they were shooting an event in early July with their Nikon Z8 camera, alongside Peak Design's popular anchors and strap.
"The anchor point on the camera broke. And the body fell. And it does not turn on anymore. Something audible is broken inside the body. But there is no external damage," writes the photographer. More of Bart Ros' work is available on Instagram.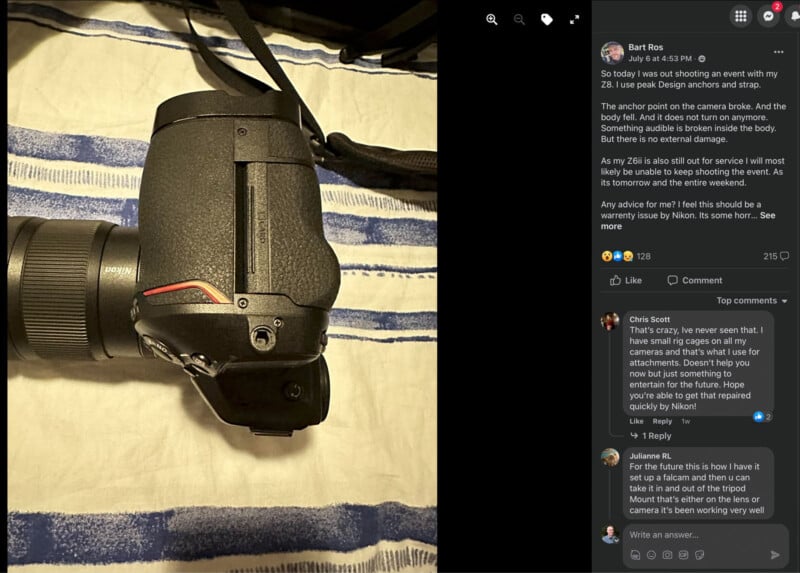 Like many event photographers, Ros has a backup camera. However, his Nikon Z6 II was also "still out for service," so Ros needed to drive 200 miles to his supplier to pick up the Z6 II, which his contact rushed to fix so Ros could continue shooting the event.
Some commenters speculate that the strap anchor lug is missing a required pin that holds it in place inside the camera.
"That's crazy. I've never seen that," replies Chris Scott.
"I'm so sorry. This really stinks. I get mine back later this week, and I'm definitely considering an L bracket or plate…I now worry about people hiking around with their Z8 and it falling into some area that can't be recovered," adds Renee Eden.
Another member of the Z8 group, Robert Paul Riley, explains that he has seen this issue occur with cameras before, which is why he uses an L bracket.
Ros posted on July 8 that he was told it is a known issue after speaking to a local Nikon distributor in Europe.
"Nikon plans to check it during the mount recall," Ros says. He received a brand new Z8 under his warranty and is "happy with the service" but unhappy with the build quality of the Z8 so far.
While Ros' unfortunate incident may be rare so far, it is not unique. Another Nikon Z8 group member, Ling Boon Kok, posted a photo of someone in China having a similar issue of the strap attachment lug detaching from the Z8 body.
"Well, this is possibly evidence of one case in China. Will wait for US tech support to let us know if it is really an issue," replies Christina Brittain.
Fellow commenter John Ktistis says this is the third instance of the lug issue he has seen online.
"This is even more serious than the unlockable lens mounting. In that case, one knows when a lens cannot be mounted. In this case, there is no warning when the pin will come out. Puts both camera and lens at risk. From the photo, there appears to be a hole in the metal part where some pin should be inserted through it. Looks like during the manufacture this pin is not properly inserted or not even inserted so the metal part simply slips out when pulled. Nikon should do a recall," adds Chuan L Lam.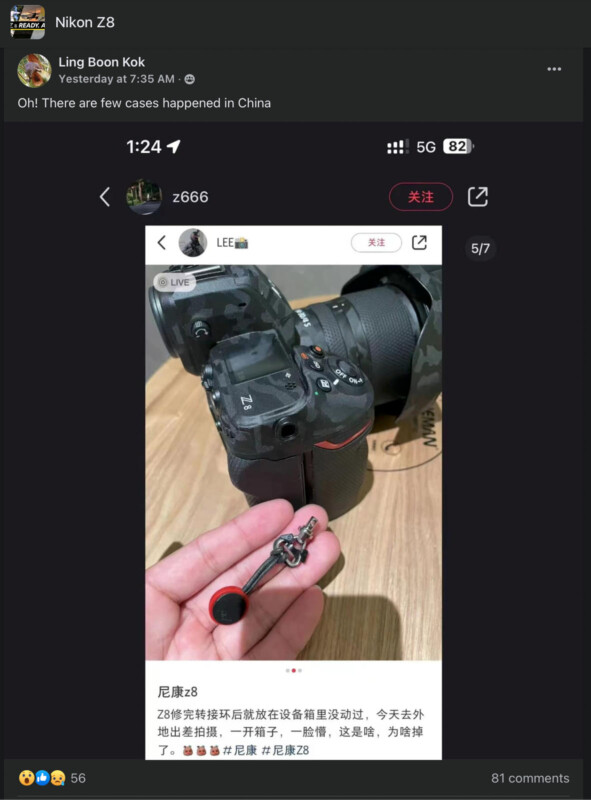 After translating the Chinese post that Kok shared, it appears that the Z8 owner opened up their camera case, or perhaps some sort of box, and the strap lug was loose inside. This is different from the Ros' situation, as he was actively using the camera when the strap lug detached.
"Both of mine are loose," adds Rob Nicholson, seemingly referring to the strap lugs on his Z8 camera.
What is Going on With the Nikon Z8?
This is the second reported issue concerning the Z8 since it launched in May. While Nikon was quick to address the issue with the camera's lens mount and is doing right by its customers, it is nonetheless concerning that the Z8 had that issue after the Z9 had the same problem following its release in late 2021.
The reported issue with the strap lugs is odd and certainly concerning, but there is not yet ample evidence to suggest that it is widespread. However, given that the Z8 has had a bit of a rocky start to its life, that makes the strap lug problems look a bit worse.
Aside from these reliability concerns, the Nikon Z8 has proven to be very popular with photographers and reviewers alike. The camera is selling very well and for good reason: it is fantastic. That said, considering that the camera is $4,000, it is fair for customers to expect better build quality.