The Best Waterproof Cameras in 2023
Waterproof cameras are the perfect companion for a sunny beachside vacation, an exciting undersea scuba dive, or even shredding snowy slopes. Waterproof cameras allow photographers to capture unique underwater perspectives and photograph beautiful sea life. They also allow for amazing action shots of watersports.

You can purchase specialized underwater housing for many DSLR and mirrorless interchangeable lens cameras from respected companies like Nauticam, Sea & Sea, Aquatica, Ikelite, Marelux, Isotta, and more. However, these waterproof housings are prohibitively expensive for all but the most hardcore aquatic photographers, sometimes costing more than $5,000 without specialized lighting add-ons. Underwater housings won't be featured in this guide.
This buying guide focuses primarily on standalone waterproof cameras that deliver all-in-one photo and video performance for under $1,000. However, before discussing all the cameras with specific depth ratings, it's worth discussing the latest interchangeable lens cameras (ILC) from OM Digital Solutions, as they are the most weatherproof ILCs available. While not "waterproof" in the truest sense of the word, OM Digital's cameras may be plenty water-resistant for many photographers, while delivering image quality, performance, and versatility that true waterproof cameras can't match.
We'll then turn our attention toward dedicated, fully waterproof cameras. Waterproof cameras often feature small image sensors and built-in lenses, which allow for compact, lightweight designs and extensive sealing against water. Some cameras on this list are built for extreme underwater depths, while others are hybrid cameras, similarly well-suited for terrestrial and aquatic pursuits alike. What they all have in common, save for the OM System cameras, is complete protection when submerged, even for extended periods.
At a Glance
Best Weatherproof Interchangeable Lens Camera: OM System OM-1
Key specifications: 20-megapixel stacked Micro Four Thirds sensor; interchangeable lens design; 4K/60p video; IP53 rating; $2,199 (body only)
The OM System OM-1 is an incredible Micro Four Thirds camera. Unlike the "waterproof" and "underwater" cameras that comprise the rest of the buying guide, OM's cameras aren't built for diving. However, they are built to withstand extreme weather and survive significant water. If you aren't looking for a camera for snorkeling, but rather, for photographing in any weather condition or surviving major splashes, then the OM-1 is the best option.
OM Digital torture tests its cameras, and the OM-1 is the only interchangeable lens camera on the market with an IP53 rating. IP stands for "ingress protection," and an IP53 rating means that the OM-1 can operate with water falling onto it as a spray at an angle of up to 60 degrees. No, you can't take it underwater, but that's about the only place that the OM-1 can't handle.
To ensure optimal weather resistance, the OM-1 should be paired with OM Digital's latest IP53-rated lenses, including the OM 12-40mm f/2.8 II and 40-150mm f/4.0 zooms that launched alongside the OM-1. OM Digital recently launched a new macro lens, the OM M.Zuiko 90mm f/3.5 Macro IS Pro lens, which also features an IP53 rating.
Thanks to its rich features set and interchangeable lens design, the OM-1 is the most versatile camera in this guide. The camera features a stacked 20.1-megapixel image sensor, artificial intelligence-powered autofocus, 4K/60p video, and continuous shooting at up to 120fps.
Read more: OM Digital OM-1 Review: The Best Micro Four Thirds Camera Ever Made
Best Weatherproof Interchangeable Lens Camera under $1,500: OM System OM-5
Key specifications: 20-megapixel Micro Four Thirds sensor; interchangeable lens design; 4K/30p video; IP53 rating; $1,199 (body only)
The same "not exactly waterproof" qualification applies to OM's latest camera, the compact and affordable OM Digital OM-5. At $1,199 (body only), the OM-5 is $1,000 less than the OM-1, but it still includes the same extremely impressive IP53 rating, meaning the OM-5 is a great choice for people who don't intend to take their camera on a swim but do photograph in situations where they may get wet — really wet, even.
The OM-5 doesn't sport OM Digital's latest stacked sensor design, nor the fancy AI autofocus features that the stacked sensor allows, but the OM-5 nonetheless packs a punch. Its 20.4-megapixel image sensor promises high-end image quality, and its five-axis in-body image stabilization (IS) is rated for a very impressive 7.5EV steps of stabilization when used in conjunction with a compatible IS-equipped lens.
The OM-5 also includes exciting computational photography features, such as a 50-megapixel handheld high-resolution shot mode, a Live Neutral Density (ND) mode, internal focus stacking, fast shooting speeds, Starry Sky autofocus, and more.
Best Compact Waterproof Camera Under $500: Olympus Tough TG-6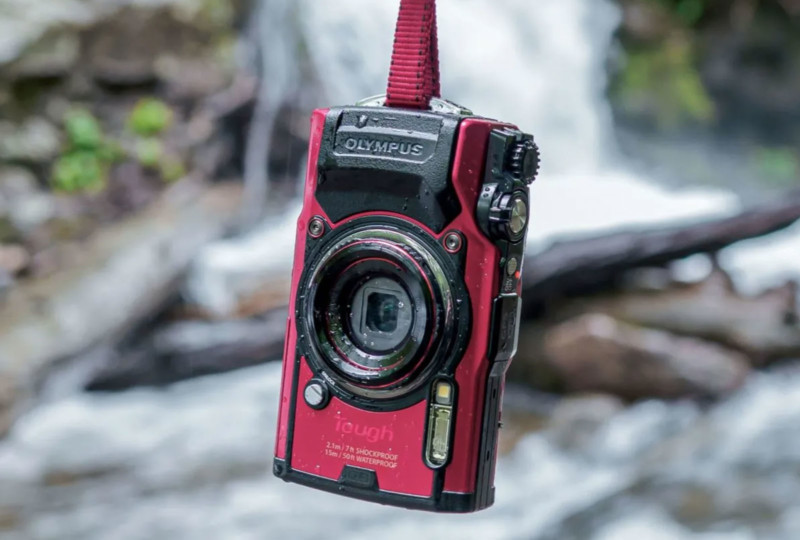 Key specifications: 12MP sensor and 25-100mm equivalent lens; 4K/30p video; waterproof to 50 feet (15 meters); $499
The Olympus TG-6 is the latest in a long line of popular, ultra-rugged compact cameras. Now known as OM Digital Solutions, Olympus's imaging division launched the TG-6 in 2019, so the camera is relatively long in the tooth. But make no mistake, the TG-6 remains an excellent option for photographers looking for a rugged, waterproof camera.
The TG-6 pairs a 12-megapixel backside-illuminated CMOS image sensor with a built-in 4x optical zoom lens (8x with digital zoom). The lens offers an equivalent focal length range of 25-100mm, and its aperture ranges from f/2.0 to f/4.9. The TG-6 records 4K UHD video at up to 30 frames per second and Full HD video at up to 120p. By the way, the TG-6 can shoot RAW photos, which isn't something every prior TG model offers.
Among the TG-6's best qualities is its sturdy, user-friendly design. The TG-6 incorporates numerous physical controls, a large 3-inch rear LCD, and incredible ruggedness. The Olympus TG-6 is waterproof to 50 feet (15 meters), shockproof when dropped onto a hard surface from 7 feet (2.1 meters), and freezeproof down to 14 degrees Fahrenheit (-10 degrees Celsius).
The Olympus Tough TG-6 is available in black or red for $499.99. An optional add-on macro ring light is $39.95. An optional fisheye lens conversion adapter is available for around $20.
Best Diving Camera: SeaLife Micro 3.0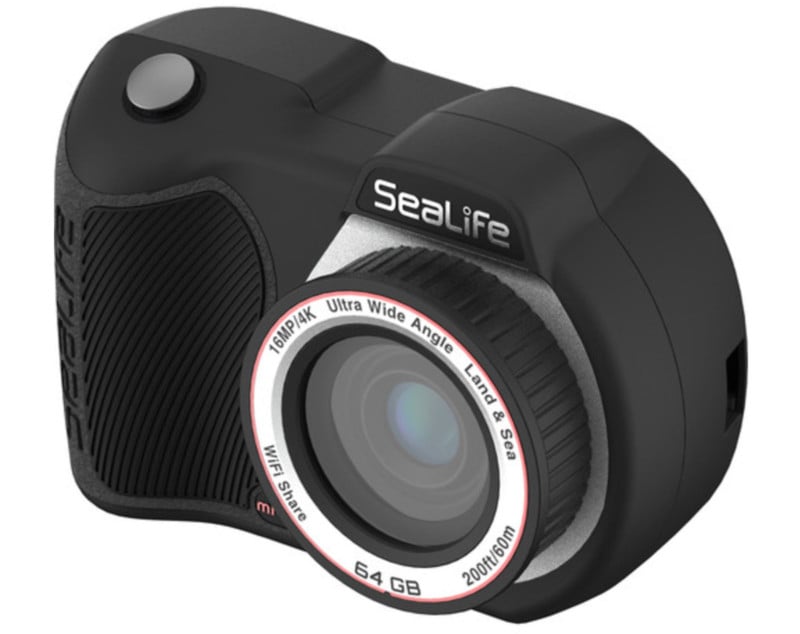 Key specifications: 16-megapixel sensor and 19mm equivalent lens; 4K/30p video; waterproof to 200 feet (61 meters); $599
Unlike the TG-6, which is built for all-around adventure photography, including underwater, the SeaLife Micro 3.0 is a purpose-built underwater point-and-shoot camera built from the ground up for aquatic photography. The SeaLife Micro 3.0 is rated for depths down to 200 feet (61 meters), which is very impressive.
The SeaLife Micro 3.0 features a 16-megapixel Sony-built CMOS image sensor and a 19mm equivalent f/2.8 fixed lens. The camera captures 4K/30p and 1080/120p video, RAW, and JPEG images and features 64GB of internal memory.
The SeaLife Micro 3.0 is larger and beefier than the TG-6, eschewing the mode dial and standard buttons in favor of a shutter release and large buttons for video, menu, and playback. These large controls should be easy to operate when wearing gloves. The camera has a 2.4″ LCD, which is somewhat small.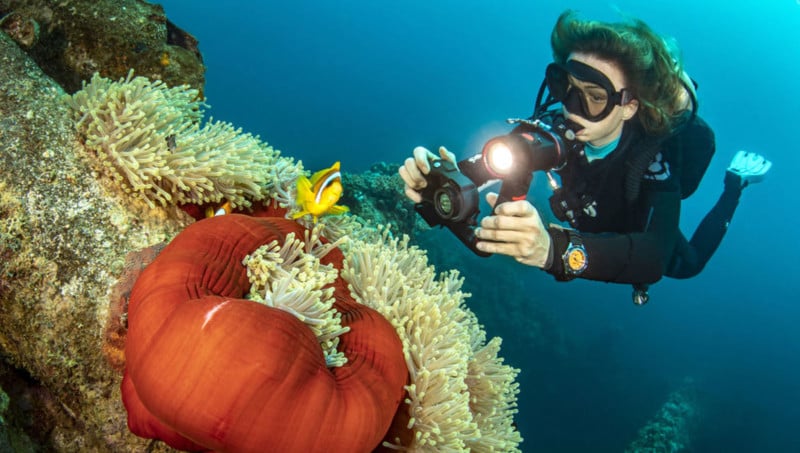 Additional features include Wi-Fi connectivity, 10 frames per second burst shooting, five scene modes, underwater color correction, and permanent sealing. The camera also provides shooting modes for on-land activities, so it's not just for underwater use. However, given the underwater-centric design, it's unlikely to be a good choice for above-water photography. The SeaLife Micro 3.0 is compatible with Sea Dragon LED photo-video external lights for deeper sea photography.
The SeaLife Micro 3.0 is available for $599, making it one of the more expensive cameras on our list.
Best Scuba Diving Camera: Paralenz Vaquita 4K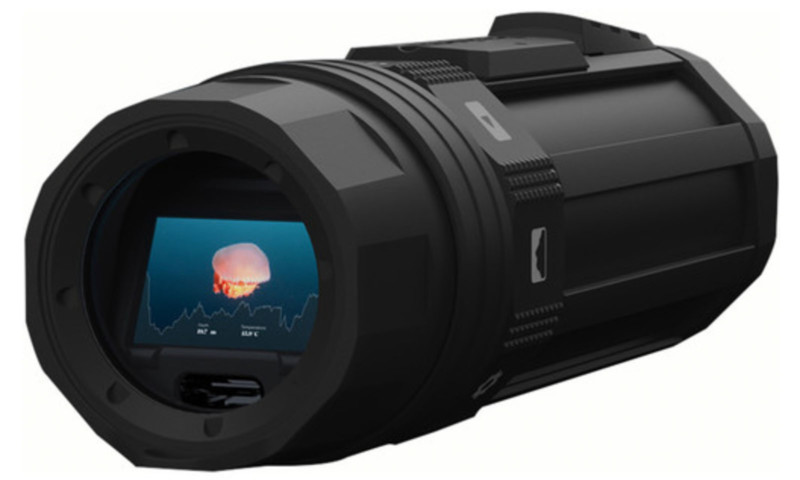 Key specifications: 12-megapixel sensor and lens with 135-degree field of view; 4K/60p video; waterproof to 1,150 feet (350 meters); $799
Note: Paralenz, the company behind the Vaquita 4K, has filed for bankruptcy. Take that into consideration, as the company's financial issues may affect future support for the camera. Further, the company's website no longer exists.
The SeaLife Micro 3.0 is built for underwater photography, while the Paralenz Vaquita 4K is constructed especially for scuba diving. The Vaquita has a distinct cylindrical form factor, controls designed for easy use underwater, and numerous features built for serious divers.
Using a free app, the Vaquita can automatically start and stop recordings when it reaches specific depths. The camera records 4K/60p and 1080/240p video using a 12-megapixel image sensor and a built-in lens with a 135-degree field of view. The camera has a small 0.95-inch OLED display.
The Vaquita is waterproof to 1,150 feet (350 meters), the best dive performance of any camera on our list. It also includes a clever Depth-Controlled Color Correction (DCC) feature to automatically adjust the white balance of photos and videos based on your depth.
Given the company's financial troubles, the Paralenz Vaquita can be somewhat tricky to find. However, at $799, it's an intriguing camera for dedicated divers. It is worth including on this list by virtue of its interesting design, excellent depth rating, and sophisticated diver-centric features.
Best Waterproof Action Camera Out-of-the-Box: GoPro HERO11 Black
Key specifications: 27-megapixel sensor and different lens mods; 5.3K/60p video; waterproof to 33 feet (10 meters) (waterproof to 196 feet (60 meters) with optional case); $500
The GoPro Hero11 Black doesn't veer off GoPro's well-trodden path. However, it's a good upgrade to the venerable HERO line of action cameras, offering many impressive features and overall solid performance.
The action camera has a new large image sensor that captures 27-megapixel still images and records video at up to 5.3K resolution and 60 frames per second. It includes GoPro's impressive HyperSmooth 5.0 video stabilization and more special features than you could shake a stick at, including AutoBoost stabilization, HyperView video enabled by the 8:7 aspect ratio sensor, 8x slow-mo, star trails, and light painting modes, and much more.
The GoPro HERO11 is waterproof to depths of 33 feet (10 meters), which isn't well-suited to extreme diving but is sufficient for most underwater adventures. It's certainly more than good enough for typical swimming and snorkeling. The GoPro HERO11 also benefits from a small form factor, dual screens, a polished connected app, and a lightweight design. The HERO11 weighs just 5.4 ounces (154 grams).
GoPro offers a wide range of accessories for the HERO11, including lens mods to change the field of view, mounts, remotes, and protective housing to improve underwater performance. The GoPro HERO11 Black starts at $350 with a GoPro subscription service but is $500 when purchased as a standalone action camera.
Read more: GoPro Hero11 Black Review: A Solid Upgrade on a Proven Formula
Best Waterproof Action Camera with Add-ons: DJI Osmo Action 3 Diving Combo
Key specifications: 12-megapixel sensor with 155-degree field of view; 4K/120p video; waterproof to 196 feet with Dive Combo; $329 ($408 for Diving Combo)
The GoPro HERO11 Black is great for underwater photography just as it comes, but the DJI Osmo Action 3 Diving Combo is an affordable alternative that offers a bit more bang for your buck. The specialized diving kit includes the DJI Osmo Action 3 camera, a waterproof case, a floating handle, and anti-fog inserts. The combination promises a depth rating of just under 200 feet (60 meters), all for just over $400.
The DJI Osmo Action 3 records 4K/120p video with horizon-steady stabilization, includes a quick-release design for vertical video, and has dual screens. In many ways, its design is quite similar to the GoPro HERO11 Black.
The Osmo Action 3 comes up short compared to the HERO11 Black regarding resolution. The Osmo Action 3 shoots 12-megapixel photos, rather than the 27-megapixel shots captured by GoPro's latest action camera. On the other hand, the Osmo Action 3 includes similar special features, including support for hyper-lapse and timelapse videos, 10-bit video, HDR video, and intelligent auto white balance when shooting underwater.
The DJI Osmo Action 3 starts at $329, but the specialized Diving Combo is $408.
Best Premium Compact Waterproof Camera for Video: Sony RX0 II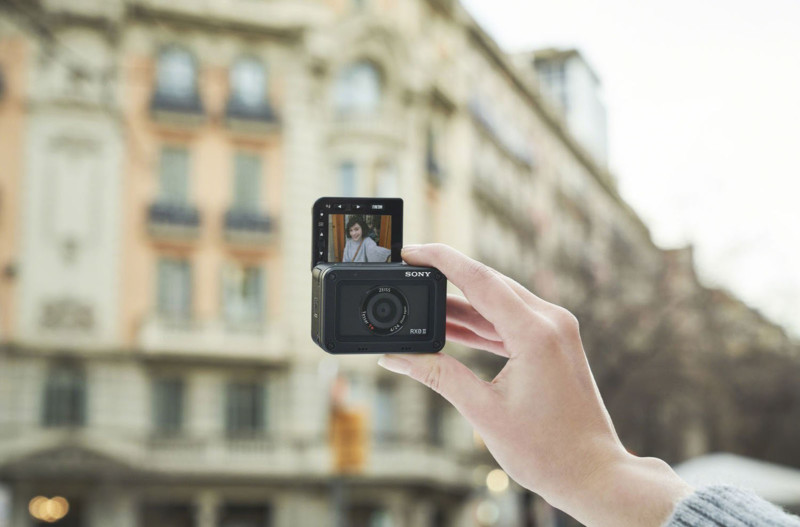 Key specifications: 15.3-megapixel sensor with 24mm equivalent Zeiss lens; 4K/60p video; high frame rate video up to 1,000 fps; waterproof to 33 feet (10 meters); $700
Sony's unique cube-like RX0 II camera is tough, tiny, and delivers premium image and video quality. Featuring a relatively large 1.0-type image sensor and Zeiss Tessar T* built-in lens, the RX0 II is an interesting option for underwater photography and video applications.
The 15.3-megapixel sensor captures RAW and JPEG images, and the built-in lens has an f/4 max aperture. These aren't especially impressive figures on paper, but Sony's imaging technology is among the best on the market thanks to Bionz X image processing and Zeiss image quality.
The RX0 II includes exciting video features, including high frame rate video at up to 1000 frames per second (at 1,136 x 384 resolution), 4K/30p video with S-Log2 gamma, uncompressed 4:2:2 over HDMI. However, you likely won't be doing that underwater. The RX0 II also includes remote control functionality.
The RX0 II is less waterproof than some cameras on this list, but it is still rated to work at depths of 33 feet (10 meters). It's also shock resistant, crushproof, and dustproof. Unlike every other camera on this list, the RX0 II also includes a tilting display rather than a fixed screen.
The Sony RX0 II is available for $700. The camera is much more than a compact action-oriented camera. It also integrates well into complex multi-camera setups and works with many Sony accessories for professional video production.
Best Waterproof Camera under $100: Minolta MN40WP
Key specifications: 48-megapixel sensor with 16x digital zoom lens; 2.7K video; waterproof to 10 feet (3 meters); $75
Numerous cameras featured in this guide qualify as "affordable," especially in the current camera market. However, there are few cameras under $100 fit for only dry land, but shockingly enough, there is an underwater camera for just $75.
Despite being the cheapest camera on the list, the Minolta MN40WP has the highest megapixel count at 48 megapixels. Despite having the resolution for 4K video, the camera doesn't do that, instead topping out at 2.7K QHD video. It has a built-in wide-angle lens with 16x digital zoom, face detection autofocus, and dual screens for regular shooting and selfies.
The camera is waterproof to just 10 feet (3 meters), so it's not exceptionally robust. However, it is waterproof and priced under $100. It's unrealistic to expect excellent image quality from the Minolta MN40WP. Still, it may be a good option for someone looking for something affordable to take on a tropical vacation or for children photographing their summer fun.