How OM Digital Torture Tests its Weatherproof Cameras
Earlier this year, OM Digital launched the OM-1, which earned the highest weatherproof rating of any camera on the market PetaPixel was given an exclusive behind-the-scenes look at just how intense the company's torture testing is to assure this unmatched rugged design.
Formerly Olympus, OM Digital designs its cameras to withstand far more of the elements than is considered "standard" by the rest of the industry with much higher IP ratings. The OM-1 is the only IP53-rated interchangeable lens camera on the market.
IP, or "ingress protection," is a grade given by the International Electrotechnical Commission (IEC) which grades the resistance of an enclosure against the intrusion of dust or liquid and is noted by a set of numbers. the IEC's IP chart can be found on its website.
The first number is rated as zero through six and represents an object's protection against dust, "solid foreign objects," and the second number is rated as zero through nine which represents different levels of resistance to water.
The OM-1, for example, holds an IP53 weatherproof rating, which is the second-highest level of dust protection that exists and certifies that the camera can continue to operate with water falling as a spray onto it at an angle of up to 60-degrees. The result is a camera that can withstand basically all above-ground weather phenomenons and keep working in temperatures as low as -10 degrees Celcius.
PetaPixel spoke to Takao Takasu, Vice President, R&D, and Takehito Higashi, Executive Director, Quality management at OM Digital Solutions Corporation in order to better understand how the company tests its cameras so that they can perform in extreme environments.
OM Digital's Testing Facilities
The process for determining the level of durability a camera should have starts very early in the product planning process. Takasu and Higashi say that OM Digital determines the specifications of a camera based on the usage scenario and photography genres it envisions for the finished camera and designs the device to meet those specifications. In the case of the OM-1, it was designed to be a new flagship, and as such the team went to extra lengths to assure it would be far more than just another camera.
"Since the OM-1 is the flagship model of our new brand OM System, we took on the challenge of IP53 with significant improvements in basic performance in order for our customers to experience the value that we are aiming to offer," Takasu and Higashi explain.
"We conduct durability tests in stages from the time of prototyping," the two continue. "At first, simple tests are conducted in our R&D facility for operational parts (e.g. buttons and dials). Then, final tests are conducted on the final assembled product, using test equipment for each grade of dustproof and splashproof performance."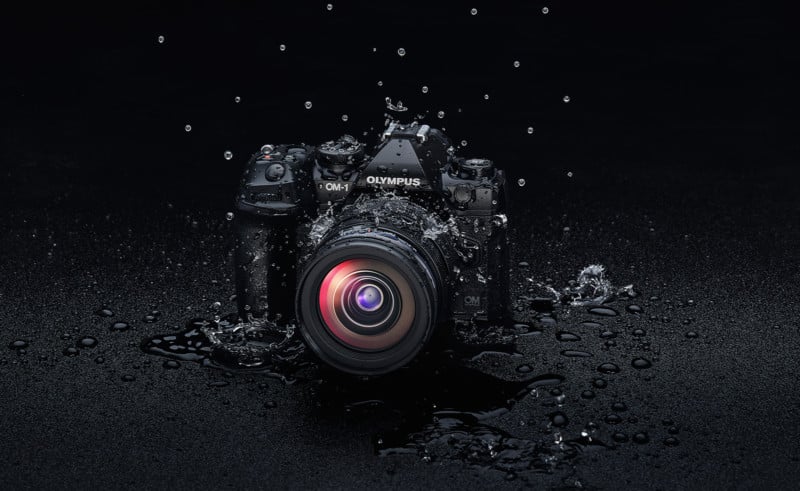 OM Digital says its in-house evaluations are conducted under severe test conditions above the grades it intends to reach.
"We are utilizing our many years of accumulated know-how and data, reviewing the materials and widths of sealing and improving the way sealing materials overlap where multiple components meet, in order to improve dust and splashproof performance effectively," the two explain.
"Weather resistance testing includes dust and splashproofing, high temperature, low temperature, high humidity, and cold/heat cycling tests. After a test, we confirm whether functionality and performance are maintained," Takasu and Higashi say.
Takasu and Higashi say that OM Digital has many years of experience evaluating weather resistance from its time weatherproofing with film cameras and through its development of the Tough series of point-and-shoot digital cameras. Because of this, OM Digital has extensive splashproof testing facilities and most of its testing for IP ratings are done in-house.
Just seeing the IP53 rating that promises protection against a spray of up to 60-degrees doesn't properly illustrate how impressively sealed the camera is against liquids. In video footage provided to PetaPixel, it's clear the cameras are capable of resisting a significant amount of water.
In the video footage, the OM-1 is subjected to this level of spray for more than two minutes as it is fully rotated and water is fired at it from a variety of angles.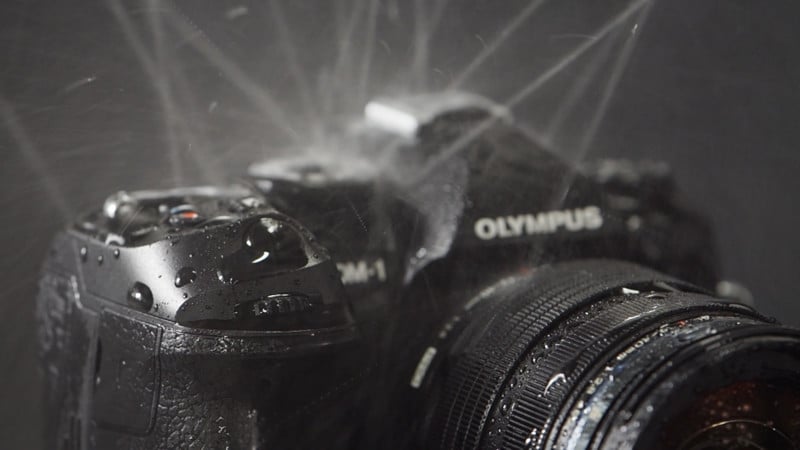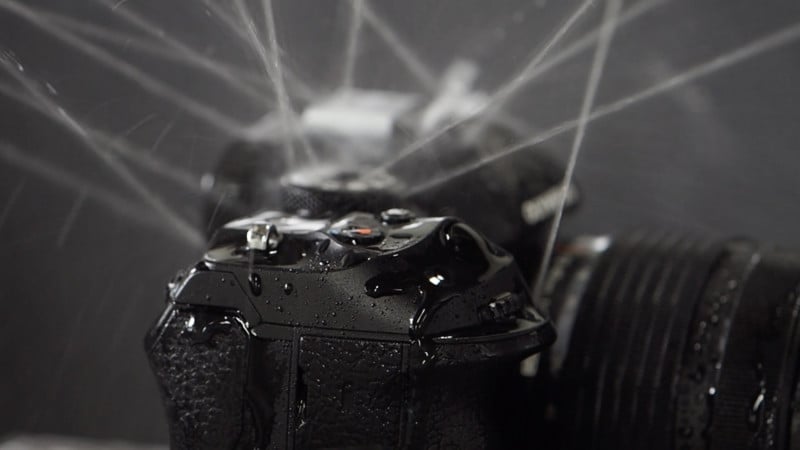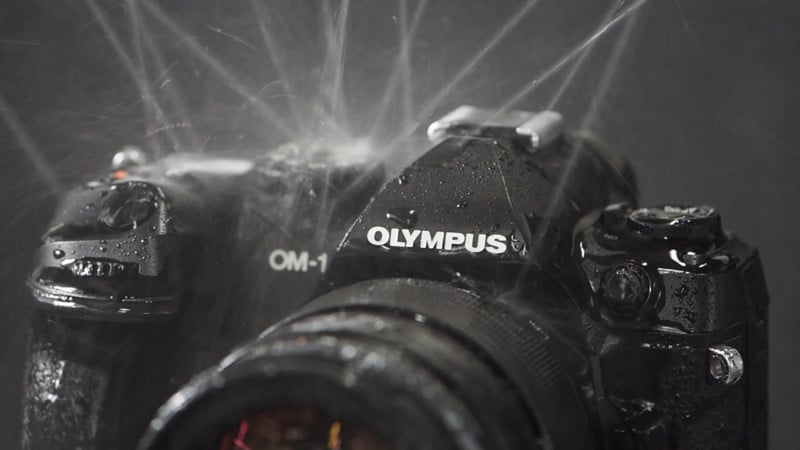 "Dustproof testing is done at an outside laboratory, but since dustproof testing can usually be cleared if performance is ensured in the splashproof test, it can be said that we have a sufficient environment in-house for weatherproof testing," the two explain.
In the photos below, it may look like the cameras are covered in snow, but it's actually a heavy accumulation of fine dust. OM Digital lab technicians place the cameras on a rack inside of a device that blows heavy amounts of white dust on the camera from all directions.
The amount of dust is so thick that hardly any of the camera's exterior is visible. The test is conducted with a lens attached as well, which means the lens needs to be just as sealed as the camera.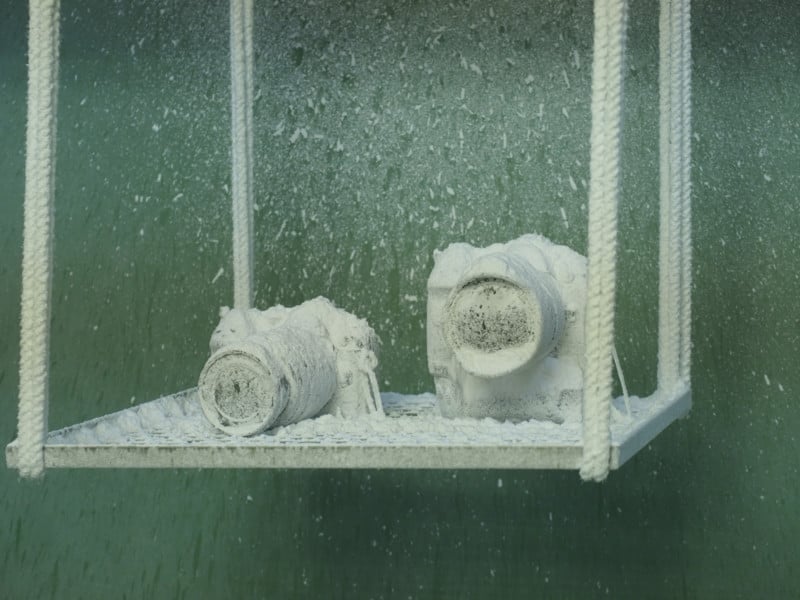 After the test, technicians will then inspect various parts of the camera for any signs that dust has made it into the vital parts.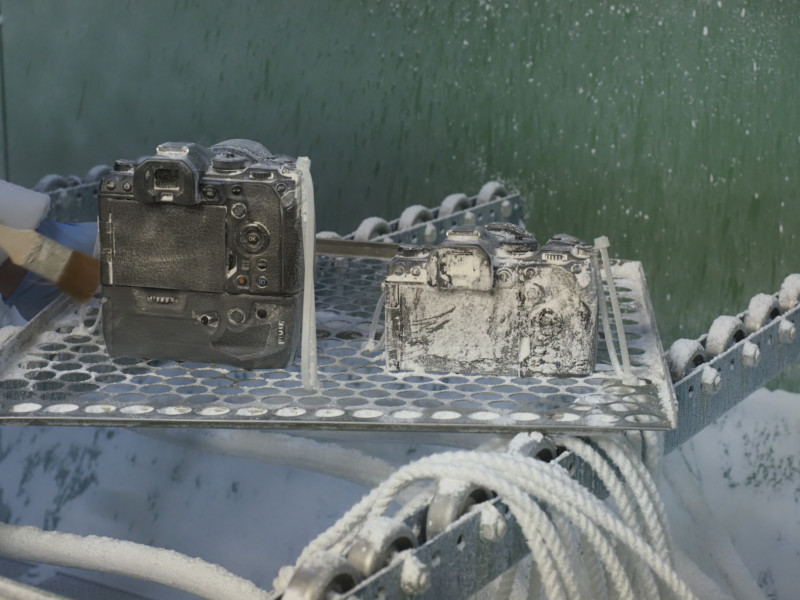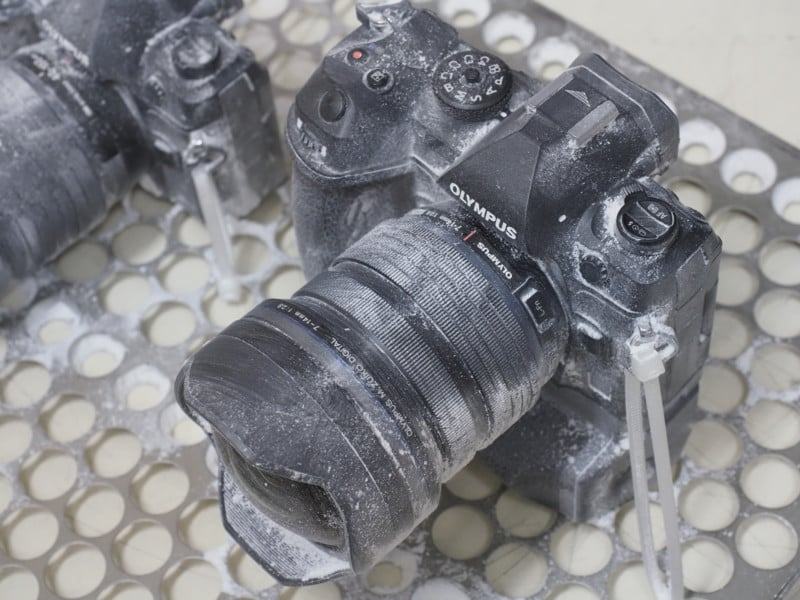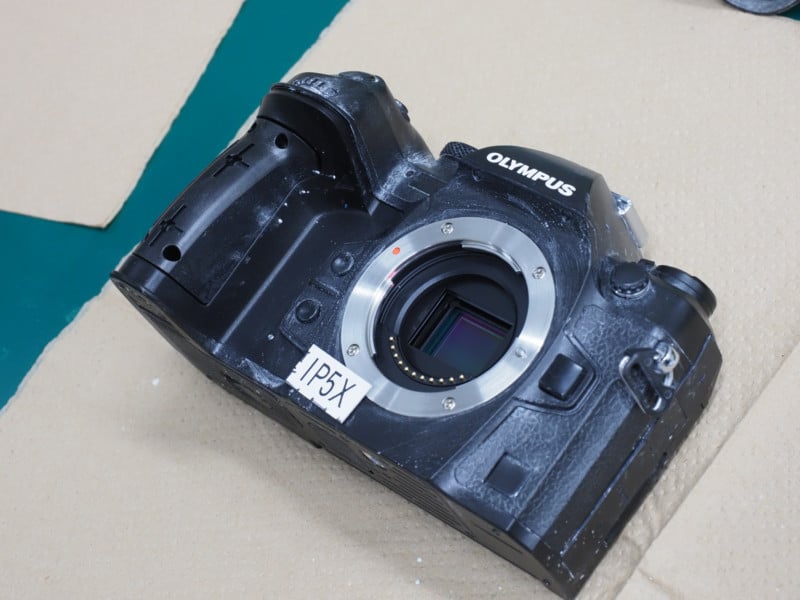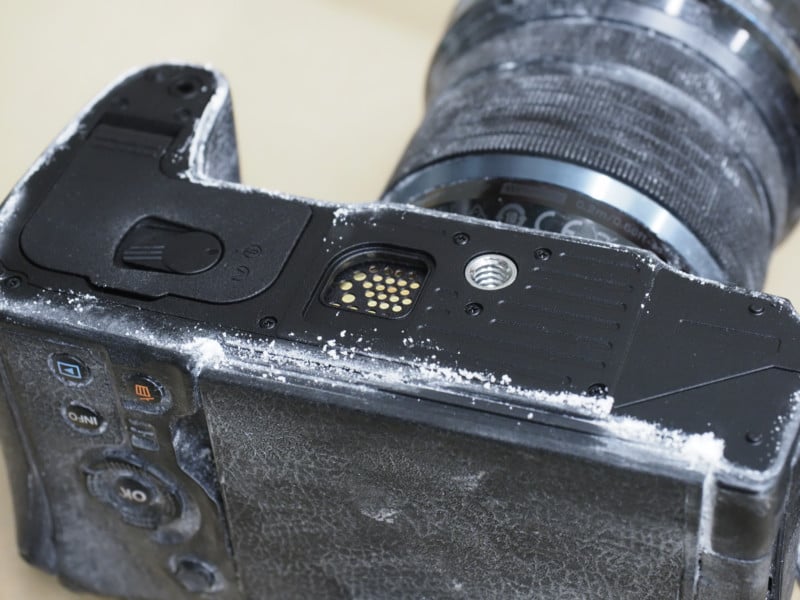 In these photos, the line between where the dust accumulated and the safe, clean areas of the camera's interior is quite visible and shows how the OM-1 is able to keep its internal components clear.
OM Digital will also sometimes verify lab tests in the field, and Takasu and Higashi confirm it did so with its TG series of waterproof compact digital cameras since the company determined the best way to assure those could survive the rigors of shooting in the ocean was to actually try it.
Why OM Digital Goes to These Lengths
The level of durability OM Digital has achieved is certainly impressive, but why go to these great lengths?
"When you want to capture a moment, it is useless if you don't have your camera with you," Yoshihisa Maitani, the designer of the original OM System, says.
The company takes these words to heart and they are the heart of the product development philosophy.
"Therefore, 'cameras you can take with you anywhere' is an important policy in our product development, and, in order to achieve that goal, we are focusing on developing products that are compact, lightweight, and mobile," Takasu and Higashi explain.
"If the camera we offer is one that people want to carry around with them, but they are unable to use it due to extreme weather or shooting environments, it will spoil the excitement of the customer's photographic experience," the two continue. "We are putting a lot of effort into developing better cameras without compromising their dustproof and splashproof performance, because we want our customers, regardless of their environment, to be able to capture each and every moment and enjoy their adventures."
While Takasu and Higashi cannot discuss plans for future, unannounced products, the two say that the company's goal will never deviate from that idea.
"OM System's goal is to achieve both of these objectives: cameras you can take with you anywhere, and which let you capture emotions as you feel them," Takasu and Higashi respond when asked if there was a point at which OM Digital will feel they have reached a level of durability it is satisfied with.
"We will continue to develop products that enable customers to shoot what they have so far been unable to shoot."
---
Image credits: All photos provided courtesy of OM Digital for the exclusive use by PetaPixel.