OM System's Tough TG-7 is a Rugged Companion for Outdoor Photographers
OM System has announced the TG-7, its newest addition to the rugged OM System Tough series of compact digital cameras that is the successor to the TG-6 that was discontinued last month.
Like the TG-5 and TG-6, the OM System TG-7 has a 12-megapixel Type 1/2.33 inch image sensor and paired to the sensor is the same 25-100mm f/2-4.9 lens as before. The focal length is stated in 35mm-equivalent terms; the actual focal length is 4.5-18mm.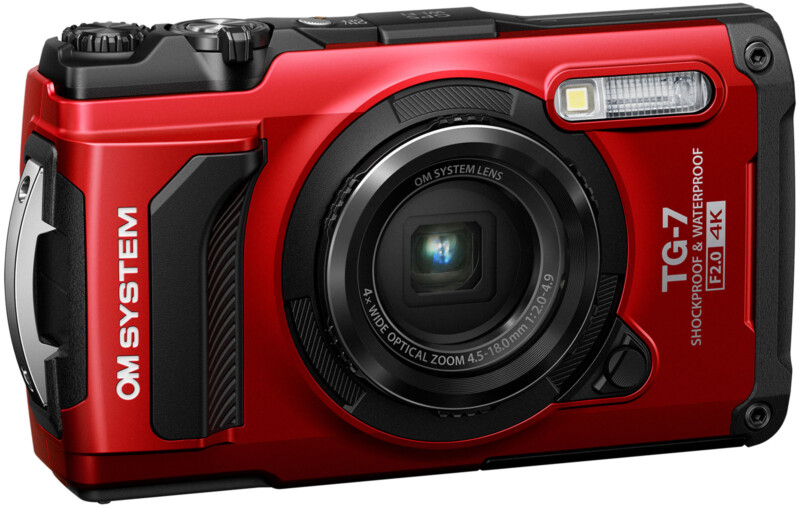 The ruggedness of the TG-7 also remains unchanged, which is far from a bad thing as the camera is, as its name suggests, very tough. The Tough TG-7 is waterproof down to 50 feet (15 meters), shockproof to seven feet (2.1 meters), crushproof to 220 pounds of force (100 kilograms of force), freezeproof to 14 degrees Fahrenheit (-10 degrees Celsius), and dustproof. The camera is rated IPX8 waterproof and IP6X dustproof.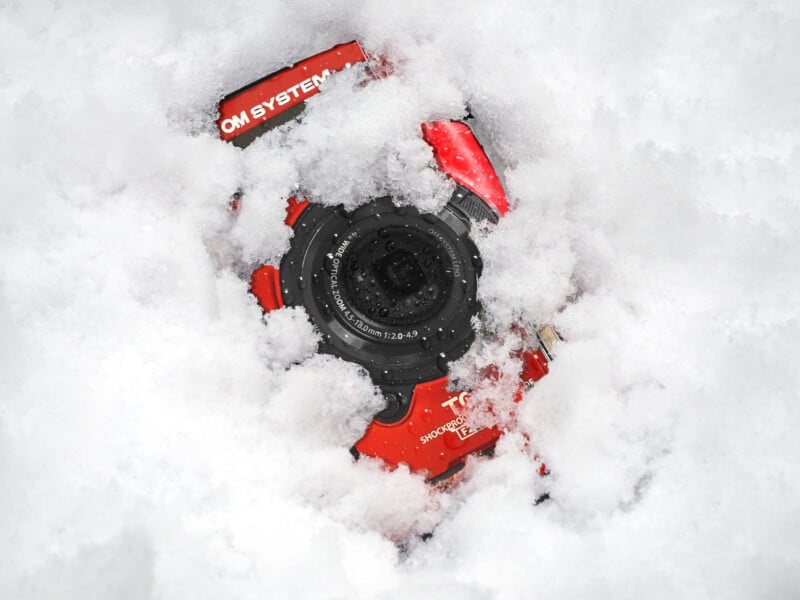 It is a safe bet that the TG-7 will soon supplant its predecessor in PetaPixel's "Best Waterproof Cameras" guide.
The camera's underwater performance can be further improved with the optional PT-059 Underwater Housing. With the housing installed, the TG-7 can be used in depths up to nearly 150 feet (45 meters). The TG-7 also includes a dedicated underwater shooting mode to accompany the camera's auto, P/A, scene, and microscope shooting modes.
The "microscope" shooting mode is enabled by the TG-7's remarkably short minimum focusing distance. The camera can focus as close as 0.394 inches (0.01m) in its Microscope mode.
While the TG-7 is very much like the TG-6 in numerous ways, there are some all-new features in the new OM System camera. The TG-7 can shoot vertical video and perform interval shooting, which is handy for creating timelapse videos. Further, the camera includes a USB-C port, whereas the TG-6 includes a USB-Micro port.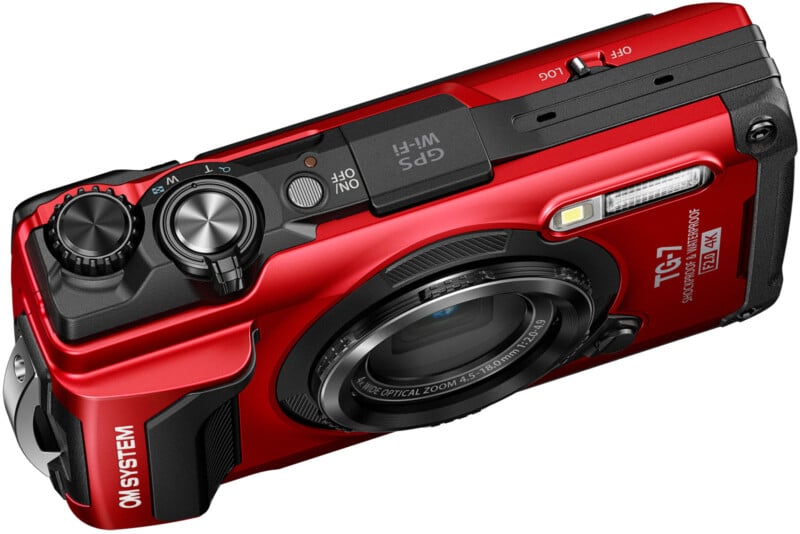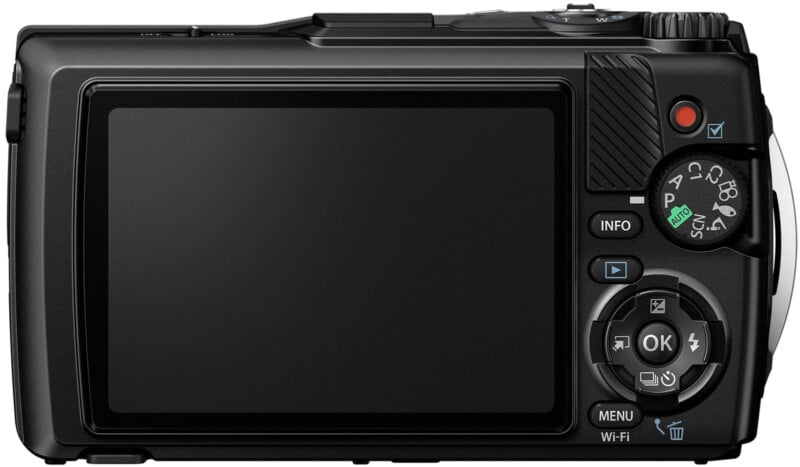 Concerning video, the TG-7 records 4K/30p video and Full HD video at up to 120 frames per second. Even faster recording is possible at lower resolutions, including 240 fps at standard HD and 480 fps at SD resolution.
Although not every feature is new and improved, it is still worth highlighting what will make the TG-7 a popular choice for outdoor photographers looking for a small, rugged camera.
The TG-7 includes a wide array of scene modes and can also do Live Composite shooting, like many of OM's Micro Four Thirds cameras. Live Composite enables photographers to capture images of light trails and fireworks. The mode only adds the brightest areas of consecutive frames into a single composite, avoiding issues with overexposed highlights.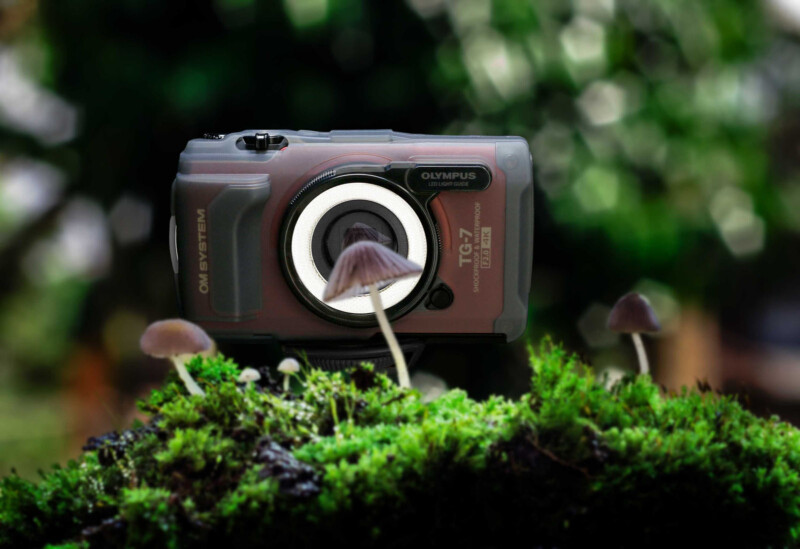 Alongside Live Composite, the TG-7 includes 22 total scene modes, including portrait, nightscape, sport, landscape, sunset, backlight HDR, and more.
The TG-7 includes built-in GPS and records essential data for outdoor enthusiasts, including air temperature, water temperature, and altitude, including underwater depth by measuring air pressure.
Like its predecessor, the OM System TG-7 is compatible with a range of optional accessories, including underwater housing and special lens attachments. Photographers can purchase conversion lenses for telephoto or fisheye shooting. Users can also attach a ring light for illuminating macro subjects.
Pricing and Availability
The OM System Tough TG-7 will be available later this month for $550 in black and red colors.
---
Image credits: OM System