OM-Digital's New 90mm f/3.5 Macro Brings Ultra Magnification to MFT
OM Digital Solutions is flexing the imaging prowess of Micro Four Thirds (MFT) with the new M.Zuiko Digital ED 90mm f/3.5 Macro IS PRO lens, which showcases just how good photos taken with this relatively small sensor can be.
The new 90mm f/3.5 Macro lens is described as an ultra-high-magnification optic and the "ultimate field macro lens" that provides incredible outdoor macro photography possibilities. It offers up to 2x magnification (the ost that OM-Digital has ever had in a lens) and, when combined with the MC-20 2x teleconverter, can get up to 4x magnification.
Get Extremely Close
The optic is constructed of 18 elements that are arranged into 13 groups, which includes two SED elements, four ED elements, one Super HR element, and one standard HR element. OM-Digital says that this combination allows the lens to suppress chromatic aberration which is especially prevalent in close-up photography and allows it to capture high-quality, well-focused images of a primary subject.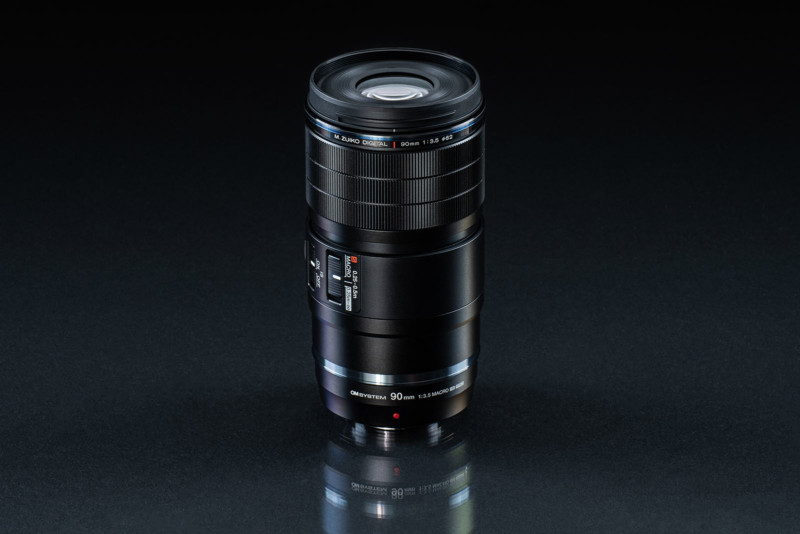 The lens features an aperture range of f/3.5 through f/22 via a seven-bladed circular diaphragm, and the company says that the defocused area of a photo are "beautifully depicted" with minimal color bleeding. The optic also features the company's ZERO (Zuiko Extra-low Reflection Optical) coating, which it says eliminates ghosts and flares for "clear depictive performance" even in challenging lighting conditions, such as backlit situations. OM-Digital says that it also provides suppression of spot flaring, which is common in macro lenses.
The lens features a 62mm front filter size and the lens measures 136mm long by 69.8mm in diameter. The 90mm f/3.5 Macro weighs 453 grams without a lens cap, rear cap, or lens hood.
It has a close focusing distance of about 8.8 inches (0.224 meters) with an angle of view of 14 degrees. The 90mm focal length has a 35mm equivalent focal length of 180mm, to put that focus distance into perspective.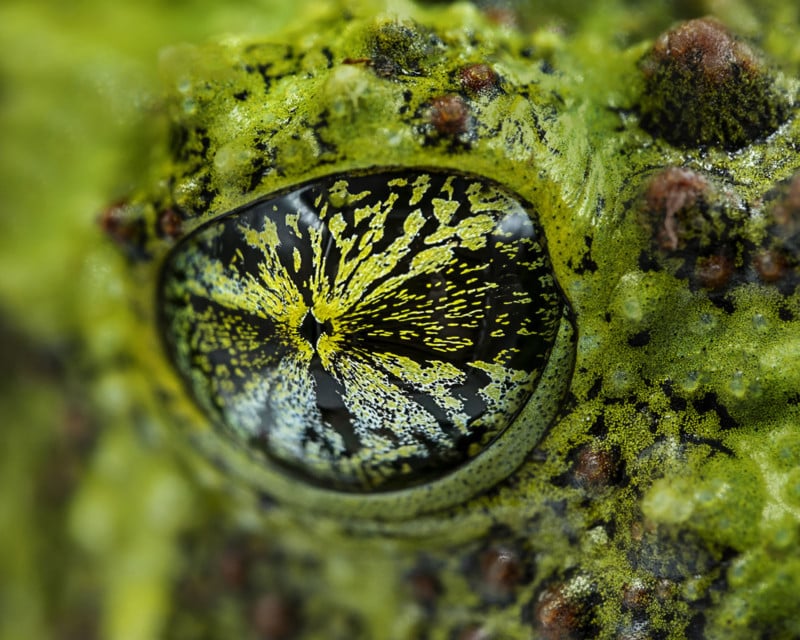 When combined with the aforementioned MC-20 teleconverter, the close focusing distance only marginally expands to about 9.8 inches (0.25 meters) and becomes an equivalent 360mm optic with a 6.9-degree angle of view. It also works with the MC-14 teleconverter to become an equivalent 252mm lens with a 9.8-degree angle of view and a close focusing distance of about 9.4 inches (0.239 meters). In short, the lens provides the capability to capture extremely close shots of subjects from a very short distance away.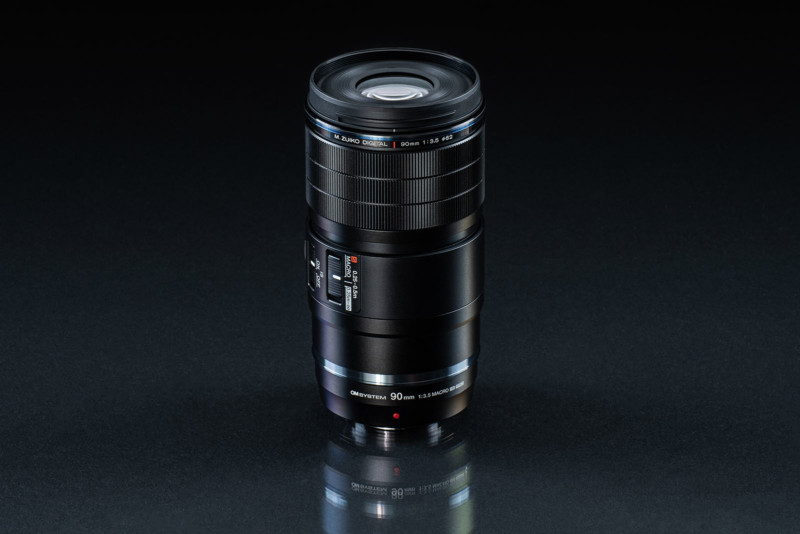 The lens also features a Focus Limit Switch that sets the focusing range to define focus limits to enable faster focusing when shooting, which OM Digital says improves autofocus speed. A Manual Focus Clutch mechanism allows a rapid transition from autofocus to manual focus and the lens has a guide for use when shooting with manual focus. The ED 90mm f/3.5 Macro IS PRO additionally has a L-Fn function button on the side of the lens to allow user-determined settings to be adjusted with a thumb.
Precise Autofocus, Hybrid Stabilization
OM-Digital says that it's not normal for a lens with this level of ultra-macro shooting capability to have reliable autofocus, but the 90mm f/3.5 breaks with that convention by providing what the company promises to be high-precision autofocus performance across the entire focus range from close-up to infinity.
A floating inner focusing system with two focusing lens groups are driven independently for high-speed AF, which is available even for ultra-high-magnification shooting. OM-Digital says that when combined with the Focus Stacking function of OM System cameras, photographers can capture photos that have an entire subject in focus, even when it is captured in ultra macro while hand-holding the camera.
It is capable of delivering that hand-held performance as its internal stabilization system combines with the five-axis image stabilization of OM System cameras to deliver up to seven stops of shutter speed compensation.
Additionally, OM-Digital says that the ED 90mm f/3.5 Macro IS PRO features an acceleration sensor on the lens that precisely detects motion blur to allow it to correct shift, which it says has a significant impact on macro shooting.
"No need to bring a tripod, the powerful image stabilization functionality allows the user the flexibility, even for handheld high-resolution photos," OM-Digital boasts.
Rugged Design
As has become expected for OM System cameras and lenses, the ED 90mm f/3.5 Macro IS PRO is IP53 splash and dust proof that, when combined with the fluorine coating on the front element, provides all-weather performance.
The lens is also freeze-proof down to -10 degrees Celcius (14 degrees Fahrenheit) which allows it to continue to operate even in extreme environments when paired with an OM System weather-sealed body.
OM Digital has previously shared with PetaPixel the extreme testing it does with its cameras and lenses to achieve this unique level of weatherproofing.
More Sample Photos
Below are several other sample photos captured with the ED 90mm f/3.5 Macro IS PRO, provide courtesy of OM-Digital.
Pricing and Availability
The new OM-Digital M.Zuiko Digital ED 90mm f/3.5 Macro IS PRO lens will be available in March 2023 for $1,499.99.