PMA 2010: Underwater Point-and-Shoot Cameras a Trend this Year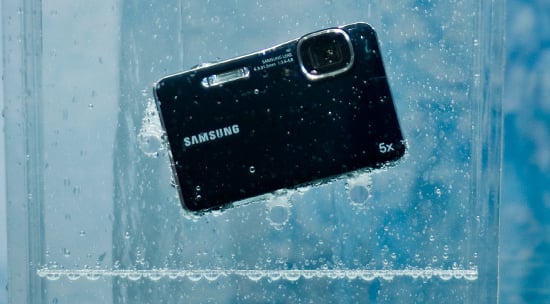 Underwater housing units for DSLR bodies can cost upwards of $1499 at most distributors. Waterproof cases for point-and-shoots already average $150. But this year, a major trend in most camera companies is the point-and-shoot designed for underwater use and toss-around durability at a competitive cost.
Around the show at PMA 2010, almost every major point-and-shoot manufacturer had a new array of cameras ready for surf, sand, snow and hard falls.
Here's a sampling:
Olympus
Scott Hennessey and the crew at Olympus let me shoot around the booth with a prototype of the Olympus Stylus Tough 8010, which is due for release this March for about $399.
This camera was particularly noteworthy because as far as I could tell, it's got the ability to remain watertight up to 33 feet underwater, while most other brands ranged between 10-16 feet.
It is also shockproof for a drop up to 6.6. feet, freezeproof at 14 degrees Fahrenheit, and crushproof (LCD and all), able to withstand up to 220 pounds of pressure; it will take a lot to kill this camera.
And standard for a lot of point-and-shoots, this camera shoots 14 megapixel stills and  720p movies.
I took a few images with the Tough 8010 in the water at the Olympus booth. The first one is of the other Olympus waterproof camera, the Stylus Tough 3000 which is a bit more standard, waterproof up to 10 feet and shockproof to 5 feet and a price tag of $229:
Samsung
Samsung's AQ100 waterproof camera looks pretty fresh, available in black, aqua blue, and red. It's slim with a 0.78 inch thickness, and will sell for about $199 this spring.
Sony
Sony's stylish Cybershot TX5 has one of the cleanest designs for a shockproof (5 ft), waterproof (10ft) and freezeproof (14 F) camera. It's also dust-resistant and has a touchscreen.
Casio
The Casio Exilim EX-G1 is also pretty heavy duty, surviving falls of up to seven feet. It's also waterproof to 10 ft, dustproof, and freeze proof to 14 F. It's also got software built in for easy uploads to YouTube.
Other Waterproof and Durability Gear
Also at the show, several companies, such as Delkin Devices, showed off their new accessories to compliment waterproof, durable cameras.
The Delkin Devices Jellyfish is basically a pouch for a small point and shoot, coupled with a floating ball. It's simple, with a little fun: the flotation device includes a little bottle opener.
For more practical use, Delkin has also released a super durable CF card called the Combat Flash:
The Combat Flash capacity ranges from 4GB to 32 GB, and boasts a fast transfer speed at 91 mb/s, 625 x. It has sealed components to protect from moisture or submersion, can last at an altitude of 80,000 feet, and can withstand temperatures from -58 degrees F to 212 degrees F. It can also handle most shock and gunfire vibration.
Prices range from $84 – $329.
No word yet on whether they're developing an SD version (obviously, durability works much better with CF cards), but they do have a shock and weatherproof tote for 8 SD cards: