The 5 Most Expensive Camera Lenses in Production Today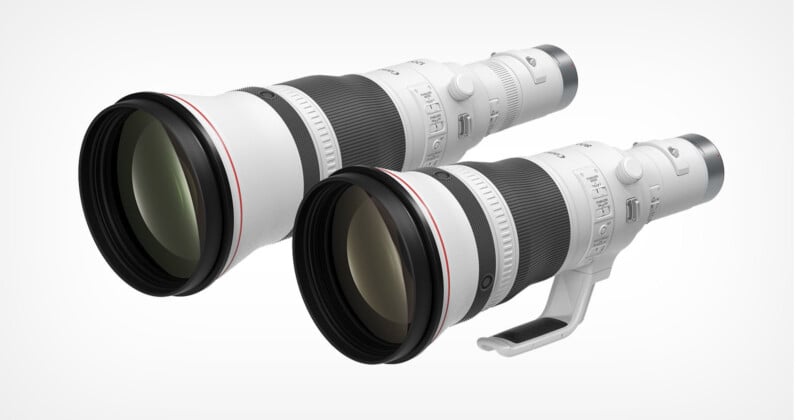 There are plenty of lenses with eye-watering prices, including a Leica APO-Telyt-R 1600mm f/5.6 lens that was custom-built for a Qatari prince for $2 million, but what about lenses that any photographer can buy or rent today?
Popular photo and video rental company Lensrentals, which also offers used gear for sale, has compiled a list of the most expensive lenses currently in production. Sorry one-of-a-kind Leica 1600mm lens built for royalty, no invitation this time.
Among the most expensive lenses in production — and available to rent from Lensrentals — are many super-long and fast telephoto lenses, including many that are perfect additions to any well-heeled sport or wildlife photographer's kit.
Canon RF 1200mm f/8 L IS USM: $20,000
Topping the chart at a staggering $20,000 is Canon's RF 1200mm f/8 L IS USM lens. Announced in February 2022 alongside the RF 800mm f/5.6 L IS USM, which also makes this list, the RF 1200mm f/8 L IS USM is surprisingly lightweight given that it is the longest telephoto lens for mirrorless cameras. For photographers needing even more reach, the RF 1200mm super-telephoto prime is compatible with Canon's RF 1.4x and RF 2x teleconverters.
Canon RF 800mm f/5.6 L IS USM: $17,000
Canon earns the second spot on the list with its other very long and costly RF lens, the RF 800mm f/5.6 L IS USM. Exchanging reach for a faster aperture, the RF 800mm is a surefire pick for sports photography at a slightly lower price than its 1200mm sibling.
Nikon AF-S Nikkor 800mm f/5.6E FL ED VR: $16,300
The first DSLR lens on the list is Nikon's 800mm f/5.6E FL ED VR lens. Thanks to lens adapters, DSLR lenses remain popular for many photographers, even those with mirrorless cameras. The Nikon 800mm f/5.6 lens comes with a custom-built 1.25x teleconverter, Nikon's first teleconverter that incorporated an ED element.
For Nikon Z shooters looking for an 800mm lens at a much more reasonable size, weight, and price, the Nikkor Z 800mm f/6.3 VR S is a fantastic option for $6,500.
Nikon Nikkor Z 600mm f/4 TC VR S: $15,500
Not to be outdone in the mirrorless space, Nikon enters the fray with its priciest Z lens, the Nikkor Z 600mm f/4 TC VR S. The lens isn't much cheaper than the RF 800mm, but it is shorter, faster, and includes a built-in 1.4x teleconverter that can be enabled with the flip of a switch. The lens may be expensive, but based on hands-on reviews, it is a superb lens for Nikon Z shooters.
Leica 75mm f/1.25 Noctilux-M Aspherical: $14,400
Rounding out the top five is a much shorter lens, the incredibly bright Leica 75mm f/1.25 Noctilux-M Aspherical. The manual focus portrait prime lens delivers incredible bokeh, and the background melts into a smooth blur.
Those who have been enjoying Chris and Jordan's content on PetaPixel's new YouTube channel have likely heard the Nikon "Noct" lens referenced as a comparison for the size and weight of lenses. The Nikon 58mm f/0.95 Noct is not cheap by any stretch — it is priced at $8,000 — but it doesn't come anywhere close to the price of Leica's similar Noctilux prime.
Honorable Mentions and Other Expensive Lenses
Many other expensive lenses are featured in Lensrentals' breakdown, including some rather interesting inclusions, including some that aren't built for full-frame cameras.
For example, while many photographers think about Micro Four Thirds camera systems as offering fantastic bang for the buck — which is true — there are still some very expensive lenses for the small M43 sensors, including the Olympus M.Zuiko Digital ED 150-400mm f/4.5 TC 1.25x IS PRO lens.
The $7,500 lens delivers an incredible 300-800mm focal length range without its teleconverter engaged. With the teleconverter, photographers can shoot at up to 1,000mm (in equivalent terms). Paired with a camera like the OM-1, which delivers incredible AI-powered autofocus and incredible stabilization, the M.Zuiko 150-400mm may be the most versatile lens for sports and wildlife photography on the market today. Despite its high price, it has proven to be a popular choice for Micro Four Thirds shooters.
Quite a few of the most expensive lenses available today are relatively new, having been released within the last couple of years. Comparing the new list to PetaPixel's last look at expensive lenses in 2021, an "expensive lens" mainstay, the Sigma APO 250-500mm f/2.8 with 2x teleconverter, is a notable omission. The $26,000 lens, originally launched at $32,000, is a "special order" item built to order and not available from Lensrentals — at least not anymore.