The Most Expensive Camera Lenses You Can Buy Right Now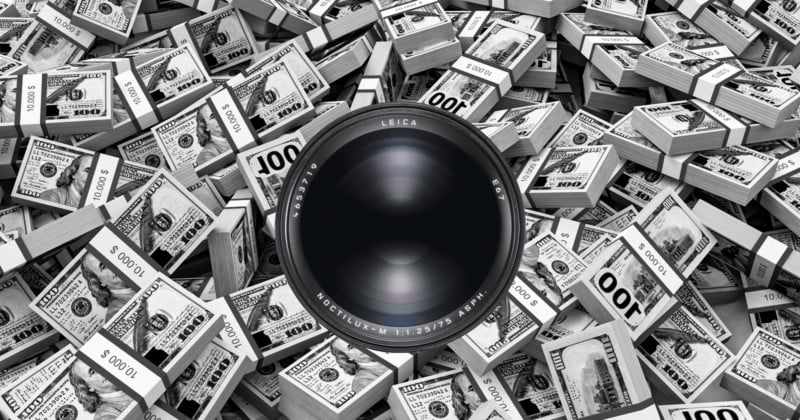 Whether you are a working professional or a weekend hobbyist, the thrill of using truly exquisite gear is unmatched. We all work with what we have while salivating over what we cannot, and no matter how old we get, fancy toys never lose their luster. Do we need them? Probably not. Will we ever purchase them? Not likely. Will we spend hours staring at them? You bet. Nothing is as intoxicating to a photographer as good, outrageously expensive glass.
We have compiled a list of eight of the most expensive lenses on the market to stoke your appetites. The craftsmanship and decadence of these lenses make them works of art all their own. And while we could have found optics that are one-of-a-kind or did well at auction, those on this list are the opposite of that. These aren't hidden away in some rich sheik's closet or only available once every decade when they pop up at auction. We are exclusively showcasing lenses that are available for anyone to purchase via traditional retailers.
There may be (and likely are) some lenses not on this list that would qualify — for example some lenses from Phase One, who does not publish the MSRP of its lenses — which is why we have restricted the list to those which are easily available. Well, easily if you have the coin.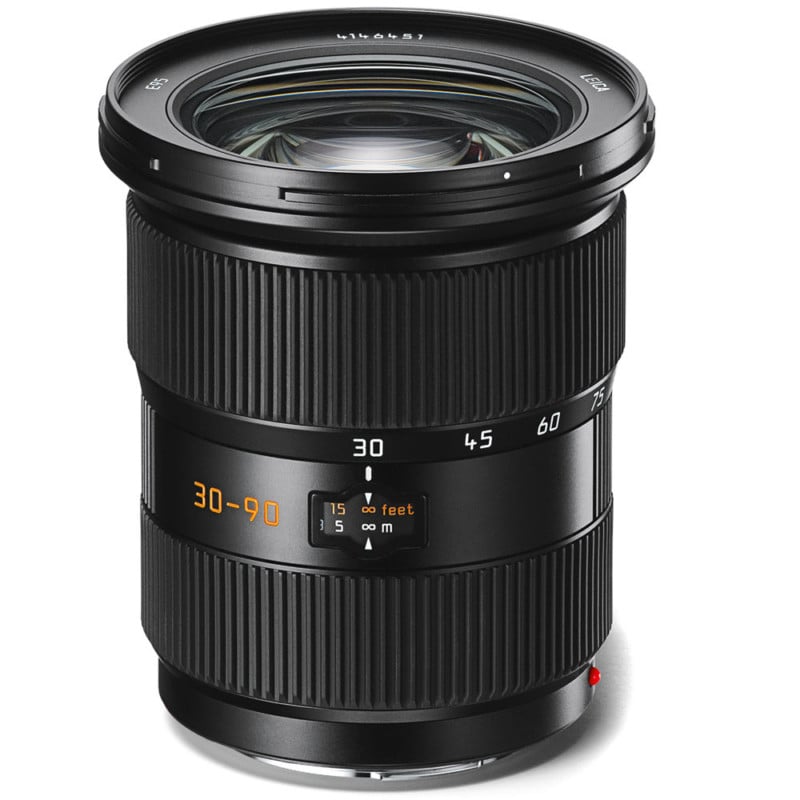 This will not be the last Leica on the list, but it is by far the most versatile; Leica isn't exactly known for their zoom lenses, after all. This medium format beauty was the first (and remains the only) zoom lens for Leica's S system. While it loses some sharpness the closer you head toward 90mm, its strengths are truly impressive at the wider end. The image is clean, free of distortion, and perfectly corrected for chromatic aberration. Perhaps most surprisingly, The Vario-Elmar-S is remarkably resistant to flares. Given the amount of glass here (14 elements in 11 groups), it is impressive how much light this thing can handle cleanly.
By no means a lightweight lens, when you consider what it can potentially replace in the bag, coupled with its top-notch weatherization, this is a landscape photographer's dream. Given that this lens has been available for a few years now, it is possible, with some patience and digging, to find it in used condition below $10,000.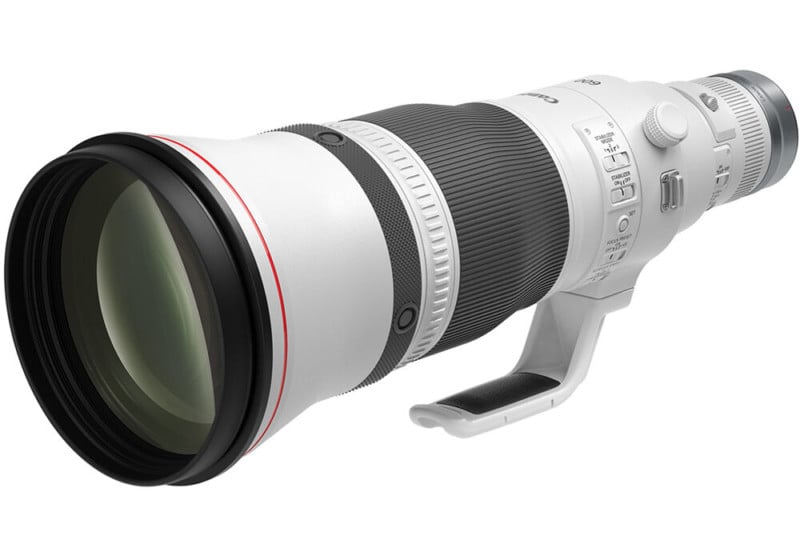 Any list of the most expensive lenses on the market will quickly begin to look like a list of the best telephoto lenses on the market. This is unavoidable, given their speed, complexity, and size. So, it comes as no surprise that we find our first, the Canon RF 600mm f/4L IS USM, so early in the list.
Functionally, the RF 600mm is merely the Canon EF 600mm f/4L IS III USM with an integrated EF-EOS R. The III is already good glass, and the adapter is not new technology, so the reaction to the RF launch was perhaps more muted than it deserved. Outside the obvious convenience, the inclusion of the adapter brings a few notable benefits.
While the adapter does little to increase the weight, it does make a noticeable difference in overall balance. Like the III, weight is shifted rearward for improved handling, and the adapter only helps in this regard. Additionally, the mount increases the CIPA image stabilization assistance rating a full half stop, from five to 5.5 stops.
For sports and wildlife photography there are few parallels to the Canon L series, and the RF proves it. The image quality is impeccable, the auto-focus is zippy and accurate, and the form factor is the best the L series has ever been. In terms of build quality, the execution feels almost personal in its level of precision. The carbon-reinforced magnesium alloy allows for thinner walls and increased toughness simultaneously. The lens is weather-resistant, with a fluorine coating on the front and rear elements. Every level of manufacturing shows intense care. The RF 600mm truly is Canon at its best. Paired with a camera like the Canon EOS R5 or, better yet, the recently released Canon EOS R3, and you have yourself a fantastic (and expensive) sports or wildlife kit in your hands.
Before even discussing the specific performance of the Summilux-M 90mm, one must first take a moment to marvel at the engineering achievement it represents. A lens this compact that also contains a floating lens element does not happen without a sincere commitment to design. That it does so with such remarkably little distortion or vignetting is a revelation. To use it is to trust it based on feel alone.
That tactile confidence is important in any lens, but even more for a one that practically screams out "natural light portraiture." It all works together here. Smooth, assured focusing action, blistering speed, precise control over creamy, dreamy bokeh, and a short focal distance that guarantees no minute details desired by the photographer are not captured. Micro contrast exceeds nearly all competitors. Image quality is unimpeachable.
Despite its compact nature, it is somewhat heavier than one would expect, and, unfortunately, balanced a little too far to the front to achieve maximum comfort. The speed, obviously one of the primary selling points, is also something of a trap for it. This is not simply a lens you want to shoot wide open; it is a lens that demands you shoot wide open. This can limit the overall usability of the lens, driving it into niche space in your kit, but then again… would the buyer actually care? We wager, probably not.
The Summilux-M is, by price, build, and function, a champagne lens. A classic car lens. It's the good silverware. The Jaeger-Lecoultre watch. The Montblanc pen. You break it out when you want to feel that quality. When you want to capture a specific kind of moment. When you want to flex. On that front, it is an inarguable success and a worthy long-term investment to boot.
Cambo was founded in 1946 in the Netherlands and holds the distinction of being the first studio camera manufacturer to make an all-metal large format camera. It is known for its made-for-digital view cameras and landscape wide cameras, among other specialist options. Most of these cameras are designed for use with Hasselblad, Leaf, Mamiya/Phase One, and Sinar digital backs.
Some, like the Actus series, are designed for mirrorless cameras like Sony E, Fuji X and GFX, and Hasselblad X. They allow the photographer to perform a variety of front and rear movements, which are not otherwise available on small format digital cameras. Horizontal and vertical shifting is also possible, which produces images with not only much greater resolution, but effectively allows an APS-C or full-frame sensor to become medium or large format. Naturally, these are primarily for still life, studio, and landscape use.
Cambo also produces a number of Wide RS "lens panels" — Rodenstock lenses fitted with either an Aperture Only Mount ("WRA"), a Tilt/Swing module ("WTSA"), or a Rodenstock eShutter-250 ("WRS") and made for use with the Cambo Wide Digital Series. These lenses range from the 23mm f/5,6 HR Digaron-S to the 180mm f/5.6 HR-S Digaron.
The most expensive of the bunch is the 138mm f/6.5 HR Digaron-SW Float, which is an extremely sharp long focal length lens with a maximum reproduction ratio of 1:5. Eleven elements in ten groups, along with a floating element group, allow the lens to produce images with resolving power verging on the diffraction limit at all distances — in fact, the MTF charts look practically flat even wide open, with total suppression of axial chromatic aberration and distortion below 1% to boot.
The WRA-2138 is compatible with the Cambo Wide RS series and sensors with e-shutters. The WRS-2138 is also compatible with the Phase One XT Camera system when fitted with a Phase One X-Shutter. If you have or purchase a non-WRS version, you can have it remounted with the X-Shutter for use with the IQ4 Infinity platform. Finally, the WRS-2138's eShutter, for use with sensors lacking an electronic shutter, can be controlled via USB on a computer or through an app from an Android, iPhone, iPad, and other tablets.
Any of the Rodenstock lenses will set you back, and all of them are fantastic, but the 138/6.5 may be the finest of the line and one of the best lenses ever made.
The Noctilux-M line dates back to the Johnson administration and has long been considered the most cherished of all Leica designs due to its speed and quality. So, what sets the 75mm apart from its illustrious predecessors? What makes it that good?
First, it should be noted that the Noctilux has historically been a 50mm lens — mention the word "Noctilux" to any photographer and they'll immediately think of the Noctilux 50mm. The 75mm is significantly newer, more expensive, and the first of its kind. Its speed also makes it unique within the line — it is the slowest Noctilux ever made, a title previously held by the original Noctilux 50mm f/1.2, which has since been reissued for those who appreciate the original's soft, vintage, dreamlike aesthetic. That sentence obscures one remarkable fact, however: it was the fastest full-frame 75mm lens ever created — until companies like 7Artisans made their own version.
Leica designs the Noctilux line by a set of core principles: fastest maximum aperture, exceptional suppression of aberrations, pleasing color reproduction, almost unparalleled wide-open performance in focus and isolation, and some of the best flare-resistance among super-fast lenses. The 75mm excels in all categories. The Nikon Noct-Nikkor 58/0.95 is the only other lens that can claim to exceed the performance of the 50mm and 75mm Noctiluxes, though it does so at a significantly larger size and weight.
Just as was the case with the Summilux discussed above, this is a front-heavy, compact telephoto lens made for portraiture. What distinguishes it, however, is its insanely fast falloff. The separation between subject and background provided by this lens is almost other-worldly in its cleanliness. This is a trait I often associate with Leica ASPH lenses, Zeiss Otus, Sigma Art, and other extremely well-corrected and fast lenses like the Noct-Nikkor. The suppression of spherical aberration via aspherical elements creates a clean, sharp transition from the in to out of focus areas, yielding what many refer to as a "3D look."
Still, 75mm can be an awkward focal length for many photographers, and the same caveats as the Summilux apply: this is a special use case where wide-open is the only way to go. Otherwise, you might as well get a slower lens.
Horseman cameras, manufactured by the Komamura Corporation, have been associated with larger format film since its inception — lightweight 6×9 and large format 4×5 field and technical cameras have always been their bread and butter. But, today, the company is also known for its niche digital camera solutions.
The Horseman VCC Pro, for example, is a handheld view camera compatible with Canon and Nikon SLRs, giving the user the ability to stitch and control tilt, swing, shift, fall, and rise movements. The Horseman Axella SX view camera accepts everything from Canon EF and Nikon Z, to Fujifilm X and GFX, to Phase One and Hasselblad backs. The Horseman LD Pro is an "ultimate view camera" designed for Hasselblad, Mamiya, and Phase One digital backs, giving them not only extremely precise front and rear movement control, but also vertical and horizontal stitching to create extremely high-resolution images.
Because these cameras are based on large format technology, super wide-angle lenses are quite rare to see. Enter: the Horseman 23/5.6 Digaron-S, one of the widest medium or large format lenses to exist. Fitted with a standard Copal #0 shutter, the lens itself is built into a special focusing assembly as it does not contain a helicoid on its own (most large format lenses don't).
Because of its excessively wide angle of view, it is only compatible with a handful of Horseman cameras — the SWD Pro, SWD II Pro, SW612D, and the made-to-order Axella SX-Wide View. These cameras can accept a variety of both film and digital backs from Hasselblad, Contax, Mamiya, and others — and the SW612D can use medium format roll holders from 6×7 to 6×12.
When paired with a 54x40mm size digital sensor, the 23mm Digaron produces a field of view equivalent to 15mm in full-frame. It's a specialized lens, but the combination of the lens and the multitude of compatible cameras offers potential that you'd be hard-pressed to find elsewhere.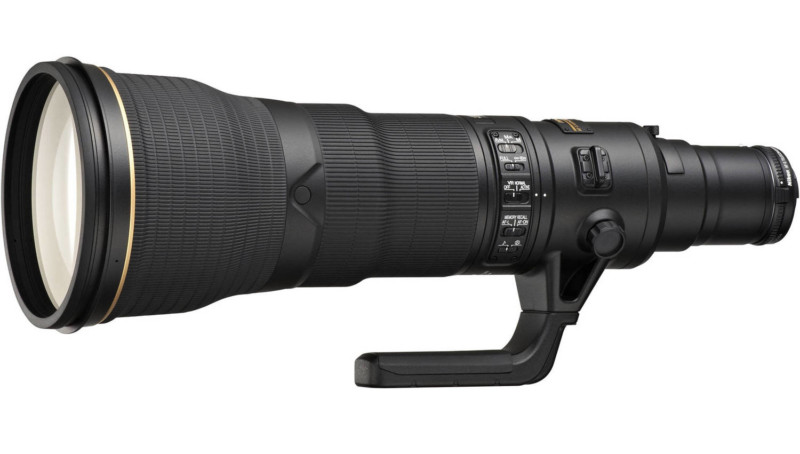 To say this one has been long-awaited is an understatement. It had been a quarter of a century since Nikon had updated its manual focus 800mm f/5.6 ED-IF lens. It was nearly a decade ago that Nikon first began teasing the release of an 800mm lens. The time for an auto-focusing 800mm lens was long overdue. Boy, did the company deliver.
The Nikkor 800mm represents a massive stride for Nikon. It is the company's first lens, outside medical use and microscopy, to employ fluorite elements in its optical design. It is also the first Nikon telephoto lens to pivot away from the company's standard mechanical diaphragm. It utilizes an electromagnetic diaphragm mechanism, allowing for flawless electronic control. The precision this allows, when shooting rapidly in auto-focus, to garner consistent, accurate results throughout multiple exposures, is impressive, and a true step forward.
Thanks to a thinner barrel and the fluorite elements, the 800mm is a lighter, more balanced, more easily usable lens than either the 600mm or 400mm that came before it. Autofocus is fast, accurate, and simple.
Though the wait was long, the end result was inarguably worth it. Nikon has released a telephoto lens that competes with Canon in construction, form, and features. Even better, it has created one that tops Canon's own 800mm in image quality. The included AF-S Teleconverter TC800-1.25E ED — which turns the lens into a 1000mm f/7.1 and maintains the lens's 4.5 stops of VR and its minimum focus distance — gives photographers even more versatility. Better yet, it is entirely compatible with the Nikon AF-S TC-14E III 1.4x, Nikon AF-S TC-17 II, and Nikon AF-S TC-20E III 2x teleconverters — giving you options of 1120mm f/8, 1360mm f/9, and 1600mm f/11 equivalents.
The pricing here obviously reflects confidence in the product. That confidence is justified, though in time we expect the gap between the Canon and Nikon telephoto lenses to shrink.
Given its jade hue and flat-out monstrous size, you would not be off-base to refer to the Sigma APO 200-500mm as the Incredible Hulk of all lenses. Just like the popular comic character, it is faster than you expect, and it knows how to smash — both your wallet and your expectations.
Available in Canon EF, Nikon F, and Sigma SA mounts, the Sigma APO 200-500mm f/2.8 is not a new lens and by now, most photographers are at least somewhat aware of it. Even still, over a decade after its launch, it still stands as the most expensive photography lens available to purchase through normal means.
The lens is distinct both for being the world's first ultra-telephoto zoom lens to allow a maximum aperture of f/2.8 at 500mm focal length and boasts an apochromatic designation at that. The engineering here is unique. The lens comes equipped with a built-in LCD panel that displays current focus distance and zoom and everything is powered by its own internal battery motor.
Thirteen years in the wild, and it remains a bizarre creature. Even with all the funds in the world, for most, it would be a purchase more interesting than necessary — especially given the incredibly high ISO abilities of modern cameras.
On paper, this lens is a marvel that blows everyone else out of the water, but in practice, it is more than a little awkward to actually use. Its enormous size aside, nowhere is this more evident than in the electronic focusing here. It's faster than you'd expect but slower than you'd prefer for the astronomic price. Additionally, despite being probably the ideal safari camera due to its low-light capability and reach, the Sigma comes with no weather resistance or dust-sealing whatsoever.
One other thing to consider when dreaming about this lens is that you are committing to spend far more than the $26,000 it lists for. If you are responsible, you are likely spending at least another few thousand all over again on a serious support system — this workhorse and show pony rolled into one clocks in at over 35 pounds.
With all that said, there is something endearing about Sigma's go-for-broke Hulk lens. It is honestly an outstanding technical achievement and there really is nothing else quite like it, for good and ill. Attach the included 2x teleconverter and you have an unmatched 400-1000mm f/5.6 lens — a truly remarkable piece of kit by any definition.
For $26,000, I suppose that sounds like what you'd expect.
---
Image credits: Portions of header photo licensed via Depositphotos.