Your Disdain for Micro Four Thirds is Misguided
Micro Four Thirds (MFT) is perhaps the most derided of all camera formats in modern digital photography. It is constantly overlooked, scoffed at, and is the subject of disdain. It really shouldn't be, and you all are way too hard on it.
MFT is undoubtedly the least conventionally "popular" camera system on the market today because of how much photography snobs look down on it. I say "popular" in quotes because behind the scenes, it is still widely used and sells quite well. While anecdotal, we process a lot of photos here at PetaPixel that come in from a large variety of sources — from competitions, books, and personal projects — and there is a constant year after year: metadata that reads "Olympus Digital Camera." You would be surprised how many award-winning images have been captured on MFT over the years.
Olympus as a camera maker has of course transitioned to the name OM-Digital, but that in itself is another indicator of MFT's popularity. While Olympus was unable to make the camera business work as part of its larger suite of products, there was clearly enough value there to see it spun off as a standalone business — and one that appears to be doing just fine.
But making money is not enough of a reason to be appreciated in this industry; if that were the case, we all would be heaping praise on the Canon EOS M and the Rebel line because they're very popular devices. No, for enthusiasts, image quality reins supreme and it is there that MFT has been shunned. For some reason, the format cannot shake the stigma that it takes worse quality photos than basically anything other than a smartphone.
This is extremely unfair, and it's time to stop.
Earlier this week, OM-Digital announced a new 90mm f/3.5 ultra macro lens that was probably overlooked by most of you since it came out about the same time as Canon released two cameras and two lenses and Sigma brought out a new 50mm. All of those products either feature sensors or are designed for sensors that are larger than MFT, and a bigger sensor means better photos right? So we can just go ahead and ignore the macro lens.
No. Wrong. I was far, far more impressed with the photos that OM-Digital shared with that 90mm f/3.5 than I saw from any other camera or lens released that day. Heck, I might be more impressed with these photos than anything I've seen so far this year.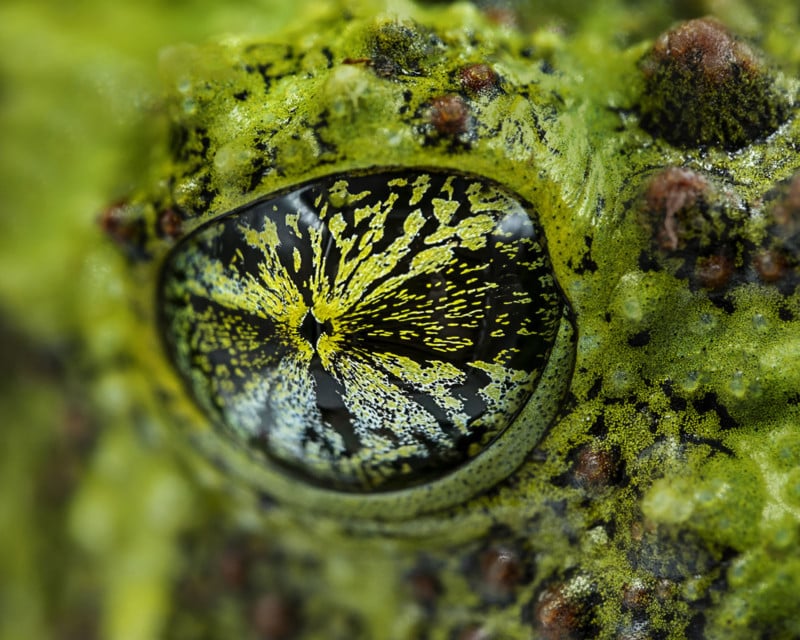 You cannot look at these photos and not be just blown away. I'm seeing them again for the second time as I'm writing this, and my breath is still catching in my throat. These photos are extraordinary, and most of you probably didn't even see them because that's how little you care about MFT.
MFT is over here, quietly making some of the most incredible macro photos I've ever seen, and there are plenty of award-winning photographers who will scramble to pick up this new lens and will make incredible art with it.
I have no doubt that over the next several years, I'll continue to see photos shot on MFT take top honors in the world's most prestigious photo competitions, while the rest of you argue about the negligible differences between a Canon, Nikon, and Sony.
If the measure of a camera system is what can be produced with it, then MFT would be a topic of constant conversation because these photos are as good as or better than anything I've seen taken on any other modern camera system. But, obviously, that's not really what most of you measure a camera system on. You've decided, either consciously or subconsciously, that it's actually just the size of the sensor or the brand on the camera.
Your loss.
---
This story is part of PetaPixel's weekly newsletter Clipped Highlights.
---
What is Clipped Highlights?
Clipped Highlights is a free, curated, weekly newsletter that will be sent out every Wednesday morning and will focus on a few of the most important stories of the previous week and explain why they deserve your attention. This newsletter is different from our daily news brief in that it provides unique insights that can only be found in Clipped Highlights.
In addition to unique takes on the biggest stories in photography, art, and technology, Clipped Highlights will also serve to feature at least one photo series or art project that we think is worth your time to check out. So often in the technology and imaging space we focus on the how and not the what. We think that it's just as important, if not more so, to look at the art created by photographers around the world as it is to celebrate the new technologies that makes that artwork possible.
If this kind of content sounds like something you're interested in, we encourage you to subscribe to the free Clipped Highlights newsletter today. You can read this week's edition right here, no subscription necessary, to make sure it's something you want in your inbox.
We'll also make sure to share each edition of Clipped Highlights here on PetaPixel so if you aren't a fan of email, you won't be forced to miss out on the weekly newsletter.
---
Image credits: Header photo left by Jamie Rosencrans, right by Chris McGinnis. All other photos individually credited, and all provided courtesy of OM-Digital