Nikon Z 800mm f/6.3 VR S Review: In a Class of Its Own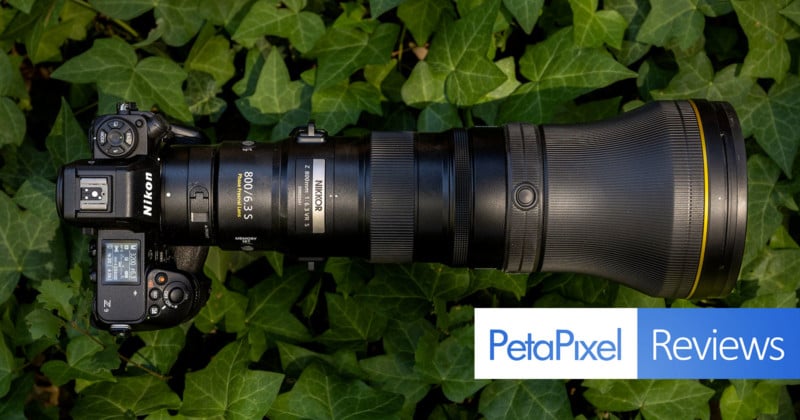 The Nikon Z 800mm f/6.3 VR S is an anomaly: lens with this kind of focal length and aperture shouldn't be so easy to use and inexpensive. So, what's the catch?
Build Quality
Measuring 5.6 inches (140 millimeters) at the front element by 15.2 inches (385 millimeters) in length, this is unlike any other high-end 800mm lens seen before. For comparison, Nikon's last 800mm f/5.6 for F-mount is nearly an inch wider and three inches longer. This comparison really gets wild when you look at the difference in weight: the new Z 800mm f/6.3 weighs only 5 pounds 4 ounces, whereas the previous 800mm f/5.6 weighs 10 pounds 1 ounce.
This is not going to be a comparison review, but it needs to be said because this completely changes how and where the new 800mm is used. My time with the lens was always handheld with the Nikon Z9. If you are also accustomed to shooting long lenses handheld, this one will fit right into what you're already used to. I was able to keep the camera's viewfinder up to my eye for as long as I needed to while waiting out a shot, and it needs to be expressed again that I'm talking about an 800mm lens that weighed an arm-wobbling 10 pounds in the last generation. What an advancement!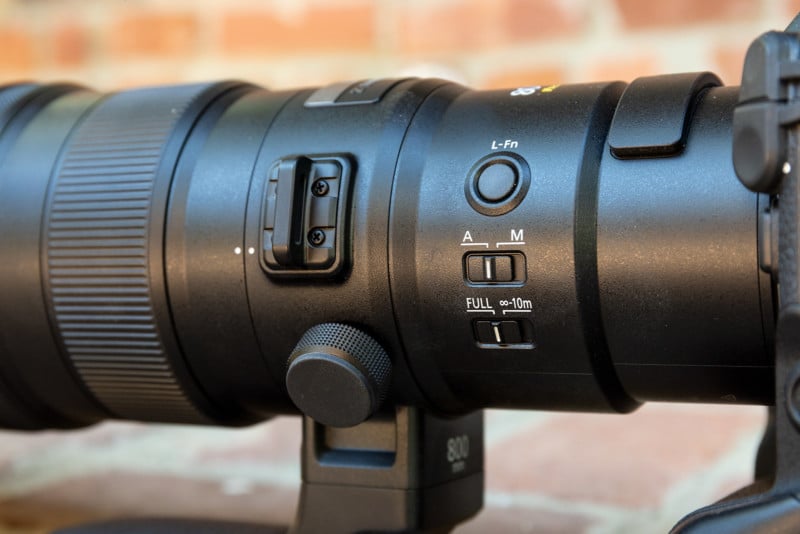 Taking a closer look at the layout of the lens, the mount side features a 46mm drop-in filter holder that can be swapped for a separate drop-in circular polarizing filter with a control wheel. There are a couple of switches and buttons here too, including a Memory Set button, L-Fn button, focus mode switch, and focus distance limiter switch with options of full or 10 meters to infinity.
One glaring omission is that there's no way to toggle the Vibration Reduction (VR) modes from a lens switch. This problem is compounded by the fact that we still can't assign VR to a custom button for fast access on the Z9. Having VR set to On, Sport, and of course, Off, each act very differently, and this is something I hope gets addressed sooner rather than later.
The focus ring is a proper healthy size with rubber ribbing. It has smooth starts and stops, but I find the turn to have a bit more friction than I'd prefer when moving fast. The transition of starts and stops makes all the difference for tougher rings, and while it could be better I still find what we have here acceptable.
On the other hand, the placement couldn't be any better since it's located just in front of where my hand rests. That means my fingers find themselves on it without needing to readjust.
Ahead of the focus ring is a control ring that can only be programmed to control aperture, exposure compensation, and ISO. This ring is pretty stiff and takes a lot more effort to move with one finger. As it's turned, the changes are drastic. Around 30 degrees of spin (12 to 1 on an analog clock) is enough to sweep through the entire aperture or ISO range.
There are four more L-Fn2 buttons in this area facing the top, bottom, and sides, although they all will control the same custom function set in the camera's menu system.
The tripod collar on this lens is not removable and does not have nice click stops at each 90-degree turn for fast, no-look leveling. That said, the new $14,000 Nikon 400mm f/2.8 TC VR S also doesn't have this, so its exclusion here shouldn't surprise me although it still does disappoint. On a positive note, this lens has a tripod foot that is very comfortable for carrying briefcase style, whereas that Z 400mm f/2.8 comes with one that's slightly too short.
The lens hood is kind of an interesting topic with this lens. First, it's surprisingly not the screw-on type you usually get with expensive super-telephoto lenses. Instead, it's a bayonet style that's popped on and twisted to lock. It's got a nice rubberized rim, a dull interior to stop reflections, and is overall not a bad design. Instead of a plastic cap, the lens comes with a drawstring pouch-looking thing to cover the front element and does not fit right without the hood attached.
This leads right into a topic that I think is rather interesting, though: I think many owners might go hoodless.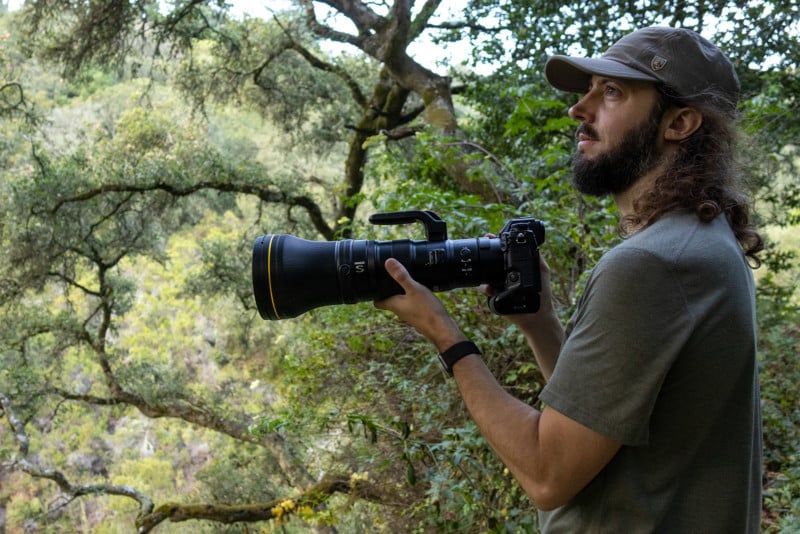 I used the hood on the lens for a couple of days, but then I realized how much it threw everything off. The issue is that it's just enormous. It adds five and a half inches of length to the end of the lens and it's about six and a half inches wide.
I'm well aware this isn't anything new for super-telephoto lenses, but I'm telling you again that this lens feels different. It feels slim, it feels light, and it makes the honkin' lens hood feel like it's from a previous era.
Look at the design of the lens and how it steeply flares out near the front element. Everything is slim until the very end. With the hood installed, a much bigger portion of the lens is fat. Now consider reversing the lens hood on this and adding a padded cover. It turns this slim lens that's easy to fit in a backpack (provided you have the length needed) into an entirely different beast with entirely different storage needs. After checking if this lens had a flare problem (spoiler: it doesn't), I said screw that and left the hood at home for the past month without looking back. Rather than the huge semi-rigid lens pouch cover, I used a tight little LensCoat Hoodie to protect the front in transit.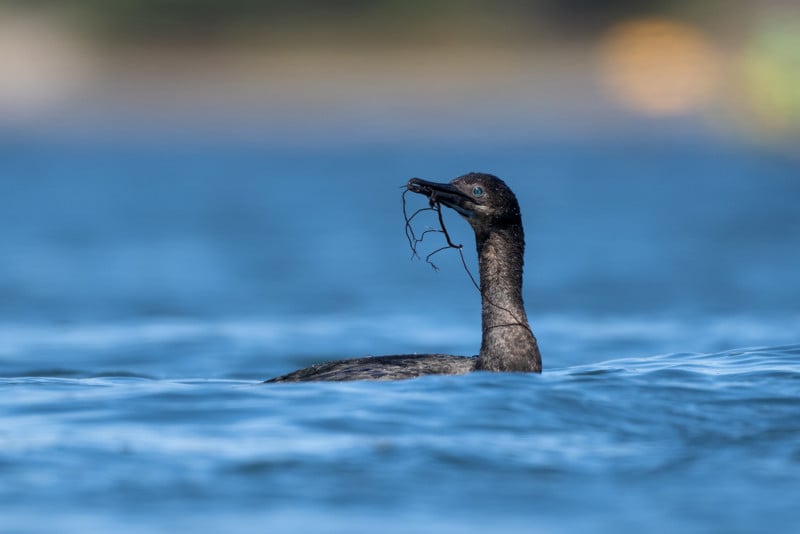 Image Quality
The Nikon Z 800mm is constructed of 22 elements in 14 groups, including three extra-low dispersion elements, one short-wavelength refractive element, and a Phase Fresnel element. There's a Nano Crystal Coat on the elements as well.
From a real-world, natural light wildlife photography perspective, the flaring of this lens is well controlled. There's a spattering of color accumulated near the source, but it doesn't overpower the entire frame. I tried to make this lens give me some ugly results for testing, but it's not easy. Looking back through my photos, there's no noticeable color fringing. All of Nikon's latest super-telephoto lenses that I've used have been masters at maintaining high image quality.
In a support document, Nikon states that the Phase Fresnel element can cause ring-shaped colored flare when a light source is in the frame or enters the lens from outside the frame, but at least from my use, I didn't see this occur.
Looking at sharpness, the lens did not disappoint: in my photos, every bit of fur and feather detail is there. The resolving power also allows for considerable cropping without suspicion. As an f/6.3 maximum aperture lens, many photographers will opt to keep it there to get the most light for a faster shutter speed. The good news is that even wide open, the sharpness will not suffer. The photo below was shot at f/6.3, and each barb in the feathers can be made out.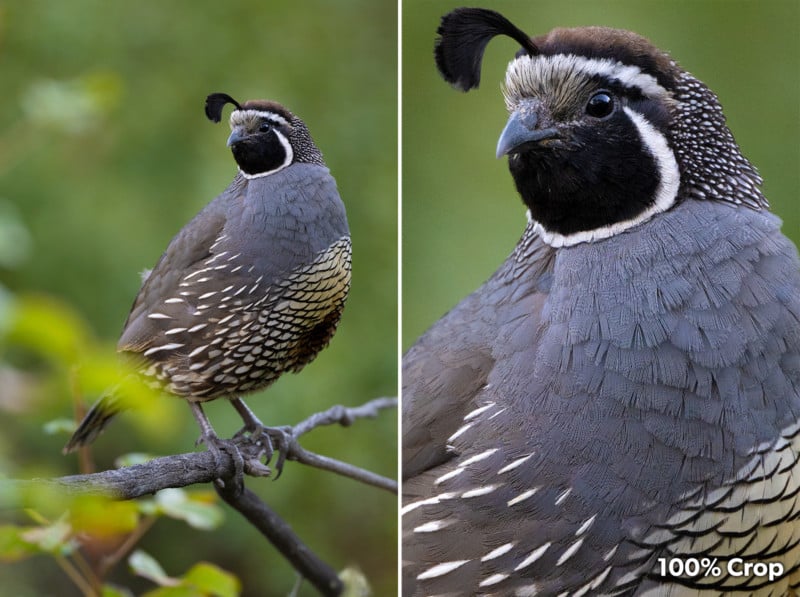 This lens uses an STM (stepping motor) for autofocus. It's not the company's latest and greatest technology, which would be the Silky Swift VCM found in the 400mm f/2.8 TC VR S, but I haven't seen a strong case in my shooting where it needed to be. It's fast enough not to become a problem when making dramatic shifts in focus distance, although it's not blink-of-an-eye fast. It is that fast, however, when making more common focus shifts, for example, from 20 feet to 30 feet.
It has a minimum focusing distance of 16.41 feet (five meters). That sounds far, but at 800mm for many subjects at that distance, it will be filling the frame maybe more than you'd like. Most of the time, I didn't find it limiting, but there is an adjustment period to remember I would need to take a couple of steps back from where I might typically shoot with a 500mm or 600mm and a shorter minimum focus distance.
When shooting at 800mm handheld, Vibration Reduction is a critical component of this lens. Nikon claims that the lens can compensate for shake up to five and a half stops combined with the Z9 or five stops just from the lens alone. That's magic, considering that the lens' field of view is about three degrees. After working with this lens, it's safe to say that the "one over the focal length" rule is still well buried in the past.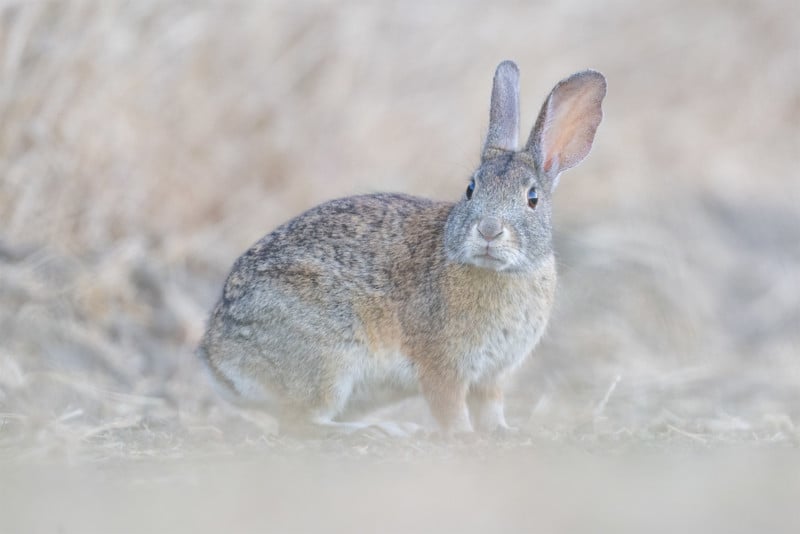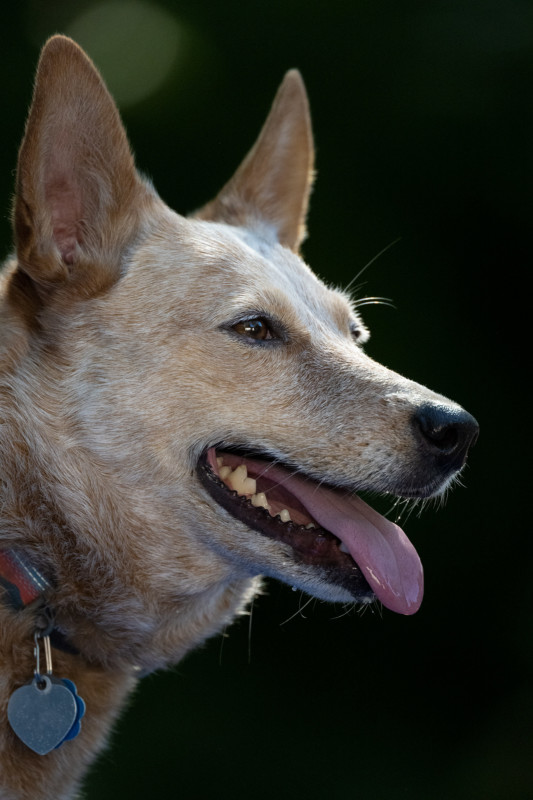 The Gold Standard of Super-Telephoto Primes
So, what is the catch? I don't know. I genuinely have no idea why this lens doesn't cost double the $6,500 that Nikon is asking because I think the company could have gotten away with it. For photographers who can't get enough focal length, the high-end 800mm lenses always come with the understanding that they will be huge, heavy, and expensive. This lens is not any of those things, comparatively and from my experience, no great sacrifices are being made either.
Waiting lists and estimated shipping times for this lens are reaching half a year from what I've seen, and I think that may be the only "catch" for the lens: it will not be easy to obtain without a lot of luck, at least for the time being.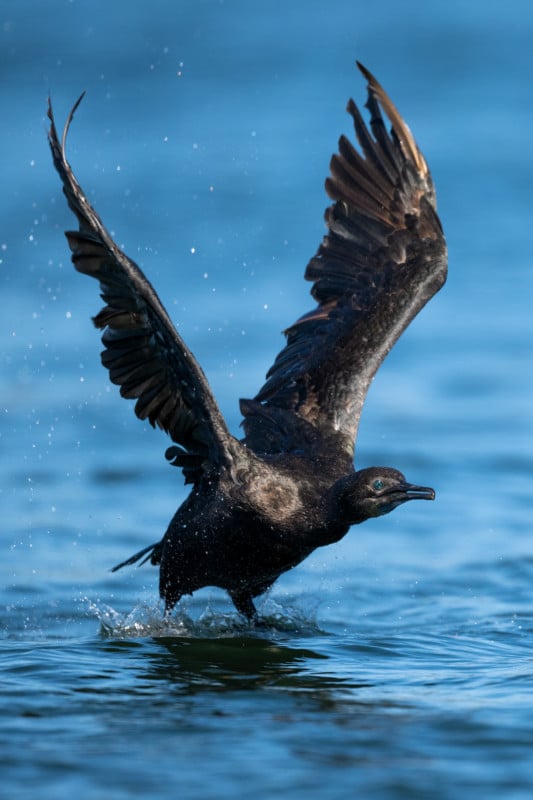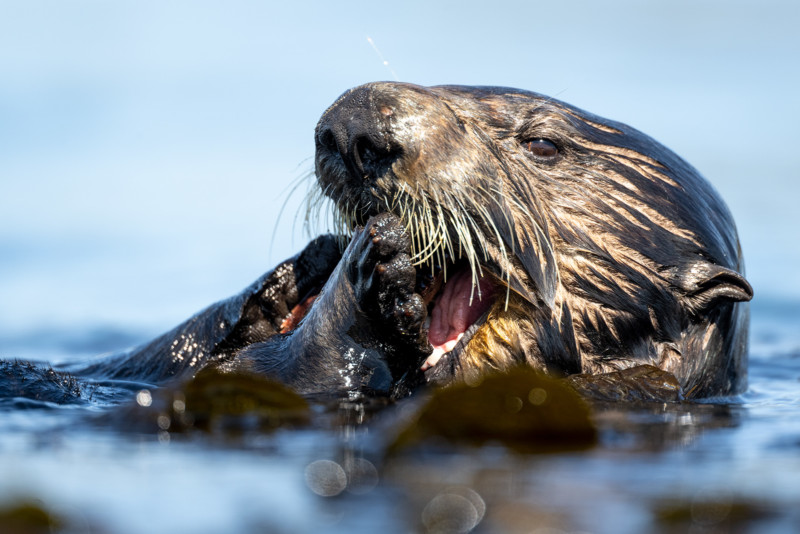 Are There Alternatives?
There is one, but it's not good news. You'd have to be out of your mind to spend $16,300 and buy a new F-mount Nikon 800mm f/5.6E AF-S FL ED VR and adapt it to use on a Z-mount camera. That's almost $10,000 more expensive and gains you only a third stop of light. It's also 10 pounds versus the 5.25 pounds of the Z 800mm. That might be the worst deal in photography for those who have moved to Nikon mirrorless.
Right now, I wouldn't consider anything else comparable to the Nikon Z 800mm f/6.3. It is a unique lens across all brands and systems in terms of its package of design, image quality, and price. However, according to the company's lens road map from 2021, Nikon is planning to bring out a 600mm prime lens and a 200-600mm zoom lens. Adding a 1.4x teleconverter would convert these lenses to 840mm at the cost of another full stop of light.
Should You Buy It?
Yes. The Nikon Z 800mm f/6.3 VR S is the new gold standard of super-telephoto prime lenses when factoring in reach, weight, build quality, image quality, and price.