A Variable 3D-Printed Extension Tube for Wide-Angle Macro Photos
Photography enthusiast and camera tinkerer Nicholas Sherlock has created a new 3D-printed variable length extension tube for macro photography using wide and ultra-wide lenses.

The tube, which extends from 0 to 35mm, allows Sherlock to use his 14mm and 35mm wide-angle Canon EF/EF-S DSLR lenses on his Sony mirrorless camera and focus those lenses from infinity all the way to 1x magnification.
"Shooting wide is a great way to include more of the subject's natural environment in the background," Sherlock tells PetaPixel. "The only struggle is that they end up just millimeters away from the lens!"
The 3D-printed tube weighs in at just 95 grams (~3.35oz), making it easy to use for long stretches of time.
"I've focused on creating a lightweight rig so I don't have to be a strongman to shoot for longer than 5 minutes," Sherlock says. "The printed tube is 95 grams, and my Sony a7R mirrorless camera is much lighter than my previous Canon 5D Mark III."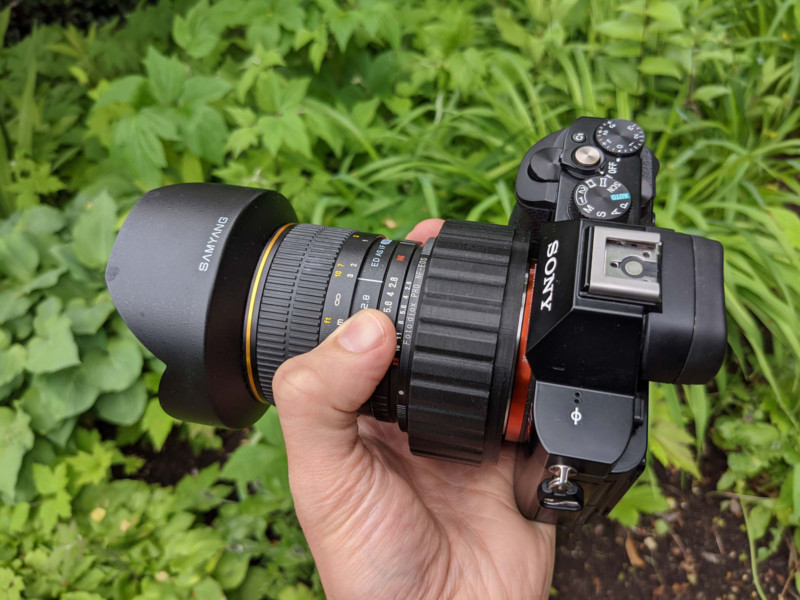 The design takes advantage of the 26mm difference between Canon DSLR deeper lenses and Sony's mirrorless camera mount.
"This means that as long as my tube collapses down to 26mm or shorter, it has an effective minimum extension of 0mm, so the lenses can still focus to infinity," Sherlock writes. "At max extension, a 35mm lens will reach 1x magnification."
The variable nature of the tube opens the door to a wide range of possible lenses.
"It also means that I can produce tiny extensions like 7mm that would otherwise be impossible when using Canon lenses on a Canon body," Sherlock continues. "These tiny extensions enable macro even on ultrawide lenses like my Samyang 14mm (although the lens ends up just millimeters away from the subject!)"
Here are sample macro photos captured with the help of the extension tube:
If you're interested in printing out one of these extension tubes of your own for your EF lenses and Sony cameras, you can download Sherlock's design files over at Thingiverse (instructions for building, mounting, and using the tube can be found there as well). Extra required parts include screws, nuts, and grease. If you'd like to go longer, Sherlock has also designed a 50-150mm tube that allows for magnifications of 1x to 3x when using a 50mm lens.
Sherlock previously created a 300mm extension tube as well as a rifle-style grip for that 5x macro rig. You can find more of his work on his website.