MIT Researchers Develop a Drone that Can Automatically Light Your Subjects for You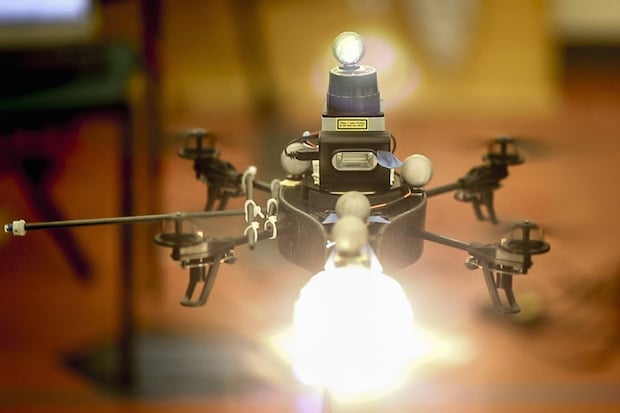 A group of researchers from MIT want your next lighting rig to be autonomous and airborne. Set to be on display this August at the Symposium on Computational Aesthetics in Graphics, Visualization and Imaging, they've actually developed a drone that automatically and dynamically lights a subject (living or otherwise) for a photographer while he or she focuses on getting the shot.
Announced earlier today through the MIT News website, the prototype the researchers have ready for demonstration focuses on providing perfect rim lighting — a proof of concept using a difficult to produce effect.
Using a continuous light source, a flash and a laser rangefinder, the flying assistant sets itself up based on the position of the subject as well as what the photographer is seeing through the camera, making sure the lighting is always 'picture perfect,' if you will.
Using the system is extremely straight-forward. First, the photographer tells the drone what side they want the rim light to come from. Then, once the little helicopter is in position, the photographer indicates in the desired 'rim width' they want by typing in a percentage of the current width.
From that moment on, the drone will handle everything else automatically. If the subject moves and the rim width changes, the drone will move. If the photographer moves, the drone uses a 20-images-per-second feed from the photog's camera to adjust its position accordingly.
No moving lights back and forth, the lights move for you.
The long term goal here is to allow photographers to use a whole fleet of drones in their work, never having to set up another light again. Just indicate the desired effect, and your little Skynet lighting system gets to work creating that effect and then maintaining it automatically until you move on to the next setup.
And while that autonomous lighting future is still a ways away, Ravi Ramamoorthi, a professor of computer science and engineering at the University of California, San Diego, tells MIT that he believes the system is definitely "doable" given the rapid advance of the necessary technologies.
(via MIT News via TechCrunch)
---
Image credits: Photographs by MIT researchers.