These Nighttime Landscape Shots Take 'Drone Lighting' to the Next Level
Drone lighting is a technique that's taking off in the world photography. After seeing photographer Reuben Wu photos of landscapes at night that were lit using an LED-equipped drone, photographers Ryland West and Paul Heran were inspired to take the technique to a new level with a project titled Highlight.

Like Wu, West and Heran built a custom aerial lighting rig by attaching an LED light panel to a drone using two strips of Velcro.
The duo then took their light drone to locations across Northern California, Nevada, and Iceland, lighting up natural wonders of the world under the starry night sky.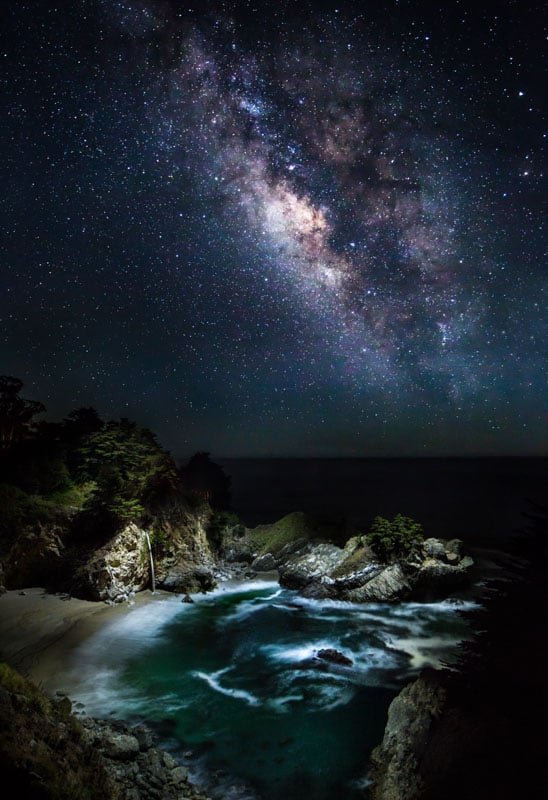 "By carefully crafting shadows to manipulate landscapes, we brought a certain surreality while maintaining a natural feel to each nightscape," the photographers tells PetaPixel. "We found it incredibly empowering to have this much control over what is shown and what is hidden in the photo."
"We were able to be extremely selective of where the light hit, and highlight only what we wanted in each frame," the duo says. "When choosing our composition, we strived to show depth and texture, while utilizing the night sky."
"The top light gave us the ability to bring out texture so brilliantly that it seemed as though you could almost feel the surfaces through the photo."
The photos are composites created by shooting 20 to 30 different photos of a scene, with each one lit from a different location, and then stitched together by hand in Photoshop afterward (they found Photoshop's auto-blend features to be unreliable for achieving the results they wanted).
You can view more photos from the project on its official website. The photographers' current work can be found on their Instagram pages, @rylander_west and @paulheran.
---
Image credits: Photographs by Ryland West and Paul Heran and used with permission