Wise Introduces World's First 512GB V90 UHS-II SD Card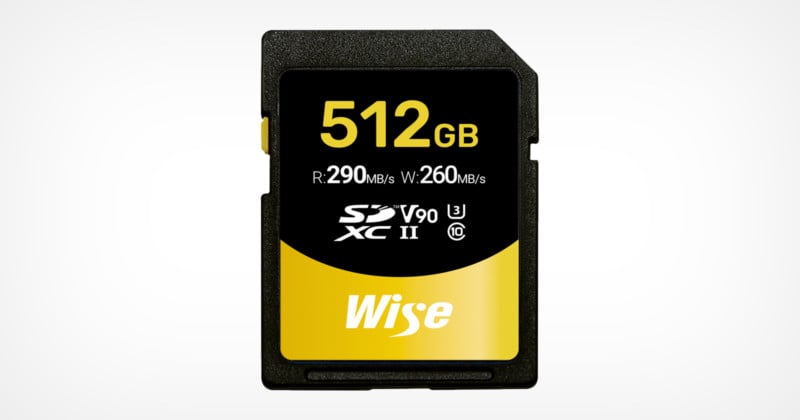 Wise, a memory manufacturer based in Taiwan, has announced the world's first 512GB capacity v90 SDXC UHS-II memory card. Doubling the capacity of others on the market, the card promises a sustained write speed of at least 90 MB/s.
Wise Advanced has been a manufacturer of storage products since 1992 and, according to its company bio, designs, manufactures, and provides service for its product.
The company has added to its portfolio of memory products with the introduction of the SD-N series SDXC memory cards in 128, 256, and 512GB capacities. This is the first time any company has offered the 512GB capacity with support for v90 speeds.
The cards are rated for up to 290 MB/s read speeds and 260 MB/s write speeds, which is well beyond the required 90 MB/s sustained speeds for the v90 label. The SD Association doesn't currently rate SD cards any higher than V90, and most cameras can operate at near or full photo capacity at this speed. Video capability depends on bitrate and format, but many cameras also can use V90 memory cards for most 4K applications.
Wise Throws Shade at SD Express
In its press release, Wise appears to throw some shade on the SD Express format. The company says that rather than spend the majority of its energy and resources on developing an SD Express card, it instead chose to focus on current demands.
"The SD Express could be a rising star in the future when more cameras apply this technology. But in the current landscape, we believe the current SD card format will continue to dominate the market, especially since Apple has put back the built-in SD UHS-II slot in the latest MacBook Pro," Frank Wang, product manager of Wise Advanced says.
Wise is most likely right in this decision. SD Express is not currently supported by any media capture device (still or video camera) and while some companies like Lexar and Adata have chosen to announce SD Express memory cards, it's not clear who those products would be for.
SD Express, on the surface, sounds like an ideal format. It promises faster speeds — up to 4 GB/s in the 8.0 specification — in the same form factor as current SD cards and would be backward compatible with devices that currently use standard SD. But peel back the layers a bit, and the flaws start to appear. While technically backward compatible, SD Express cards would only be able to operate at UHS-I speeds in devices that use standard SD. Additionally, that promise of 4 GB/s is a theoretical max and has not been nearly reached. SD Express also seems poorly regulated and rife with scams. In fact, testing of one company's SD Express card and reader resulted in abysmal speeds that are worse than current UHS-II memory cards.
To achieve faster than what UHS-II SD cards offer, manufacturers have decided on CFexpress, and Wise seems to fully understand this.
Capacity Comes at a Price
The Wise SD cards promise the 512GB capacity which is double its closest competitor, but its promised speeds lag behind. Both ProGrade Digital and Sony promise faster speeds, and since tested speeds generally lag behind these claims, expect the same out of Wise.
Additionally, the 512GB cards cost a tear-inducing $800. The 256GB capacity retails for $320 and the 128GB capacity costs $160. While expensive, the wait for the cards won't be long: they are expected to hit store shelves in April.