Patriot Launches 512GB V90 UHS-II SD Card for $400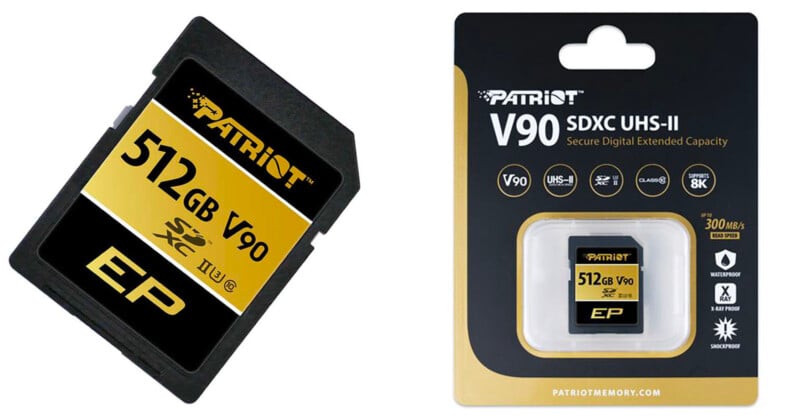 Patriot Memory has announced the Patriot V90 SD card. The company's newest UHS-II card supports 4K/8K video capture and promises read speeds up to 300 MB/s and write speeds up to 260 MB/s.
Patriot's new V90 SD card is available in 64GB, 128GB, 256GB, and massive 512GB capacities. The largest capacity puts the Patriot V90 among relatively little competition.
The Competition
Other UHS-II V90 U3 Class 10 SD cards available in 512GB capacity include the ProGrade Digital UHS-II SDXC, the Angelbird AV Pro MK2 UHS-II SDXC, the OWC Atlas Ultra UHS-II SDXC, and the SanDisk Extreme Pro UHS-II SDXC, among others.
The suggested retail price of these cards ranges from $499 to just under $620, although the ProGrade card is currently on sale for $399, a $100 discount, putting it at the same price as Patriot's new V90 card. However, Patriot's card promises slightly faster write speeds (260 MB/s versus 250 MB/s).
While real-world performance doesn't always meet manufacturer specifications and speed ratings for practical reasons, it's worth noting that the Angelbird AV Pro MK2 SD card promises a 280 MB/s maximum write speed, while SanDisk's card instead promises the same speed as the Patriot card.
Patriot's $400 512GB SD Card is Among the Most Affordable Options
Since Wise launched the first 512GB V90 UHS-II SD card in March 2022 for $800, prices have continually decreased, as is frequently the case with memory cards. Sabrent undercut Wise by $200 just a week later, for example. The ProGrade card mentioned above hit stores a couple of months after that.
Assuming competitive performance, the Patriot V90 card represents an affordable option for photographers and filmmakers who want high-end SD card performance without compromising capacity.
"Featuring high-performance SD support for 8K/4K Ultra HD high-speed photo, 4K video and sequential burst mode, the V90 memory card is designed for digital filmmakers, professional photographers, and creatives. The V90 memory card supports a wide variety of top-of-the-line cameras from major brands like Sony, Canon, and Nikon for compatibility across the market," explains Patriot.
The Patriot V90 series SD cards promise waterproof, shockproof, and vibration-proof performance and come with a five-year warranty.
"These new V90 SDXC UHS-II U3 Class 10 SD cards are crafted to withstand tough weather and extreme temperature fluctuations. They are reinforced to be waterproof, dustproof, temperature-proof and shock and vibration resistant, all while delivering ultra-fast data read and write speeds," says Shannon Robb, marketing manager at Patriot Memory, per Camera Jabber's reporting.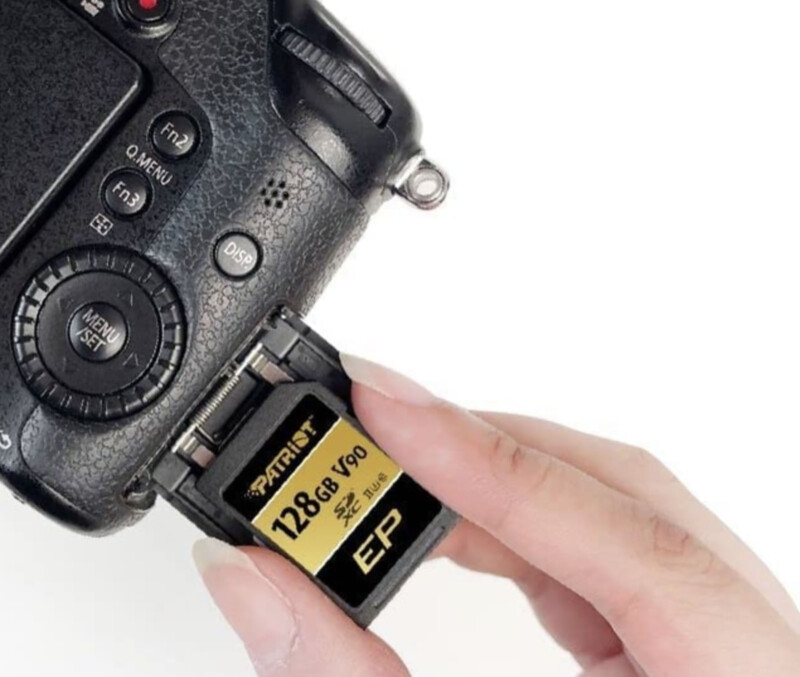 While the 512GB Patriot V90 card represents a relatively impressive value at $399, the other capacities are also relatively affordable. The 64GB, 128GB, and 256GB Patriot V90 SD cards are $47.99, $87.99, and $184.99, respectively. Patriot's cards are significantly less expensive than the new SanDisk Extreme Pro SDXD cards with the same promised speed performance. For example, the 256GB SanDisk V90 card is on sale for $279.99, a $120 instant savings compared to its MSRP of $399.99.
However, as PetaPixel explains in its "Complete Guide to Memory Cards," promised peak speeds and real-world sustained speeds can sometimes differ dramatically. Further, PetaPixel advises, "The jump from V60 to V90 will hit you in the pocketbook, so there's no reason to do that if you can't make use of it."
Nonetheless, for users that require V90 speeds, Patriot Memory's new SD cards make exciting promises at very reasonable prices. Full specifications and purchasing options are available on Patriot's website.
---
Image credits: Patriot Memory