Adata Launches SD Express Cards, A Format No Camera Supports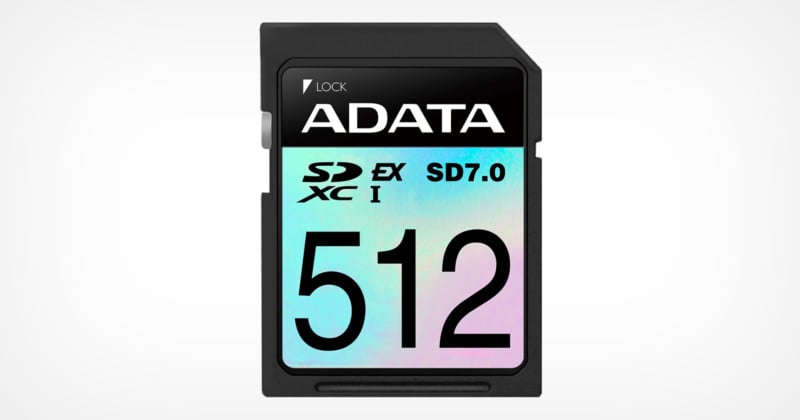 Adata has announced that it will be producing a line of SD Express memory cards, following Lexar which did the same earlier this year. It's unclear who these cards are for, however, as no manufacturer currently supports the spec.
Adata is a Taiwanese memory and storage manufacturer that has been operating since 2001, but it hasn't done much — if anything — in the memory card space in that time. The company has thus far focused on solid-state drives for personal computers as well as external storage solutions but appears to be ready to break into memory cards with the launch of its SD Express line.
PCWorld reports that the company will release what it is calling Premier Extreme SDXC SD 7.0 express cards that will use PCIe Gen 3 and promises read and write speeds of 800 MB/s and 700 MB/s respectively. The company also points out that these speeds are about 1.5 times faster than a standard SATA SSD, but up to eight times faster than a standard SD card.
SD Express is the SD Association's answer to CF Express, a card format that has three types and is already in use across the camera industry from stills photo cameras to video-focused cameras. Manufacturers were quick to sign on to the standard several years ago and notably Canon, Nikon, and Sony all signed on and currently support the standard across a range of devices. Sony, in particular, has been a strong supporter of the Type A standard, which is capable of half the read and write speeds of the larger Type B standard but is also much smaller — A CFexpress Type A card is smaller than a typical SD card while a CFexpress Type B card is slightly larger than an SD card.
A common misconception is that SD Express is fully compatible with current devices that take SD cards. While the cards are technically backwards compatible, that statement is misleading since SD Express uses a different bus than current SD cards. SD Express uses the PCIe bus while current SD cards use the UHS bus. When an SD Express card is placed into a current-generation device's SD port, it can take advantage of a single lane of UHS but as a result will max out at UHS-I speeds, which caps at about 104 MB/s.
Because of this glaring limitation, it's unclear why Adata or Lexar are building on the SD Express specification as PetaPixel sources confirm that to date, no manufacturer has signed on to produce any hardware that fully supports the format, meaning the best anyone can expect to get out of what will be more expensive cards is current UHS-I speeds. Additionally, there are no card readers on the market that can take advantage of the top speeds promised for SD Express, either. There is literally no hardware anywhere that supports these cards.
The main argument that most make against CFexpress is that it requires the purchase of both new cards and new readers, but SD express has those same limitations. Additionally, SD Express has theoretical speed caps that are well below the CFexpress theoretical limits. Current Type B cards typically reach read speeds of 1,700 MB/s and surpass 1,400 MB/s write speeds thanks to their two lanes of PCIe. Type A cards are slower due to their single-lane design, but still promise 800 MB/s read speeds and 700 MB/s write speeds which matches what SD Express is touting. The difference here is that CFexpress is actually supported and cameras and readers currently exist that use it.
What's more, CFexpress is likely to continue to grow in popularity as ProGrade Digital's recent choice to start manufacturing the cards shows it believes the format to be popular enough to warrant production costs.
Just as was the case with Lexar's SD Express announcement, Adata has not provided any information on when the cards will actually be available to purchase or how much they will cost. None of that really matters anyway, though, since no one can use the cards to begin with.