Video: Photographer Documents the Crazy Adventure of Surfing in the Arctic Circle
If you thought surfing in Texas was absurd, then this little video and accompanying feature will truly blow you away. As part of an original SmugMug Film, Photographer Chris Burkard and professional surfers Patrick Millin, Brett Barley, and Chadd Konig fight through frigid temperatures and rough conditions, all to capture the adventure that is surfing in the Arctic Circle.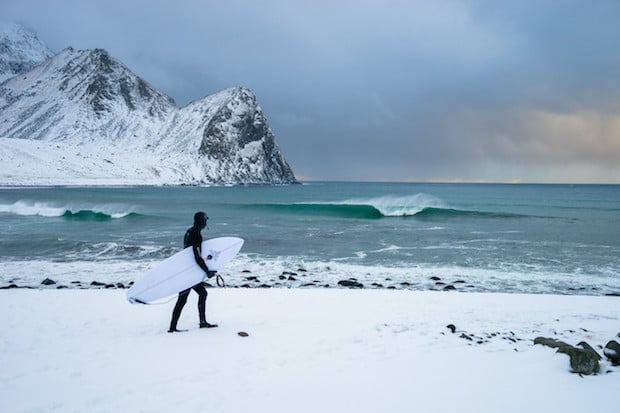 A Sony Global Imaging Ambassador and Senior Staff Photographer for Surfer Magazine, Burkard is a self-taught photographer based out of Central Coast California. Burkard travels the world, capturing outdoor, lifestyle and travel images, all with the adventurous aesthetic that seems to consume every facet of his work. But, of all the images he takes, those involving the ocean, and more particularly surfing, are the ones that most connect him with his love for photography.
It was this passion and desire that led him to teaming up with SmugMug, the aforementioned surfers and cinematographer Anton Lorimer to create Arctic Swell – Surfing the Ends of the Earth. The eight minute film takes an inside (and overhead) view of what it's like to surf the harsh, relentless terrain of these glacial beaches.
The photographs captured by Burkard on this journey seem to be as mind-boggling as the surfing, itself. With 5–7mm of rubber all that's separating the surfers and Burkard from the gelid waters, it's astounding to see just how willing the entire crew was to put comfort at risk in hopes of rewards in the form of adrenaline, adventure and aesthetic.
Below are a section of images Burkard was kind enough to share with us.
To keep up with the adventures of Burkard, you can do so through his website, Facebook, Tumblr and Instagram. This is also just one of many original films from SmugMug, all of which you can check out over on SmugMug Films.