SmallRig's New Video Light is Small, Lightweight, and Affordable
SmallRig has announced the RC 60B COB LED Video Light System, a new portable light designed for video production.
The portable light is designed to be handheld and offers continuous output light with nine built-in light effects. Using a standard reflector, the bicolor light promises 54,300 lux illumination at 1.64 feet (0.5 meters). The lux drops to 11,200 at 3.3 feet (one meter). The user-controllable color temperature ranges from 2700 to 6500 Kelvin.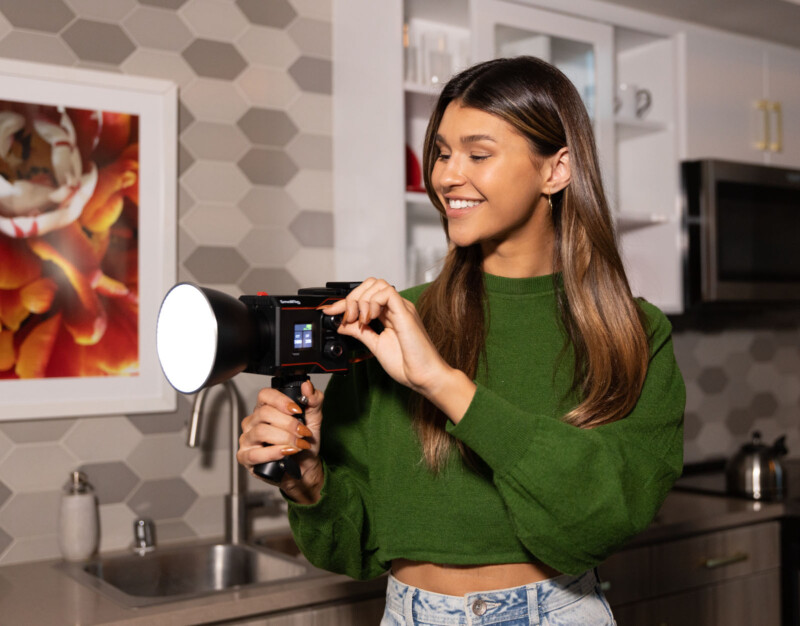 As for color stability and accuracy, SmallRig says that the light offers a CRI of 97, a TLCI of 98, and an SSI average of 89.
Available lighting effects include paparazzi, fireworks, lightning, broken bulb, TV, party, flame, breathing, and flickering.
The RC 60B has a built-in 3,400mAh battery, charged over USB-C. SmallRig says the light promises 45 minutes of battery life at full output and 75 minutes in its "eco" mode. The SmallRig RC 60B also has a built-in fan that promises to be quiet enough not to disrupt video production. From a meter away, the fan noise maxes at 26dB in normal mode and 23dB in eco mode.
It is also compact and lightweight. Just the lamp body weighs about 1.4 pounds (650 grams). The overall weight, including the detachable handle, is just over three pounds (1.5 kilograms). Everything fits in an included storage bag.
The lamp body sports a 1.3-inch color LED that provides lighting information and helps users dial in the precise color temperature and illumination level.
Based on PetaPixel's experience with other SmallRig lights, such as the RC 220B and larger RC 450, there is considerable reason to expect the new RC 60B to be an excellent light.
Pricing and Availabiity
The SmallRig RC 60B COB video light is available now for $199 and includes the lamp, a reflector, a 3-meter USB-C to USB-C power delivery charging cable, a light stand adapter, the grip handle, protection cover, carrying bag, and power bank holder.
The new light arrives on the scene just a few days after PetaPixel covered SmallRig's new VB99 Pro battery, a very useful battery that can easily power high-end mirrorless cameras, computers, and tablets "for hours."
SmallRig also recently announced a new ergonomic cage for the iPhone 15 Pro Max smartphone, enabling mobile filmmakers to achieve even better results.
---
Image credits: SmallRig