SmallRig RC 450 LED Light Review: Bigger, Better, and Far More Powerful
SmallRig seems to have taken the reviews of the previous generation of its COB lighting to heart and made some significant improvements to both the design and performance of the new RC 450D (Daylight) and 450B (BiColor) COB LED lights. These two new lights see everything that was missing with the last version and address those problems while at the same time improving on everything that was already good.
The updated lights — which are definitely aimed more at a professional market — feature a new and improved design and form factor that also leverages an AstralTech optical system that produces a brighter output than most competitors, and while I haven't personally tested the competing lights in its class, I can confirm the output on the new lights is absolutely incredible compared to the previous generation. Unlike the update from the RC 120 to 220, users will need some new, and likely, heavier-duty bags to accommodate these bigger and heavier lights, but the good news is they still use the Bowens mount so any existing modifiers can still be used.
Design and Build Quality
Out of the box, the new lights are completely different looking from the previous generations — the most recent previous model I reviewed just last year — with a more curved/aerodynamic design instead of the previous box-like build of the RC 220.
While the case the lights are shipped in is similar, the lights themselves couldn't be more different. Yes, there is still plastic used in the design but it is much sturdier and higher quality compared to the previous generations. The result is that this generation of light is significantly bigger and heavier than the RC220 and weighs a whopping 13.25 pounds with the power supply and control unit attached.
One of my larger complaints about the previous version of the light was the mounts were rather cheap and felt like if any real pressure was used, they would snap off easily. I probably wasn't the only one who was vocal about this, and SmallRig took that complaint to heart and shifted gears by making the new mounts much sturdier and constructed mostly of metal this time around.
It can be detached for easy storage and has an Arca-Swiss type mount so it can even be attached to non-traditional light stand positions, should the need ever arise. Or, conversely, you can leverage the SmallRig light stand mount to attach other Arca-Swiss compatible accessories, adding an additional level of functionality to the lights.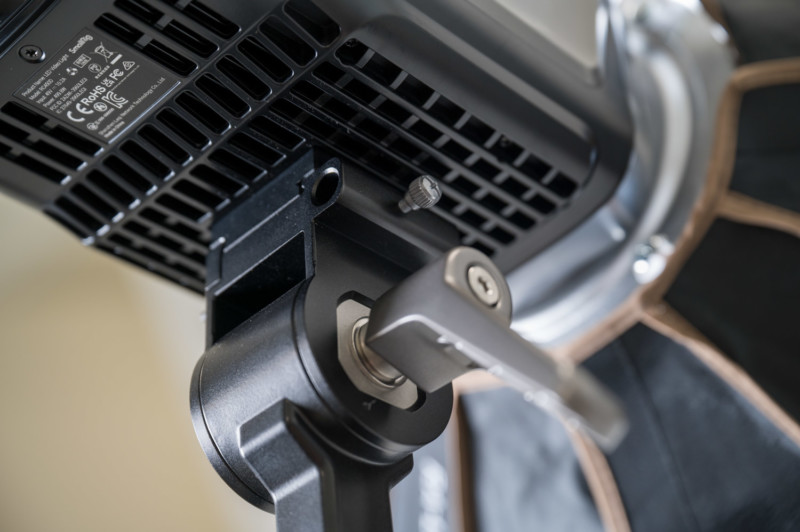 The adjustment system of the RC 450 is also improved, and the tightness of the clamp is sufficient enough to prevent it from dipping or drooping after making an adjustment. This does mean you'll have to put a little more effort into changing the light positions since it requires more torque to loosen and tighten, but when you're working with a heavy light like this, it's more than a fair trade-off.
Speaking of heavy, the power supply for this new light makes up about a third of the total weight (if not more) of everything in the kit. So plan accordingly, but the good news is that the system comes with a built-in cable/ring so you can attach it to your light stands as a sort of electronic sandbag to help keep the lights stable and balanced.
The lights still have a hole for using standard umbrellas as a modifier should users choose to do so, but with a light this powerful and bright, I don't see many people actually choosing to go that route with the abundance of affordable Bowens-type modifiers available.
While the design is much more attractive and better suited for keeping the heat down when using the light for long periods of time, it is worth noting that the extremely vented design is not weather or dust proof or resistant, meaning if you plan on using these lights in outdoor or uncontrolled locations, you'll have to be very careful doing so.
While using the lights outdoors may be risky, the increased cooling and venting is surprisingly quiet even when the light is cranked to full power and in use for several hours. I brought these lights to a commercial product shoot where we used them for an entire day, and during the peak of their use, the lights were outputting at most about 30 decibels within a meter of the unit. Basically, that means fan noise shouldn't be a problem for most video shooters unless you plan on recording audio directly under the lights.
On the back of the light sits a familiar LCD screen and a selection of buttons for adjusting the power output, effects selection, effects frequency, and on the bi-color version, the color temperature. The power output can be adjusted in one percent intervals for precision adjustments, and something new to this light is an additional socket where users can plug in an optional Control Panel that can be attached to a light stand for when the light is mounted in a high or difficult to reach place, giving users the ability to make all the changes they would normally make with the controls on the back of the light, but now at an easy to reach position.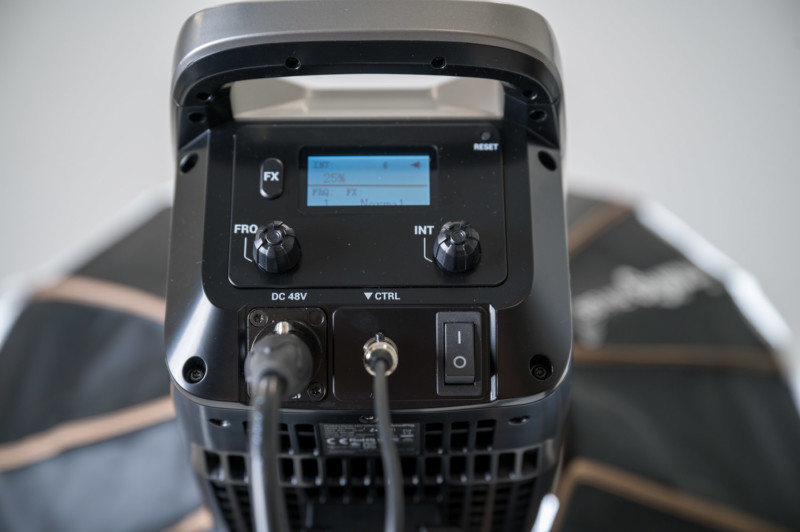 Basically, SmallRig took everything we didn't like from the previous generation and did away with it and took everything we did like and made it better in the RC 450 lights.
Features and Settings
Since I finished the last section mentioning the optional remote controller for the lights, we may as well start this section covering the handle little accessory. The $79 device itself is just about the size of a larger smartphone and when connected to the RC450 light, it effectively gives you an additional 10 feet or so of cable length to work with where you can mount the device to a provided clamp with magnetic base-mount directly onto the light stand at eye/hand level, making it exceptionally easy to make quick adjustments to the lighting without having to lower it and maneuver it around set.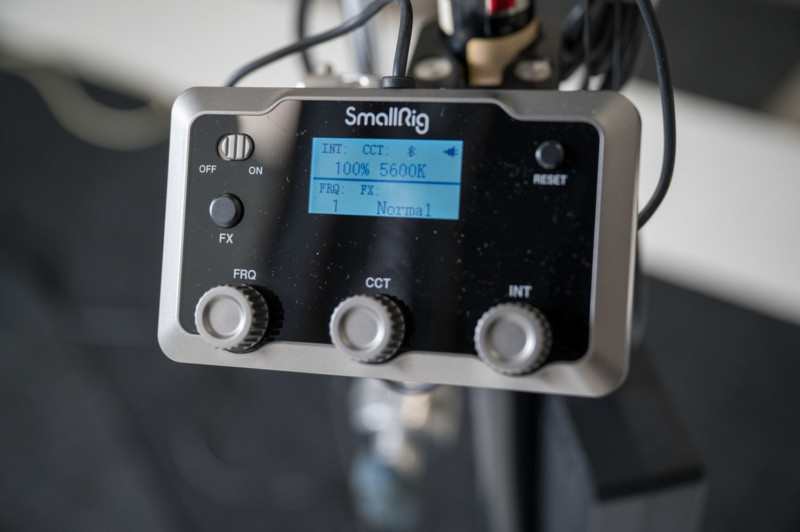 If you don't feel like paying an additional $79 for the remote, you can be reassured that the SmallGoGo app is still available and it still works with the new RC450 line of lights, giving you additional control over the COB LED lights from the comfort of you smartphone or tablet.
The free app has been updated slightly with a bit of a smoother process for logging in and adding the lights. However, I did not see any ability to rename the lights from the app, other than their serial numbers. In a future update, it would be nice to be able to rename and assign lights to particular groups for better control, but for now, it is still at least useful for individual setting changes when the lights are in hard-to-reach positions.
Also, just like with the previous version, to connect new lights to the Bluetooth app, you need to hold down the reset button on the light for about five seconds to trigger the Bluetooth pairing.
Just like the previous generation of lights from SmallRig, the RC 450 lights come preloaded with a variety of Special Effects including Flash/Paparazzi, Lightning Bolts, Party Lights, TV, Fireplace, Fireworks, Breath, and Faulty Bulbs. Each comes with multiple settings including intensity, frequency, and on the bicolor model, some color temperature controls (which range from 2,700K to 6,500K).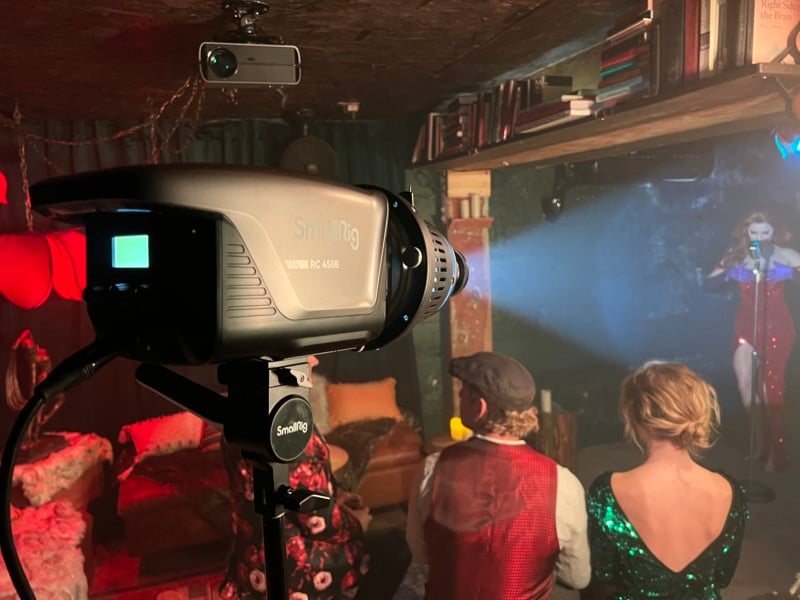 At first, I never thought much about these SFX settings, but after working on a few film projects this past year, they have actually come in incredibly handy and I've even used them on several indie projects including two music videos.
Light Quality and Performance
According to the company, both the RC 450B and RC 450D have a manufacturer-provided CRI rating of 96+ and a TLCI of 97+, and honestly, since most sources will say anything over 95 is "good enough," most users will be hard-pressed to find any issues with these lights in that regard.
Over the course of my testing, I used these lights on a commercial active-wear photo and video shoot, some product shoots, and two music videos where they were used as both key and accent lights with frame rates ranging from standard broadcast to 120 to 240 frames per second slow motion captures without any issues and found no flickering or inconsistency of colors whatsoever.
It's probably worth mentioning the power output here compared to the previous generations also: The RC220 light which I previously reviewed, was able to output about 84,500 lux which left me shooting headshots at about ISO 500 with at f/5.6. The RC 450 lights are capable of pushing about 150,000 to 172,000 Lux (both at one meter) and left me capturing images at ISO 100 with an f/4 to f/6.3 range comfortably. Basically, these lights are a significant power upgrade.
Using some color cards and white balance tools from Datacolor, I was able to test the light's color temperature outputs with only a very small variance of about 100K depending on the settings and how far it was positioned from the subjects, but overall it was pretty bang on from the devices output readings.
Below some images and bts captured using the SmallRig RC 450B and RC 450D lights:
Fixed the Bad and Made the Good Even Better
The SmallRig RC 450B and RC 450D lights pump out far more light than their predecessors at a price that, while not cheap, makes a lot of sense for creatives who need a continuous light source for their work. Capable of operating at full power for incredibly long hours while maintaining a very low noise output thanks to its dual-fan cooling system, the new lights are built for those who need accurate and consistent color reproductions and work very well to that end.
Small details like the cushioned positioning adjustments, locking mechanism, external control units, wireless apps, as well as the SFX bundle of presets make these lights incredibly useful and versatile for nearly any type of still or video production.
Are There Alternatives?
Since this improved series of lights are aimed more at the professional markets, the alternatives at a similar power output get to be very close in price. It's worth taking a look at the $1,119 Rotolight AEOS 2 RGBWW Studio LED, the $989 Godox Knowled M300BL Bi Color LED, the $999 Godox Knowled M600D Daylight LED, the $899 GVM ST300R 300W RGB & BiColor LED, and the $949 Aputure LS C300D II LED.
You could also consider the $1,549 Fotodiox Warrior 600 600W Daylight LED, and the $1,999 Aputure Light Storm 600x Pro Bi-Color LED
Should You Buy It?
Yes. If you are a professional photographer or videographer seeking a color-accurate, powerful, and quiet lighting system for your video or still work, the $999 SmallRig RC450D and $1,099 SmallRig RC450B are definitely worth consideration.