Why Video Editors are Switching to DaVinci Resolve in Droves
Video editors are flocking to DaVinci Resolve in droves, marking a major paradigm shift in the editing landscape that we haven't seen since the dreadful launch of Final Cut Pro X drove users to Adobe Premiere Pro.
There are times in the technology world when migrations occur, when a significant number of users move from one or more platforms to another. Sometimes the shifts are small, but sometimes they are massive, like when waves of Nokia, Motorolla, and other customers ditched their flip phones and Blackberry devices for the sleek polished slab that was the iPhone.
This shift is happening with Blackmagic DaVinci Resolve. If you're pay attention to YouTube, you have undoubtedly seen the recent wave of "I switched to Davinci Resolve" videos. It seems everyone is switching, from iJustine to Peter McKinnon to channels in the Final Cut and Premiere spaces.
In the camera industry, there was a period when YouTube was flooded with "I switched to Sony" videos in which longtime Canon or Nikon shooters proclaimed that, for whatever reason, they had given up one camera platform for another.
These tech migrations are fascinating because they were more a case of a disruptive company entering an established market and offering a new solution. These were both instances where the voice of those switching was amplified by the communications platforms of the time, with that amplified voice garnering more converts through FOMO and "me too" -ism.
This echo chamber isn't entirely accurate; they never are, as much of the chatter comprises people trend-jacking for views.
Whatever the reason, it's shone a light on Resolve, and it seems to be making Adobe, the 800-pound gorilla of the video editing world, nervous — and for a good reason.
After wedding-cinematographer-and-YouTuber Matt Johnson did a video about Adobe's recent loss of customers to Resolve and how the company has left user complaints like speed and stability unaddressed for years, Adobe invited Johnson and other prominent Premiere YouTubers to their headquarters to talk about their commitment to Premiere and Premiere customers.
"Adobe explained to me that… they wanted to reaffirm their commitment to the pro video community and show that they are listening and they want to get feedback to improve Premier Pro and make it more competitive," Johnson says.
While it's nice that Adobe wants to "reaffirm their commitment," the company would not have needed to if it listened to existing user feedback and made Premiere "more competitive" before the competition blindsided it.
In Adobe's recent NAB virtual press conference, the product reps assured the media gathered on the Zoom call that its 2023 Premiere releases would be the most stable ever and move more code to use the faster GPU than the slower-for-video-processing CPUs.
"This seems like a low bar," a media member in attendance wrote in the chat.
To be clear, I'm not a Premiere user and never was, but I love Adobe. I love Adobe's creative apps and use them regularly. I pay personally for the whole suite and have been very close to Adobe's public relations teams for many years, as journalists in this space typically are.
I also have been a Final Cut Pro user since well before it became Final Cut Pro X, but I have recently been one of those converts from it to Resolve, and I get quite a few questions about it from Premier and Final Cut users alike.
I switched after recently testing the Blackmagic Pocket Cinema Camera 6K. I asked the company to provide me with a Studio license of Resolve so I could test out some of the more powerful features, as well as to provide us with a loaner Davinci Resolve Speed Editor. The Speed Editor is one of many pieces of hardware in the BlackMagic ecosystem that provides an ecosystem for the product, which I'll circle back to.
From Nothing To Something Because of Zero
Resolve has taken a convoluted path to becoming the main rival of the world's biggest NLE tool. More a conglomeration of tools than a single program, Resolve came through some acquisitions Blackmagic made when creating a broadcast and cine ecosystem.
Comprised of an editing tool, a color correction tool, an audio editor, and an effects tool, Resolve is essentially multiple programs that all integrate so seamlessly that they function as a single application.
The color correction tools in Resolve are particularly well regarded, and many films and shows were color graded in Resolve even if they were edited in another program. The same applies to Fairlight, the audio component of Resolve, the go-tool tool for many of Hollywood's most prominent audio engineers.
In 2011, Blackmagic decided to release Resolve as both a paid and a free version. The free version had fewer features than the full version (as it still does), but instead of being crippled, the free version works well enough for most users, with the paid version feeling like a feature upgrade.
In the dozen years since Resolve became free, it has picked up an ever-growing number of users, and the YouTube emphasis on the creator market has only increased the pace of adoption. The fact that most successful YouTube channels take years to become successful means a free editing tool is valuable.
I remember my father giving me a math thought experiment that relates here: If a pond has algae that double in volume every day, and the pond is completely covered in algae on the 30th day, when half of the pond was covered in algae?
The pond was half-covered on the 29th day.
Software use isn't algae, but in the 12 years since the program became free, the user base has seen exponential growth thanks to the ever-expanding market of video creators combined with existing users of other products have switched. The recent videos of creators switching to Resolve really makes it feel like we're in the 29th day at the video editing pond.
Price and Feature Set
As I mentioned, the low price of zero dollars for the basic version is a massive draw for Resolve, especially for new YouTubers trying to turn their video side hustle into a full-time job.
What's unique about Blackmagic's approach here is that the free version isn't a crippled copy of the paid version. A free version is a perfect tool for most users, already on par with (and in many ways better than) Premiere and Final Cut.
Even better, the full Studio version is only $295 and bundled with many of the company's hardware tools. Buy a Blackmagic Pocket Cinema Camera or a Black Magic Speed Edit console and you get a lifetime license to Studio.
Even if you buy Resolve Studio and use it for just a year, it comes to about $25 a month. Use Resolve for five years, and you've paid about $4.00 a month. In comparison, it's $20 a month for Creative Cloud (though you get access to all the tools), and you pay that forever as long as you use the software.
Final Cut Pro is only $299, and that's also for a lifetime license, though Final Cut doesn't include the additional tools for audio and effects that Resolve Studio provides.
The full version adds excellent features, but not necessary if you're doing YouTube or social media work. There's much more support for cinematic workflows with the full version and faster performance.
There are a few key differences between the free and Studio version. Studio supports more video formats (and completes 4Kp60 workflows), uses the GPU more efficiently, has more effects, and fully supports the product's audio, color, and effects tools.
It's not the price alone that has caused a mass adoption of the program, though. It's the company's approach to updates as well.
Features
Blackmagic has never hesitated to put a feature into Resolve. The program has many options in contextual menus, user interface choices, menu items, keyboard shortcuts, and more.
There is so much here that it can be overwhelming. Finding the tool I want in a contextual menu is often the most challenging part of my editing. But if there's something that can be done in video editing, a button, icon, or menu will probably perform the task.
Blackmagic also releases dot-versions (like 18.1) that sometimes add enough features that it acts like a full number upgrade would if it were released by Adobe or Apple. Some of the features in Resolve 18.1, for example, unleashed the wave of recent switchers.
Two significant features are buried in a list of around 20 new features in that update. The first is AI-driven Magic Mask tools that make masking people or objects a matter of drawing a line. The other prominent feature is voice isolation, another AI-based feature that removes noises from dialog tracks.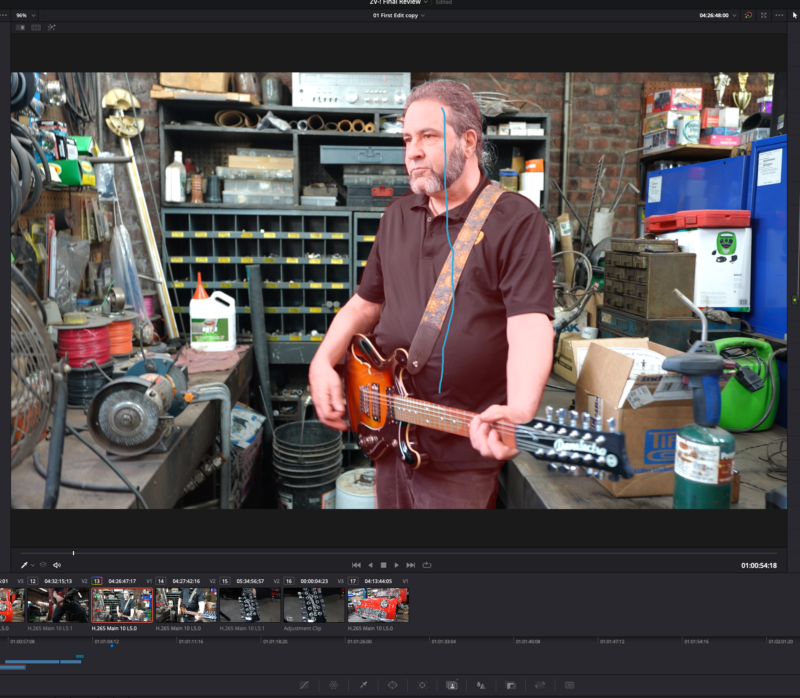 Magic Mask alone is worth the price of admission. This tool makes it easy to color-correct significant portions of a shot without doing endless mask adjustments, and it also allows for instant alpha channel creation, allowing for items like text, graphics or even people to be superimposed on the same scene without needing a green screen.
In noisy environments, this tool performs amazingly. I've used it to eliminate leaf blowers and lawnmowers in the background of outdoor shoots, and I've seen it used to cancel out hair dryers and drill guns in sample videos on some channels.
Ecosystems
As mentioned, my conversion to Blackmagic Resolve began with my review of the Blackmagic Pocket Cinema Camera 6K and it continued when I asked Blackmagic to loan me the Speed Editor editing deck for review. The Speed Editor costs $295 and comes with a Resolve Studio license, making it worth the cost even if you barely use it.
The Blackmagic Speed Edit deck is an excellent piece of hardware, though many functions are out of my league. Buttons are arranged where a seasoned editor would. Cinematographers, especially those working on multi-cam shoots, will benefit from this editing.
Or at least that's why my seasoned editor friend tells me. The unit feels odd in my hands because I don't use most of the keys. One central portion of the Speed Editor is dedicated to switching between up to nine cameras, but the device has encouraged me to do more multi-cam shoots since the keyboard makes editing smooth.
The keyboard, which connects via USB-C cable or Bluetooth, is labeled with the essential editing functions, which is very helpful for new Resolve users. Instead of memorizing the location of essential keys on a standard keyboard, new users can look at the Speed Editor and focus on learning editing workflow instead of shortcuts.
On the other hand, many seasoned editors already know all the keyboard shortcuts on a standard keyboard and have made their custom keyboard configurations to support their editing style. Even though I'm a new Resolve editor, many tasks are performed the same as Final Cut, so I moved toward the regular keyboard shortcuts.
The Speed Editor is an excellent example of the complete Blackmagic ecosystem, which is why the free program and Studio are low-cost.
Blackmagic is using the age-old "give them the razor, and they'll buy the blades" technique of sales. The Speed Editor is just one of the dozens of broadcast and cinema controllers the company offers, from audio and video converters to NAS systems to complete audio and broadcast engineering decks.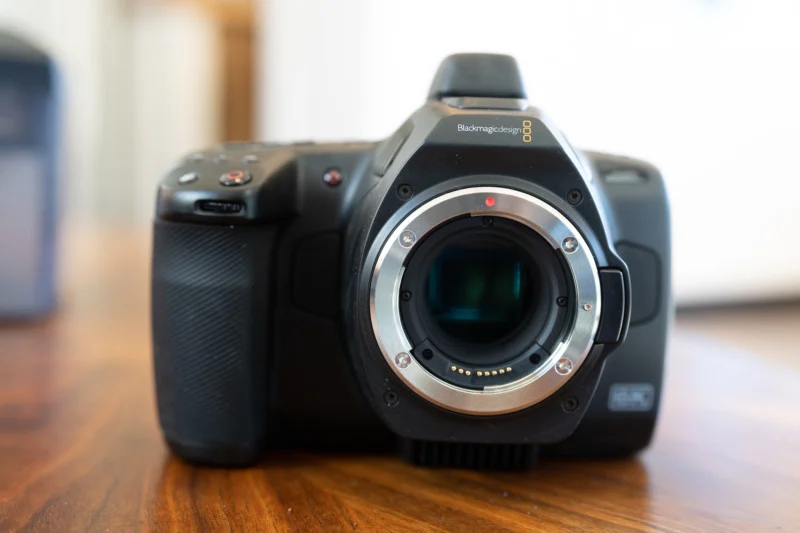 And, of course, the company makes what brought me into this ecosystem in the first place: a selection of video cameras that are affordable (for what they do) and work seamlessly with Resolve.
Mac, iPad, Windows
Blackmagic's iPad version of Resolve is another incentive for editors looking for portable editing solutions. Still not as powerful as a desktop system, Resolve for iPad brings at least a consistent editing interface to those making their content on mobile devices.
I do most of my mobile content on my iPhone because it's connected to my social accounts, and I often capture footage on my phone. I can use an iPad when I travel and not rely on various third-party video editors and their various interfaces.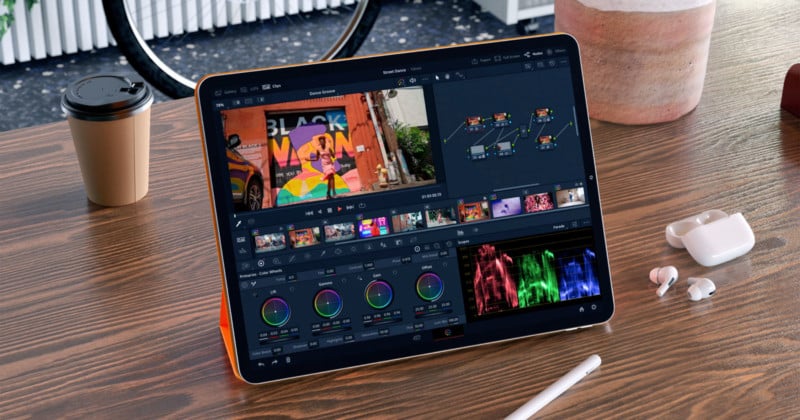 Resolve's ability to work with projects in the cloud means that Resolve desktop editors can pick up their iPads and pick up right from where they left off.
The fact that Resolve (like Premiere) is available on Mac and Windows is a significant advantage over Final Cut Pro. I can cut my videos regardless of what systems I find myself using and it also lets me collaborate with other editors in the same way.
Lighting a Flame
Now that Adobe is basically publicly admitting it is behind the competition as far as features and stability are concerned, it will be interesting to see how quickly that behemoth can spark interest in Premiere again.
Blackmagic has added several artificial intelligence (AI)-driven features that have accelerated the adoption rate, but Adobe has led the imaging market in AI. Photoshop's most recent innovations have been built on Adobe's Sensi AI engine and it just added more to Lightroom. Additional features are coming across the company's suite of apps thanks to the Firefly generative AI.
Rapid stability and speed improvements combined with cutting-edge AI features are enough to stop the flow of switchers. Still, Blackmagic has a head start and a collection of gear that integrates nicely into one ecosystem.
Final Cut Pro, meanwhile, seems to languish at the hands of Apple, who probably realizes that it will sell Macs regardless of whether they bring updates to Final Cut Pro. Apple will regularly talk about the speed of Resolve rendering on its new machines.
No market stays dominated by one player forever (as the mirrorless market has taught us) and the new competitive nature of Adobe and Blackmagic will bring users a stream of improvements for some time to come.
---
Author's Note: Just after finishing this article, Blackmagic announced a new version of Resolve, which adds several compelling features including transcriptions, subtitles, and the ability to edit clips by selecting text.
These additions reinfore the point that the company is adding new features at a very rapid pace.