Adobe Lightroom Adds New AI Innovations and Improved Masking
Following Adobe's announcement last week of new artificial intelligence (AI) innovations in its video editing applications, Premiere Pro and After Effects, Adobe has announced that its widely used photo editing Lightroom applications will be receiving new AI-powered updates.
Adobe has outlined new features, including expanded Adaptive Presets, new masking categories for Select People, Denoise, Curves within masking, and more. As is the case with previous updates to the Lightroom ecosystem, not every feature is available for every version of Adobe Lightroom, and some features are also included within Adobe Camera RAW (ACR) inside Adobe Photoshop.
Denoise AI (Lightroom for Mac/Win, Lightroom Classic, and ACR)
"Never miss another photo opportunity because of poor lighting," says Adobe. "With Lightroom's latest advanced AI-powered feature, Denoise, you can remove digital noise from your images to improve quality without losing any details."
The company adds that this feature is handy when editing images captured at high ISO, especially those shot in low light.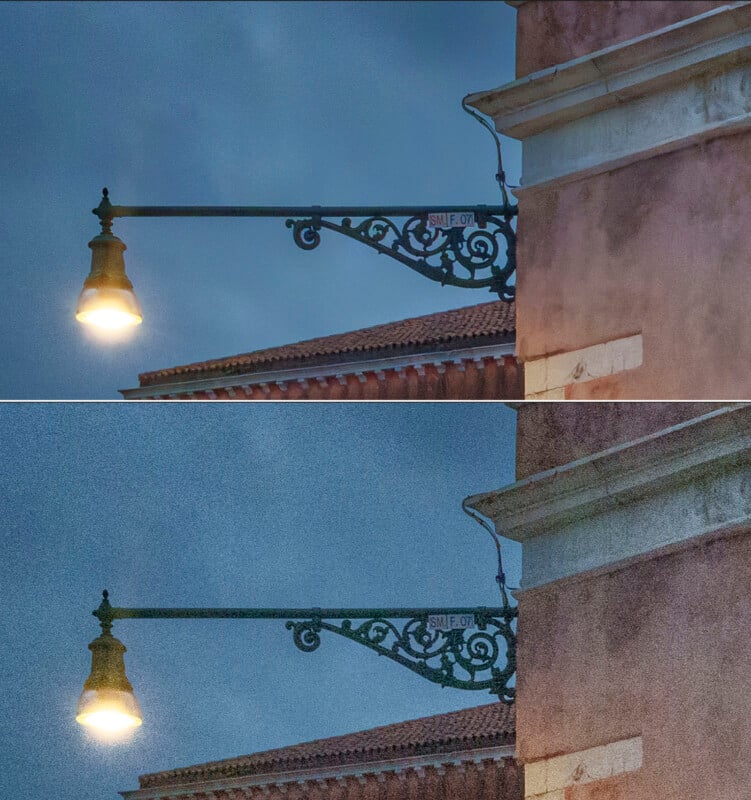 The feature is now available for RAW files, with support for additional file types arriving soon. Denoise AI works with just a single click.
Curves in Masking (Lightroom for Mac/Win, Lightroom Classic, and ACR)
Users can now take advantage of Lightroom and ACR's powerful AI-powered masking tools in combination with Curves adjustments.
By using Curves within masking, users have precise control over tonality and color in specific regions of a photo.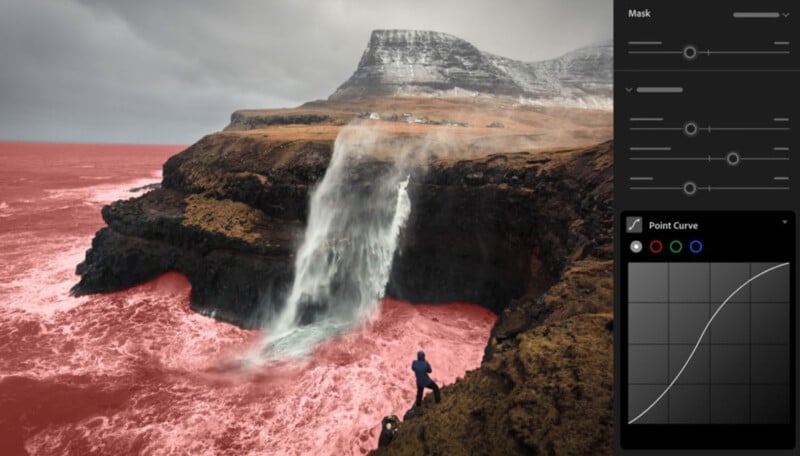 "Use this feature in a landscape photo that needs a specific part edited, for example, to bring out shadow detail, correct color, or add creative effects," explains Adobe. "Or refine a portrait by selectively adding warmth or brightening areas without impacting the overall exposure."
Additional AI Mask categories for Select People (Lightroom for Mac/Win, Lightroom Classic, and ACR)
Concerning refining a portrait using Curves adjustments within masking, Adobe has also improved selections when using Select People, a feature announced at Adobe MAX last October.
"Now it's possible to make precise edits to clothing and facial hair by automatically generating a mask for individuals or groups in any portrait," Adobe says.
This means that users can specifically select clothes, such as a shirt, and change their color with minimal effort and without needing to perform color range selections, which may be tedious depending upon the color of an item of clothing. Users can also quickly change the color or brightness of a subject's beard or mustache.
New Adaptive Presets for Portraits (Lightroom for Mac/Win, Lightroom Classic, ACR, iOS, Android, and Lightroom on Web)
Last year, Adobe began rolling out Adaptive Presets, a new class of premium presets designed to allow photographers to change the look of specific images quickly.
Leveraging its improved AI masking technology, Adobe has added Polished Portrait, Darken Beard, and Enhance Clothing Adaptive Presets.
Polished Portrait allows users to quickly smooth the skin on a portrait, enhance the lighting, and refine facial features. Darken Beard is self-explanatory, while Enhance Clothing increases contrast, saturation, and texture, which Adobe says will be helpful when trying to highlight an outfit's details.
The new Adaptive Presets are now available, joining existing Adaptive Presets like Enhance, Glamour, Whiten Teeth, Texturize Hair, and more.
Black and White for Video (Lightroom for Mac/Win, iOS, Lightroom on Web, and soon on Android)
Last year, Adobe added support for video in Lightroom, allowing users to edit videos as they have long edited their photos. However, the selection of video editing tools was somewhat limited at launch, with Adobe promising to improve the suite of features over time.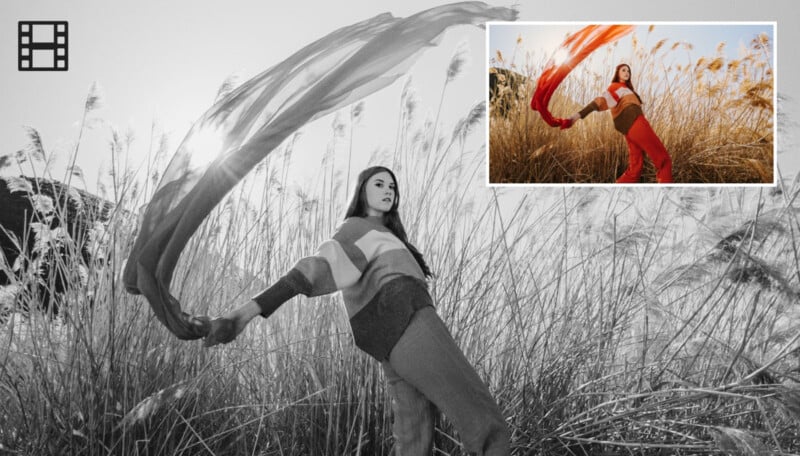 Today, Adobe has added the ability to make videos black and white, "reminiscent of classic film styles," with the tap of a button.
Masking Features and Adaptive Presets on the Web (Lightroom for Mac/Win, Lightroom Classic, ACR, iOS, Android, Lightroom on Web)
Adobe says that it's focused on making Lightroom on the Web as feature-rich as Lightroom on desktop and mobile. To that end, AI masks are now available on the web, starting with Lightroom's selective adjustment tools.
AI Masking for Select Subject, Sky, and Background is now available in Lightroom on the Web. With a single tap, users can detect and create an adaptive mask for these common photo subjects.
Adobe has also released Adaptive Presets for Lightroom on the Web, including the new Adaptive Presets outlined above.
Content Credentials
The Content Credential feature helps ensure proper attribution and creative transparency when editing photos. When this feature is enabled, Content Credentials tracks and gathers all edits, activity, and attribution information associated with an image.
The feature builds upon the Content Authenticity Initiative (CAI) Adobe launched in 2019. Adobe intends to expand Content Credentials in the future to apps such as Adobe Camera Raw, but it is not available yet.
Additional Updates
Alongside these significant updates to the Lightroom ecosystem, Adobe has also announced "Add border and share" to Lightroom on iOS. This feature allows users to export a photo with a frame or border in Lightroom mobile, allowing for creative and unique effects that draw more attention to a user's images. This feature lets users format images to fit popular social media aspect ratios.
For Lightroom for Mac/Win, Lightroom Classic, ACR, iOS, Android, and Lightroom on the Web, Adobe has released 18 premium travel presets. "The presets achieve professional-looking results with the tap of a button" and are designed to enhance people's travel photographs.
On Lightroom for Mac/Win, Adobe has made copying and pasting edit settings easier. Batch editing has been made more visible within the detail and grid views, which should help users work faster and more efficiently.
Based on user feedback, Adobe has also added the option to disable tooltips.
Finally, the team has improved performance when users are cropping, scrolling, panning, and zooming.
Availability
All new releases of Adobe Lightroom products are now available via the Creative Cloud Desktop app and on their respective mobile app stores for iOS and Android versions of Lightroom.
The full breakdown of all new features is available on Adobe's dedicated "What's New" pages:
---
Image credits: Adobe
---
Update 4/18: Added clarity to the availability of Content Credentials.