Blackmagic Pocket Cinema Camera 6K G2 Review: Still Fits in a Niche
The new Blackmagic Pocket Cinema Camera 6K G2 successfully carries on the company's tradition of providing affordable creation tools dedicated to video and cinema creation.
Canon, Sony, Panasonic, and others split their video products into mirrorless-driven capture tools and cinema-specific hardware, each with different types of controls, different interfaces, and different feature sets. In contrast, at the creator-level Blackmagic offers two cinema-specific cameras in its URSA with a familiar cine form factor and the much more compact Blackmagic Pocket Cinema Camera. While the BMPCC (as it's often referred to) looks like a standard mirrorless camera, it's more accurate to think of it as a scaled-down version of the company's cinema cameras.
While there are some things you won't find on the BMPCC G2 that other companies include at this $1,995 price, the camera offers a simple, intuitive experience that matches the other products in its lineup.
Interestingly, the 6K in the Blackmagic Pocket Cinema Camera 6K G2 is only available when shooting in the company's RAW format (more on that later). When shooting ProRes or other formats, the camera is limited to 4K output from the 6K oversampled sensor. 
With mirrorless cameras increasingly embracing high-end video features, is the BMPCC 6K G2 a good value, or is there more benefit in a different system with more "advanced" features? Let's dig into it.
Blackmagic Pocket Cinema Camera 6K G2: Where it Fits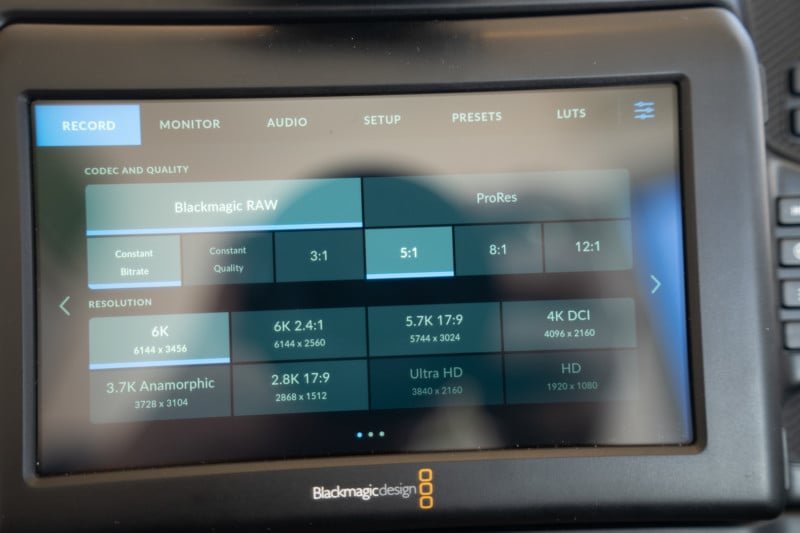 Unlike offerings from other companies, the only difference between Blackmagic's cine-style cameras and the BMPCC is the shape. At its core, it's the same cinema camera as the bigger URSA and any Blackmagic user can seamlessly transition between the two without much adjustment.
Blackmagic also offers studio-specific cameras — models tuned for live production and broadcast — that retain its cinema products' form factor and controls, yet keep that ecosystem consistent. By comparison, going from a Sony mirrorless camera to a Sony cine camera requires a mental shift and an adjustment to the different types of controls and disparate menu systems.
Blackmagic's approach to hardware and its customers is also different from many other manufacturers. Blackmagic's founder often talks about customer loyalty and how it works to offer a product line that's easy for the new video creator to use but also scalable for full-time pros. Blackmagic has achieved loyalty through affordable offerings that provide crucial creative features but intentionally keep the prices down by stripping out some bells and whistles.
The company also creates loyalty through its vast array of workflow hardware and software tools, creating an ecosystem that's way more than the sum of its parts.
The range of products is impressive, and it's possible to create an entire editing studio out of almost nothing but BlackMagic offerings. Companies like Canon can offer customers a range of lenses, camera bodies, or even monitors, but Blackmagic offers integration and workflow.
Some Important Background Information
When the original Blackmagic Pocket Cinema Camera 4K was released, it was the most affordable 4K capture tool on the market. Unlike DSLR and mirrorless cameras of the time, the controls and interface were designed for video-only use and didn't require wading through still-capture menus to get to basic settings.
Its price made it an excellent choice for students, new cinematographers, and users of higher-end gear that needed a b-camera or crash camera. However, it was not known for its robust feature set or durability (and it would very easily overheat), but it did everything you could need at that price and did it with a fantastic menu system to boot.
Calling it a pocket camera was a stretch if read literally. Still, it designated the product's function, indicating that it wasn't a hybrid camera but a smaller version of the company's cinema lineup.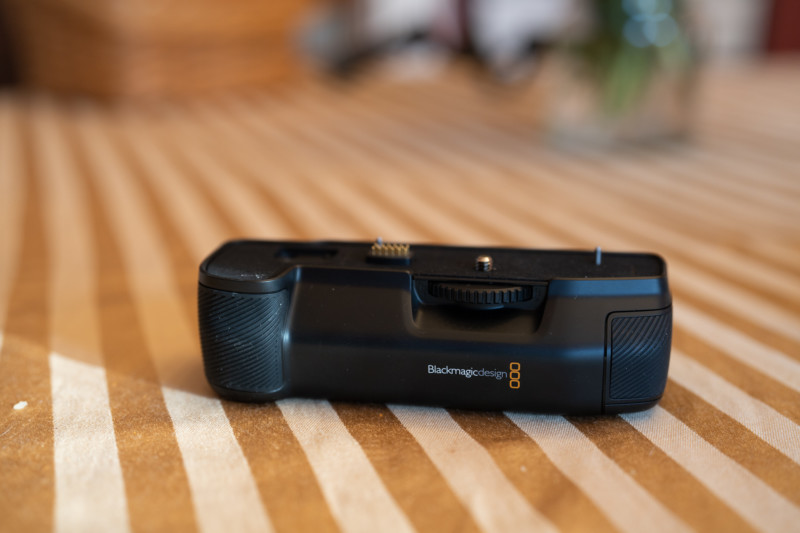 The new Blackmagic Pocket Cinema Camera 6K G2 is a midrange 6K camera that fits the original Blackmagic Pocket Cinema Camera 4K (which is still being sold) and the top-end Blackmagic Pocket Cinema Camera 6K Pro.
At $1,995, the 6K G2 offers most of the features of the $2,535 6K Pro and all of the experience of the pro model.
Blackmagic Pocket Cinema Camera 6K G2: What's Here and What's Not
The BMPCC 6K G2 is a nice upgrade over the original Pocket Cinema Camera 6K, which had a nearly identical body to the company's 4K offering. In contrast, the BMPCC 6K G2 is based on the larger and more robust 6K Pro. This camera is not going to fit into a pocket. Still, I appreciate the lack of a moniker like "mini" to distinguish between this series and the more extensive cine lineup.
It's easier to start with what the 6K G2 does not have relative to the 6K Pro than what it shares in common with that more powerful device. The 6K Pro has built-in neutral density (ND) filters, and the 6K G2 does not.
The ND filters in the 6K Pro are motorized, although not variable. That's not uncommon, and the ND filters in the Sony FX series of cameras function similarly. But the fact they exist is really nice, as the mechanized ND filter makes on-the-fly adjustments easy and having the filter in the body means you can adjust incoming light for any lens mounted to the camera.
What is also missing from the BMPCC 6K G2 and the BMPCC 6K Pro is in-body image stabilization (IBIS). Blackmagic cameras are built around the design sensibilities of traditional cine shooting, where most cameras would be locked down on a tripod, so any kind of stabilization would come from a lens or a gimbal.
But the BMPCC 6K G2 doesn't live in a traditional cinema world; it lives where the norms are run-and-gun style video and handheld video. The lack of IBIS will be a dealbreaker for many potential customers, especially considering how many hybrid cameras have similar video specs and impressive IBIS.
The BMPCC 6K G2 does record internal gyroscope data that the Resolve editing suite can use for post-processing stabilization, but that comes with a caveat.
Being able to perform stabilization in the editing suite instead of in a separate piece of software — as is the case with Sony's cameras, where a dedicated app called Catalyst Browse must be used for stabilization — makes for a faster workflow.
While the in-software stabilization of footage from the BMPCC is excellent, as with many of the top-end software-stabilized options out there, it's impossible to know what the crop will look like until stabilization is complete.
With in-body stabilization and stabilized lenses, a cinematographer can get good stabilization in-camera without worrying about post-processing.
Relying on software alone for stabilization requires composing a scene more comprehensive than the final shot will need to allow the software to render its effect. Using different focal lengths for stabilized versus non-stabilized cropping results in the possibility of mismatched footage and requires a change of lenses or focal lengths on a zoom to achieve, which slows down the creative process.
Blackmagic Pocket Cinema Camera 6K G2: Design and Build Quality
The carbon-fiber and polycarbonate body is equipped with a Super35 HDR Sensor with a resolution of 6,144 by 3,456 with 13 stops of dynamic range. The 6K G2 has dual native ISO capabilities at 400 and 3,200 and can be expanded to 25,600 for extreme low-light performance.
The BMPCC 6K G2 has a Canon EF mount, which makes it compatible with a vast array of lenses between Canon's native glass and glass connected with adapters. 
But this mount also highlights one of the system's limitations compared to more technologically advanced hybrid cameras.
Every mirrorless camera on the market offers continual autofocus in video mode. While some systems are more successful than others at pulling off fast video focus, they all do surprisingly well, especially with human subjects. The BMPCC is still in the manual-focus-pull era of cinematography. A lot of video and cinema content is still created using manual focusing lenses, but having autofocus you rarely use is better than having none.
To put this into perspective, for the exact cost as the BMPCC 6K G2, you can buy the Panasonic S5 II, which is full-frame and offers 6K footage bolstered by a stabilized sensor. 
Fans of the system will point out that the BMPCC does have autofocus, but it's not exactly what it sounds like. The camera can use contrast detection (not phase detection) to achieve focus, but it comes with a massive amount of "hunting" as the lens racks back and forth to achieve a lock. It's more helpful to think of this as an autofocus assist.
Unlike modern autofocus systems, the BMPCC only focuses on the center of the frame, and there are no points to move around to select a subject elsewhere. The result is a system better used in manual focus, with autofocus only to help jump to a starting point.
The Panasonic mentioned above S5 II also has a much less rolling shutter, which I found to be a major issue on the BMPCC 6K G2. Many hybrid cameras with full-frame sensors have less rolling shutter than this camera does.
Even slow pans exhibit a significant jello effect from the rolling shutter, which is a shame considering the sensor size should make it relatively easy to get high-speed readout compared to full-frame cameras. Yet, many full-frame cameras have vastly better rolling shutter speeds simply because they have faster-performing sensors and processors.
Other Features

The camera is equipped with dual XLR inputs, HDMI out, timecode support, CFast 2.0 and SD/UHS-II card readers, and USB-C output and can be used with an optional electronic viewfinder and battery grip.
 It would be great if Blackmagic moved from CFast to CFexpress-A or CFexpress-B cards found on other systems (Blackmagic is one of the few that hasn't moved on to CFexpress) but CFast is still pretty fast, as the name suggests.
The best option though is the ability to plug in a drive over USB-C and record directly to that, making importing and managing files much more accessible.
 This is not a feature unique to Blackmagic, but it is nice to have and allows you to bypass buying multiple expensive media cards in lieu of one reasonably priced multi-purpose external SSD.
The highlight of the physical design is the massive LCD screen which provides enough size to evaluate footage without an external reader. This also showcases the company's excellent menu system, a clean, well-organized, and easy-to-use layout that I wish every company in the photo and video industry would copy.
The UI makes picking through menus on hybrid cameras look positively ancient by comparison.
The LCD screen is also where you can monitor the focus assist features, and exposure assist features like zebras, focus peaking, false color, histogram, and more. (For some reason, the display needs waveform, a powerful tool Resolve editors use and it seems like a glaring omission.)
The screen would also be big enough to eliminate the need for an HDMI monitor, were it not for the fact that it does not pivot to face forwards. This reduces the system's usefulness in single-man camera operations since it's impossible to determine if the focus is accurate, and there's no built-in AF to rely upon.
Blackmagic Pocket Cinema Camera 6K G2: Outstanding Color
The real strength of the Blackmagic system lies not in the hardware but in the output. 
Blackmagic cameras produce excellent-looking video, especially for those working with their footage in Resolve.
 Blackmagic cameras can record in Blackmagic RAW (often referred to as B-RAW, although that's not an official name), which offers full support for the 13-stop dynamic range of the sensor. 
Blackmagic refers to their Blackmagic RAW as a "revolutionary" codec that "offers better quality than common video formats," and that's technically the truth as all RAW formats offer better quality than codecs like H.264 or H.265.
Like Apple encourages customers to stay in their ecosystem through proprietary formats, Blackmagic RAW needs Blackmagic Resolve to process. 
The BMPCC 6K G2 will shoot in several ProRes formats, but Blackmagic eeks the most quality out of its sensor with its RAW format.
As long as you're using Resolve, you might as well shoot a camera with B-RAW, and as long as you're shooting B-RAW, you might as well use Resolve. 
If Resolve weren't as well regarded and powerful as it is, this would be a problem. Still, the Blackmagic cameras can be seen as a gateway product to bring customers into the Blackmagic ecosystem.
 It's also convenient that the BMPCC 6K G2 can shoot its raw to SD cards without needing the CFast card or the external hard drive.
For those using a hard drive, it's possible to plug a device into a workstation and edit that footage directly.
Blackmagic Pocket Cinema Camera 6K G2: The Experience
For my review, I worked with cinematographer Josh Litle, a long-time documentary filmmaker and a good friend, so that he could provide thoughts on the Blackmagic Pocket Cinema Camera 6K G2 from the perspective of a skilled cinematographer.
 The following comments in this section are his, and I have confirmed his technical points while editing for length.
The camera is not, technically, a "pocket" camera anymore (not that it ever really was). The size is a like a hulk-sized DSLR. That said, it's very lightweight and feels solid and primarily stable; although the proper hand grip is bulky and smooth, it feels slightly less secure than I'd like.
 Our copy was provided with a Battery Grip for Pocket Cinema Camera (model BM-CINECAMPOCHDXBT), which makes the camera tall, which I liked quite a bit for handholding.
I liked that I didn't have to hold my arms up as much as I would for everyday shooting, and my elbows could rest comfortably against my torso.
 Attaching the Battery Grip (and the optional EVF) requires removing a port cover screwed to the camera. This is easy enough with a screwdriver, but it would be nice if it were a no-tools job and if there were someplace to store the port covers on the rig itself, as they seem easy to lose.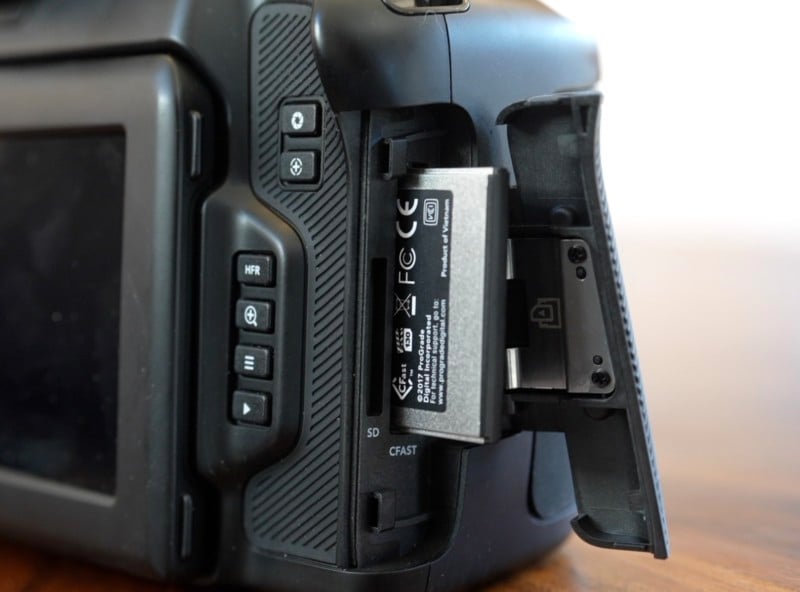 There is no hot or cold shoe built into the camera, which is a bit unfortunate as that's a common rigging point for mics and external monitors (although the rear LCD is wonderfully large and mitigates the need for an external monitor in many cases).
The optional EVF has three additional eyecups of varying sizes and left/right eye configurations, which is excellent.
Author's note: As a left-eye-dominant shooter, I liked the variety of eyecups as well.
The fantastic menu system allows clear, easy access to your desired controls. It is organized more like an Arri Alexa than a video/stills camera menu system. 
The big touchscreen buttons enable a quick and easy setup. The ability to record internal RAW is excellent at this price and there are various levels of compressed RAW settings to reduce file sizes.
Also fantastic is internal ProRes (from 422 HQ down to 422 proxy). ProRes can be shot in log or non-log. As mentioned, it can shoot in B-RAW as well. 
The camera has built-in user-customizable monitor LUTs to preview RAW and log formats in-camera and to an external display.

Although there are cameras with higher dynamic ranges, I was impressed with the camera's ability to hold detail in very high-contrast lighting scenarios, such as filming someone shadowed indoors with a brightly sunlit building out the window. I found the footage captured pleasing to the eye, smooth, and organic looking.
Infamously, the Achilles heel of this camera series is poor battery life. The battery grip allows three batteries to be loaded which is a big help, although still not likely enough to get through a day of shooting. You are therefore faced with purchasing an ample supply of the petite standard batteries and chargers or adding something big and chunky like a battery base or v-mount solution.
We could debate the merits of buying a mirrorless and adding an Atomos for RAW recording (which also requires batteries and rigging). Ultimately, the BMPCC with battery grip (or base battery) might be a more compact, all-in-one solution for affordable RAW capture. 

As mentioned, the issues with the autofocus are known, and therefore manual-focus lenses and traditional focus-pulling are the likely the best routes. 
Between the focus on internal-RAW recording and cine-style menu systems, the design philosophy feels classically cinema compared to its image-stabilized, auto-focusing, hybrid video/still competition.
As a filmmaker, I love that, although I recognize its challenges. The camera lends itself to a more methodical filmmaking style, rather than the fast-paced "one-person-band" shooting one can fire off with mirrorless hybrids. This isn't to say one can't evolve a fast shooting style—just not as fast.
Blackmagic Pocket Cinema Camera 6K G2 Review: Still Fits a Niche
Josh's comments provide an excellent alternative view to my hybrid-shooting-based video capture approach. I recognize and respect the traditional cinematographer approach to designing the BMPCC 6K G2, yet I'm aware of the competition this camera faces and the two of us discussed the cine-focus feature set in an era where autofocus is increasingly important.
The BMPCC 6K G2 is a massive improvement over the previous 6K and a more massive improvement over the 4K, and if you use the URSA cameras, this makes a perfect B-camera or crash cam and is a definite buy for that use.
 If you're looking for a camera with a small form factor, 6K oversampled video, and cutting-edge autofocus, you'll do better with offerings from Sony, Panasonic, Canon, and Fujifilm.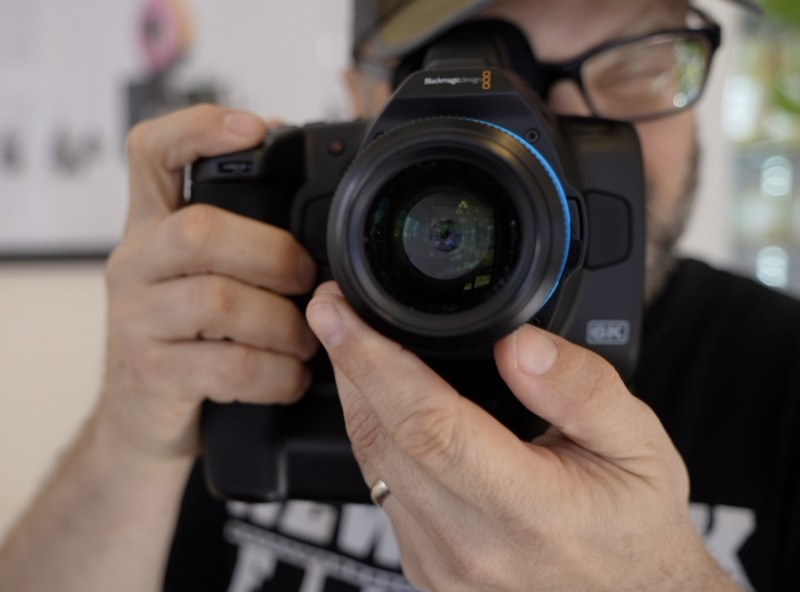 Are There Alternatives?
Much of my conversation with Josh about this camera was centered around the other options in the video space these days and how all the competitors offer something missing from this camera. 
If you're interested in sticking in the Blackmagic Design product family, there are still the original 4K and 6K Pro. 
While it's $500 more expensive than the 6K G2, his built-in neutral density filters make it a better option for most Blackmagic shooters.
Stopping a shoot to change lens-mounted neutral density filters is a massive time suck and risks changing a locked-in focus solution, which makes spending that extra cash a compelling choice for many.
Separately, if you're looking for a camera with autofocus, you'd be better off with something like the Panasonic S5 II or S5 IIX, the Fujifilm X-H2, or X-H2S.
Even Sony's older Alpha 7 IV and Canon's new entry-level R8 have autofocus that works exceptionally well in video.
 Since you can only get the 6K footage from the camera if you want to shoot Blackmagic's RAW, multiple cameras offer 6K oversampling to 4K output on the market, which further levels the playing field. 
The best part of the Blackmagic approach to video cameras is that they don't lock you into a lens or lens system, and with affordable pricing, one can start with a BMPCC 6K G2 and then look at other options as one's needs change.
Should You Buy It?
Maybe. If you are a cinematographer working in a traditional workflow, the BMPCC 6K G2 is a great choice that gets better if you're invested in the Blackmagic ecosystem and own other cameras in the company's line.