Adobe Firefly is a Text-To-Image Generator That Didn't Steal Your Work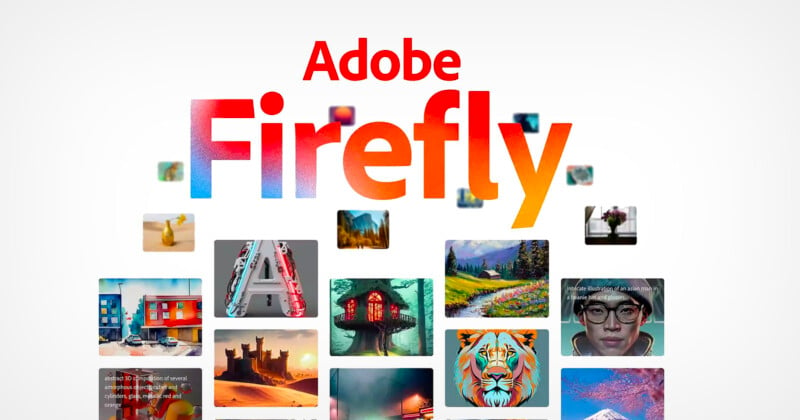 Adobe has announced Firefly, what it calls the first in a new family of generative artificial intelligence (AI) models that are focused on creating images and text effects. It launches in beta today.
The company says that Firefly is made up of multiple models that are "tailored to serve customers with a wide array of skillsets and technical backgrounds, working across a variety of different use cases."
Not Trained on 'Stolen' Photos
Separating itself from other generative AI, Adobe says that its platform wasn't built on the back of stolen images, instead, it specifically boasts that Firefly has been trained exclusively on Adobe Stock images, openly licensed content, and public domain content where the copyright has expired.
The company says that Firefly will focus on images and text effects and is designed to generate content safe for commercial use as well.
"Adobe Stock's hundreds of millions of professional-grade, licensed images are among the highest quality in the market and help ensure Firefly won't generate content based on other people's or brands' IP," Adobe says.
"Future Firefly models will leverage a variety of assets, technology and training data from Adobe and others. As other models are implemented, Adobe will continue to prioritize countering potential harmful bias."
Adobe says Firefly is built on a "customer-centric" approach to generative AI and is made specifically to benefit creators and artists by supplementing their skills. Specifically, Adobe says that the demands on content creators have grown significantly — they have doubled in the last year according to a recent Adobe study. The point of Adobe's generative AI is to "ease this burden" of demand by creating a system of solutions that allow artists to work faster and with fewer roadblocks.
To that end, Adobe plans to allow Firefly users to train the AI with their own specific collateral so that images and effects that are generated fits a personal style or brand language. Adobe is also planning to make Firefly available via APIs on various platforms to enable customers to integrate into custom workflows and automation.
Linked with Content Authenticity
"Adobe founded the Content Authenticity Initiative (CAI) to create a global standard for trusted digital content attribution. With more than 900 members worldwide, the role of CAI has never been more important," Adobe adds, speaking to ways Firefly will not "steal" work that it isn't authorized to use.
"Adobe is pushing for open industry standards using CAI's open-source tools that are free and actively developed through the non-profit Coalition for Content Provenance and Authenticity (C2PA). These goals include a universal 'Do Not Train' Content Credentials tag in the image's Content Credential for creators to request that their content isn't used to train models. The Content Credentials tag will remain associated with the content wherever it is used, published or stored. In addition, AI generated content will be tagged accordingly."
Adobe's First Step into Generative AI
Earlier this year, Adobe was accused of auto-enabling its "Content Analysis" section of its privacy and personal data collection permissions so that it could use any photographer's work to train its AI.
"Adobe may analyze your content using techniques such as machine learning (e.g., for pattern recognition) to develop and improve our products and services," the permission read.
Adobe vehemently denied these claims, saying that it did not use any data stored in any customer's Creative Cloud account to train experimental generative AI. Based on how it says it trained Firefly, this appears to be true.
Those interested in trying Firefly for themselves can sign up for the beta on Adobe's website.
---
Image credits: Adobe