DaVinci Resolve Gets More Than 150 Updates in Major Release
DaVinci Resolve 18.5 features four new artificial intelligence (AI) tools and more than 150 feature upgrades. There are also significant improvements to the Cut page, new speech-to-text functionality that allows editors to transcribe audio within clips or generate subtitles automatically, and it also supports editing via text selection, transcript exporting, and more.
DaVinci Neural Engine AI can analyze and automatically sort audio clips based on classification, while the new Relight FX enables colorists to add virtual lighting to scenes. Visual effects (VFX) artists also benefit from Universal Scene Description (USD) file support and an improved multi-merge tool.
Remote monitoring is simplified by enabling simultaneous streaming to multiple devices. Currently in public beta, the new Presentations feature allows multiple users to review timelines, leave comments, and engage in live chats. Comments appear as markers on Resolve's timeline, enabling prompt feedback implementation.
Color management can now be configured at the timeline level, and the new Relight FX allows users to add virtual light sources with control over directionality, surface softness, and specularity. The Color page viewer now supports marker overlays and annotations for timeline and clip markers.
Users can quickly back up and restore their work with the new per-timeline backup option available in the software's preferences.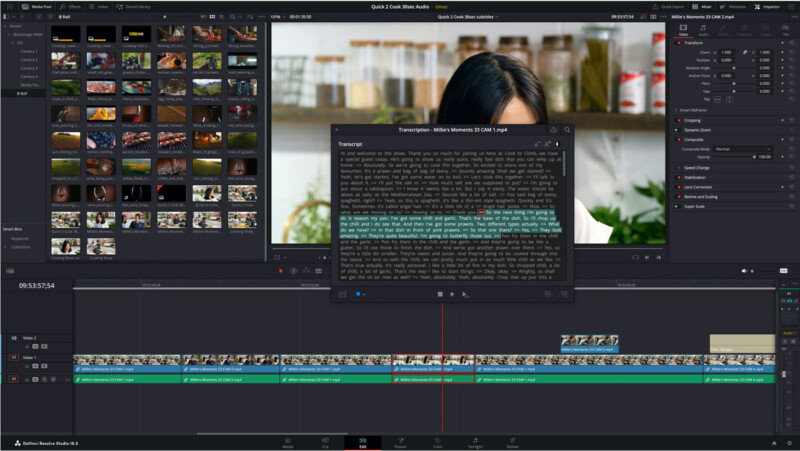 The Cut page features three new menus for faster and more flexible editing, and scene cut detection is directly available on the Cut timeline. The auto subtitle feature on the Cut and Edit pages automatically transcribes speech to text into a subtitle track on the timeline. The "transcribe" feature automatically transcribes video and audio clips for quicker editing.
After signing into their TikTok account in preferences, content creators can directly upload videos to TikTok using either the render preset in the Deliver page or quick export dialog. DaVinci Resolve's vertical aspect ratio output support simplifies content creation for TikTok and other social media platforms.
OpenTimelineIO (OTIO) format supports importing and exporting timelines from other non-linear editing (NLE) applications. Fusion now supports USD files for improved VFX artist collaboration. Fusion's new USD tools let users manipulate, re-light, and render files using Hydra-based renderers like Storm.
Audio engineers can group related audio tracks or mixer channels for shared mix automation or editing operations. The DaVinci Neural Engine can now classify audio clips based on their content. Elastic wave processing enhancements promise natural-sounding, high-quality results when altering the speed of dialogue or singing.
Blackmagic DaVinci Resolve 18.5 is currently in beta and can be downloaded on the company's support site.
The complete list of all 150-plus changes can be found on the Blackmagic Forums.