ProGrade's 165GB CFexpress Card Makes High Performance Cheaper
ProGrade Digital has announced a new Cobalt-class 165GB capacity CFexpress Type-B card to its lineup. The card is ProGrade's highest-performing but, thanks to the reduced capacity, is more affordable at $180.
The company says that it is adding this card to its lineup to provide a less expensive way to gain access to the highest-performing memory it offers.
"The introduction of this new lower capacity, less expensive capacity point in our CFexpress Cobalt line is ideally suited for still shooters that don't prefer to store an entire shoot on one larger card and typically don't focus on shooting video," Wes Brewer, founder, and CEO of ProGrade Digital says.
"These cards are perfect for the photographer that wants the best high-speed burst shooting write performance at a lower capacity and price point than has previously been offered."
The card has the same promised performance of the higher-capacity Cobalt series cards with a maximum read speed of up to 1,700 MB/s and a maximum burst write speed of 1,500 MB/s. The company also states that it promises a minimum sustained write speed of 1,400 MB/s. Note, though, that these cards have not been VPG 400 certified by the CF Association.
ProGrade says the card is fully compliant with the CF Association's 2.0 specification and uses an NVMe host interface with a PCIe Gen3 X2 interconnect. The card features a metal enclosure that ProGrade says results in improved durability and better heat dissipation as well, and thermal throttling protects the card from overheating.
The card can operate in ranges between 14 and 158-degrees Fahrenheit (between -10 and 70-degrees Celcius), is X-ray proof, shock proof, and comes with a three-year warranty.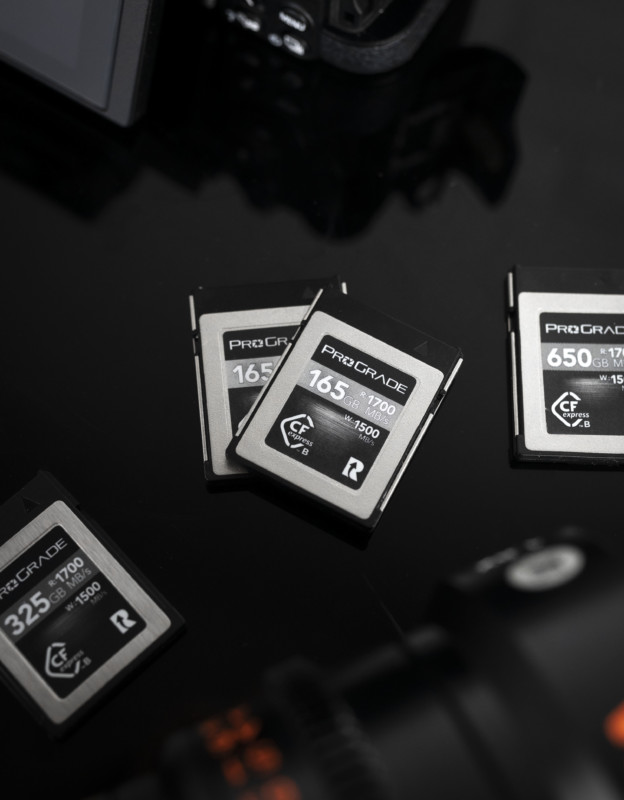 ProGrade Digital's Cobalt series CFexpress Type-B memory cards are one the top-performing currently available on the market according to PetaPixel's internal testing, which covers a broad range of use cases. Specifically for photographers, since this lower capacity isn't ideal for video production, the Cobalt series cards are at the top when it comes to burst photo performance and are able to record a Canon EOS R5's fastest photo RAW plus JPEG burst for nearly 20 seconds uninterrupted.
The ProGrade Cobalt CFexpress Type-B 165GB capacity is available starting today for $180, compared to the $450 for 325GB and $770 for 650GB capacities.
---
Image credits: ProGrade Digital