Nikon Plans to Basically Abandon DSLRs by 2025
Nikon has revised its medium-term management plan and in an eye-opening revelation, all but announces the death of F-mount.
As I commented on previously, Nikon has had a financially good 2021 which has seen its Imaging Division post profits and its revenue significantly increase. The change to the bottom line is good news, although Nikon has reported shipping 700,000 units which is a reduction on last year at 840,000. Given that the market has largely remained stable (in terms of units shipped), this suggests it is losing market share.
This certainly seems to be the case for DSLRs, where the BCN Awards show that Japanese sales dropped to a 34% share.
So where does Nikon see itself in 2025? It wants a turnover of ¥700 billion ($5.5 billion), up from ¥550 billion currently and with an improved operating margin of 10%. Interestingly, Imaging is expected to stabilize at ¥200 billion which suggests it will become less important to the overall business (representing 28% of revenue, down from 33%).
The most interesting development is in how it sees the future mix of revenue between its F-mount (DSLR) and Z-mount (mirrorless) cameras and lenses. Up to this point, Nikon has been tight-lipped on the split between its interchangeable lens cameras (ILCs) and while it doesn't go into the number of units sold, it does show the breakdown in revenue. What is remarkable is that — even at this stage — mirrorless makes up around 51% of revenue and this is expected to rise to 82% by 2025. DSLRs comprise just 30% with an expected reduction to 4%.
Yes, you read that right: Nikon is projecting an 85% drop in DSLR revenue to just 4% of the division's total.
While Nikon has said that parts shortages have been affecting DSLR production and it continues to remove lenses from its website, this would suggest it is actively all but pulling out of the DSLR market over the next few years.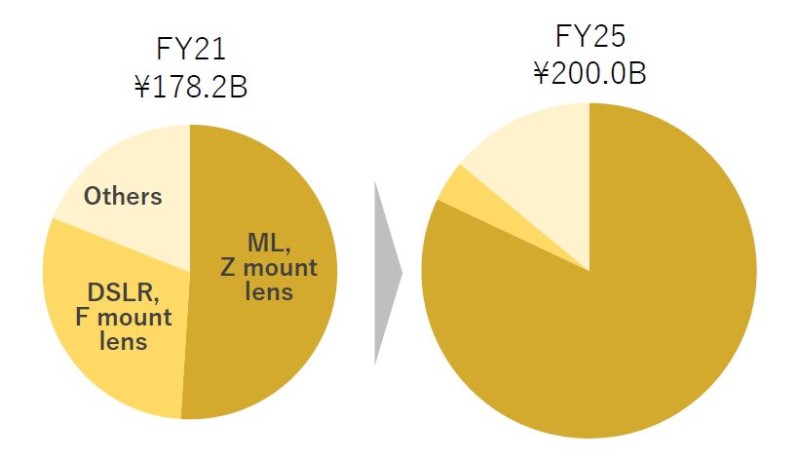 What's surprising about this move is that there is clearly money to be made in selling DSLR cameras and lenses; while shipments are dropping, the speed of change is slowing. The segment is diminishing in importance but is still significant. Whether Canon and Pentax realize this remains to be seen, but there is an opportunity as Nikon withdraws from the market. That said, it would appear to be an active decision that simplifies their manufacturing and sales, allowing them to focus on a single system going forward.
Nikon expects the market to slowly shrink with a greater focus on higher-end cameras, meaning the average selling price is likely to rise through selling more expensive models (and possibly increased prices). It is rightly proud of the Z9 and expects the technological developments to drip-feed down the Z-system range, with a particular focus on video. It is targeting selling more lenses per camera unit and sees expanding the Z-mount lineup to more than 50 lenses by 2025 as part of that strategy.
The third area of revenue ("Others") appears to reflect — at least in part — its drive into imaging content and services. For example, it has partnered with Microsoft's Mixed Reality Capture Studio and sees strength in 3D and 360 image capture that can feed into VR (virtual reality) and MR (mixed reality) environments. This makes great play of the metaverse, a bet that Facebook (or, rather, Meta) is banking on although whether this becomes the next "big thing" is open to debate. However, Nikon sees its imaging system as providing a platform from which creatives can generate a range of image types.
The message is clear: it's the Z-system all the way. That said, it should be noted that Nikon is not a camera company anymore.