Is Nikon Caught in a Perfect Storm?
It's no secret that Nikon has been having a tough time financially — a result of an over-reliance on its Imaging Division — and has been implementing a medium-term strategy to help balance the books and foster long-term growth. Results from its Imaging Division suggest it is struggling and possibly caught in a perfect storm.

What are the problems the company currently faces and how can it respond to them?
Nikon Put Most of Its Eggs In One Basket
Nikon's problems stem back the best part of 20 years when it lavished attention upon its Imaging Division during the boom of the early 2000s. You can't blame it as these formative years saw it (and Canon) dominate the DSLR market, expand into compact cameras, and capture large sales income to boost company profits.
Read also: How the Nikon F Revolutionized Photography
However, Fuji's experience of the collapse of film and its subsequent pivot through the implementation of its VISION 75 strategy should have been a warning shot across the bows: diversify or risk being caught in the rapid collapse of your primary sector. And so the wheel has turned, and Nikon finds itself in the position of being overly reliant on its Imaging Division, although much less so than in the past.
In 2013 it peaked revenue at ¥1,010 billion ($8.78B), 75% of which came from Imaging; by 2021, that had dropped to ¥451 billion ($3.92B) with just 33% from Imaging. However, that is still a significant amount and, more importantly, Imaging can (and has) incurred significant losses to the detriment of the rest of the business.
Nikon's medium-term strategy has been two-fold: firstly, to expand current and new industries and then to make Imaging viable in the long term. The latter has seen a focus upon three areas: cutting costs, tighter product focus, and streamlining sales channels. Nikon has achieved this by ruthlessly cutting its product line to the point where almost the entire focus is upon the Z-System. This has meant factory closures (and a reduction of some 2,000 staff) as it removes surplus manufacturing capacity and the optimization of factory locations, while trying to minimize the cost of its regional support and sales centers.
These moves resulted in a large ¥30 billion ($260M) impairment loss that it can now move on from.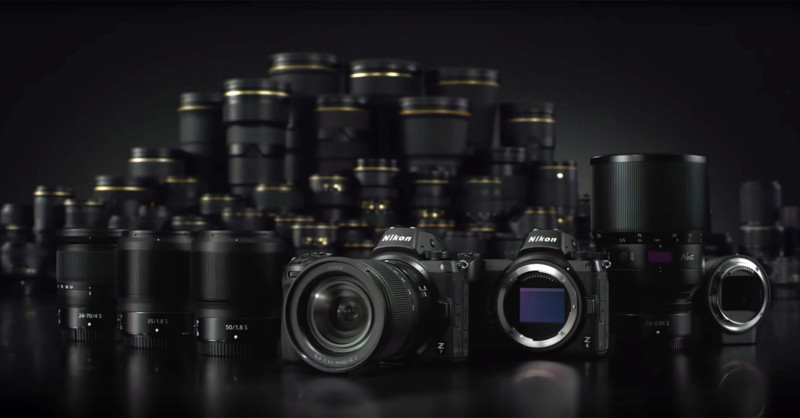 What the Latest Financial Quarterly Results Show
Nikon has released its financial results for the third quarter ending on December 31st, 2021, giving the public a look into how the company is doing.
While third-quarter revenue is actually down on 2021 (¥151 billion to ¥133 billion, or $1.3B-$1.15B), year-on-year results have seen revenue increase from ¥326 billion to ¥406 billion ($2.83B-$3.5B); the highlight is an increase in operating profit of ¥46.9 billion ($407M). Imaging makes up ¥136 billion (33%) of revenue, but an impressive ¥18.8 billion (40%) of profit.
Nikon is forecasting revenue of ¥550 billion ($4.77B) this year, which would be a significant step up from its 2020-2021 low of ¥450 billion ($3.9B) but not quite at parity with 2019-2020 (¥590 billion, or $5.1B). Imaging is forecast to hit ¥180 billion ($1.56B) and, with no impairment losses, contributing to profit.
So, while Nasdaq is generally pessimistic about the third-quarter results, the overall picture appears healthy. There are two key questions that follow from this. Firstly, is the medium-term strategy having a significant impact, and, secondly, is Imaging making solid in-roads on market share for its Z-System while maintaining DSLR sales?
I think we can say that Nikon has been unequivocally successful in making Imaging profitable now that the significant impairment loss of last year is past. In terms of the medium-term plan, its cost-cutting has reaped benefits, as evidenced by the profit return which is a significant boost to the whole business. It also states that the average sale price increased, a result of jettisoning the production of most of their compact camera range and producing higher value interchangeable lens cameras (particularly mirrorless).
That said, parts shortages have constrained its ability to manufacture, and so sell, cameras. We can see the impact of this on camera compact unit shipments which were, year-on-year, down from 200,000 to 170,000 (by Q3) and predicted to shift a total of 200,000 by the end of the financial year (compared to 260,000 last year). Nikon didn't even register in the top three compact camera sellers for the BCN Awards; with 3.01 million units shipped last year, Nikon's figures agree and it's likely that the number manufactured will reduce again next year.
Of more interest is how well Nikon is doing on its interchangeable lens cameras (ILCs) and particularly the split between DSLR and mirrorless models. This is a little more difficult to disaggregate, as Nikon only reports on them together. However, what we can say is that by Q3 it was down on shipments (550,000) compared to last year (660,000). Nikon estimates a market of 5.2 million units (close to CIPAs 2021 shipment figures of 5.35 million) and was predicting selling 700,000 units (revised down from 750,000), down from 840,000 last year.
Has Nikon Shot Itself in Both Feet?
What we can say about the current camera market — unusually — is that it is expanding. The incessant, year-on-year, contraction of the sector was significantly impacted by COVID and is now in a period of rebound, a result of returning to pre-COVID sales levels, growing demand, limited supply, and an excess of cash in the global economy. However, this growth is only in the mirrorless sector, which is not only increasing the number of units shipped (making up 37%) but accounts for 67% of the value.
Crucially then, how is Nikon performing in the DSLR and mirrorless segments? Overall, its sales have been dropping year on year, which is worrying in an expanding market. It blames this on parts shortages, but this is at a time when Canon is able to successfully expand its production, and while its longtime-rival accounts for 52% of the ILC market, Nikon has grabbed only 13%. It may try to squeeze as many positives out of the Z9 as it can, but as I've noted before, this will add little to its market share on a monthly production run of 3,500 units.
In terms of the split between DSLR and mirrorless, we can only glean this by comparison to the BCN Awards (although note that Nikon's financial year doesn't match BCN's calendar year); Nikon potentially dropped DSLR market share (at 33.9%) to some 750,000 units. That doesn't match with its estimate of shipping 700,000 units this year, which suggests it's doing worse than we might think. It is possible that it's actually dropping market share in both DSLR and mirrorless sectors at the same time Canon appears to be gaining share.
Surviving or Thriving: The Medium-Term Picture
So what does the medium-term future hold for Nikon and its Imaging Division? The most important thing to highlight is the success of its medium-term strategy in reducing costs, implementing a viable mirrorless system, and returning the division to profit. That will undoubtedly ensure its survival. However, has this come at a price?
Has Nikon managed to shoot itself in both feet by pulling all resources away from the DSLR market and focusing exclusively upon a mirrorless "golden child" that is simply be out-competed by Sony and Canon? Canon strangely seems to be increasing DSLR share, principally by pulling sales from Nikon. Indeed, is this the reason behind Pentax's focus upon the DSLR and marketing around "workshop-like" production? Could we even see Canon invest resources into servicing this nascent market by releasing a new model?
To regain market share, Nikon needs to make more models and more cameras that appeal to a wide range of photographers. Money is the ultimate bottom-line, but will Nikon become another Fuji, making great cameras that people love but failing to regain its old position of camera market behemoth?