Canon Warns EOS R3 Orders Could Take More Than Six Months to Fulfill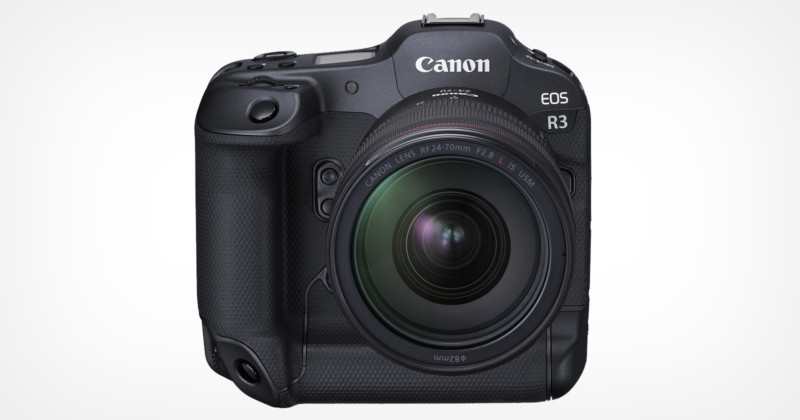 All camera manufacturers are struggling to produce enough supply to meet demand, and Canon is no exception. The company has published an apology stating that it could take more than six months before it is able to deliver on new EOS R3 orders.
Canon has published the notice to its website as an apology. As has been the case with most of these warnings of low stock or lack of supply, the note points to higher demand than anticipated for the EOS R3 as the reason for the delay.
Currently, we have received orders for each of the following products in excess of expectations, and due to the impact of global parts supply, delivery delays are occurring. We apologize for the inconvenience caused to our customers and business partners.
It's not just the R3 that has been affected, however. Canon also stipulates that orders for the RF 14-35mm f/4 L IS USM are also going to be delayed.
The products are scheduled to be shipped one by one, but it is expected that it will take a lot of time for the new camera body EOS R3 and RF lens RF14-35mm F4 L IS USM.

We sincerely apologize for the long wait for our long-awaited customers. We will continue to take measures to ensure a stable supply of products so that we can deliver our products as soon as possible. Thank you kindly look forward for your understanding.
What is unusual is that Canon is providing somewhat of a timeline: up to or beyond six months for cameras ordered at this point.
It will be shipped in sequence, but it may take more than half a year to deliver when you place a new order.
It isn't clear how long current orders are expected to take to deliver, but it wouldn't be out of the question to assume some kind of delay.
In most cases of these kinds of notices, a solid timeline is not provided. For example, when Nikon delayed the Z fc, it just said that it would work quickly to deliver "as soon as possible," but didn't provide a concrete timeline. That was also the case with expectations of Z7 II orders that were delayed for months after the announcement last year. So while it never feels great to hear something is going to be in limited availability, this kid of transparency is respectable.
Canon reverts to the more obscure timeline further in the notice and says it may "take longer than usual to deliver" on a set of lenses: the RF16mm f/2.8 STM, RF100-400mm f/5.6-8 IS USM, and RF400mm f/2.8 L IS USM along with an eye cup and lens hood.
The EOS R3 was likely expected to be delayed or in short supply for anyone who has been following recent camera availability. Due to the global chip shortage, every technology manufacturer from Apple to Sony to Canon has been experiencing some kind of manufacturing issue. While raw numbers point to a market that is still down compared to last year, the market is trying to recover. This coincides with reports from camera store owners who note that they can't keep stock of anything: demand has not been this high in years.