The Canon EOS R1: What We Need to See From The Upcoming Flagship
When the Canon EOS R3 hit the market two years ago, we knew there would be a flagship R1 camera coming at some point. While we wait, we figured why not make a wishlist of the features and technologies we would like to see when the R1 finally arrives.
There is a dynamic with the EOS R3 that complicates our wishlist, however. See, the R3 was never intended to be a flagship camera for Canon but rather a dedicated journalism and sports/action camera. However, it comes with a flagship price and costs more than the Nikon Z9 and almost as much as the Sony Alpha 1. While the Alpha 1 is very expensive, it packs a lot of technology and a high-speed 50-megapixel stacked sensor to earn that price. The Nikon Z9 is a bargain considering how good its 45-megapixel stacked sensor and rugged body design are.
The Canon R3 just doesn't provide the same versatility in this price range and although it has a very well-designed body, its sensor is a relatively low 24 megapixels. In order for the R1 to really make a good showing it has to be comparable in price and function to what Sony and Nikon have brought to the table. This would, hopefully, push the price of the R3 down as well. If it can't beat Nikon or Sony in resolution, it has to blow them out of the water with some sort of new functionality that justifies an even higher price.
Canon EOS R1 Wish #1: A Sensor For the Ages
The first thing we know is that whatever else the R1 brings to the table, it must have a new stacked high-speed sensor. We want to see at least 50 to 60 megapixels and, perhaps more importantly, an insanely fast read-out speed to accommodate good video capabilities and fast burst shooting.
Scan speed is so important nowadays because it affects autofocus performance, electronic shutter usage, and flash photography. Canon has typically struggled to make competing camera sensors — and PetaPixel sources say this has been the sticking point for the R1's development so far — so let's hope it breaks out with a revolutionary example this time.
Canon EOS R1 Wish #2: What a Great Body
One thing that we hope doesn't change is the excellent ergonomics of the R3 body and we hope it remains largely unchanged in the R1. We love the size of it, which feels far more substantial than the Sony Alpha 1, but is still better than the unnecessarily voluminous Z9. We expect battery life to be just as excellent as the R3 and the controls probably won't change, which will please most users. Canon also has a fairly intuitive menu system and excellent controls overall.
The only thing we'd really like to see change is adding dual CFexpress Type B slots and the addition of a full size HDMI port. Canon might need to do some engineering to make it all fit but it has to happen. We personally love the 5.76 million dot EVF in the R3 and would be fine seeing that return unchanged. It would be nice, though, to update the back panel to a design out of the Nikon playbook with a fully articulating and tilting screen.
If Canon engineers can come up with a fast-scanning stacked chip worthy of a flagship, perhaps the mechanical shutter could go away completely — this approach works great in the Nikon Z8 and Z9 bodies. If not, Canon could make a really advanced mechanical shutter mechanism very much like the Sony Alpha 1 which could push the boundaries of maximum flash sync speeds even higher.
Canon EOS R1 Wish #3: Computation to Compete
The last thing we would love to see is a push for more computational photography techniques out of a flagship camera. This code still hasn't been cracked in a full-frame body and the first to do it would have a real edge.
Canon still does not have a high megapixel multi-shot stacking feature, so that needs to change first, but also give us slow shutter speed emulation without having to use ND filters and enhanced low-light performance and astro-photography capabilities by allowing for multiple images to be stacked seamlessly.
Canon EOS R1 Wish #4: Improve the Video Shooting Experience
Firstly the Canon EOS R1 should support a robust 8K recording feature set. A new fast scanning sensor should be fast enough to record 14-bit video and unlocking a proper C-Log 2 profile is a must, however, it would also be useful to record C-Log 2 when shooting compressed 10-bit video as well.
The video interface needs an overhaul, with the most egregious omission still the lack of histogram or level indicator while actively recording footage. It would also be nice to see the eye-control autofocus system which debuted on the R3 also work in video mode. Sure it's nice to be able to focus where you look when shooting stills, but why not for video as well? Also, while we are on the topic, if we could get eye-control autofocus to work with everybody's eyes, that would be an appreciated upgrade too and great not just for video.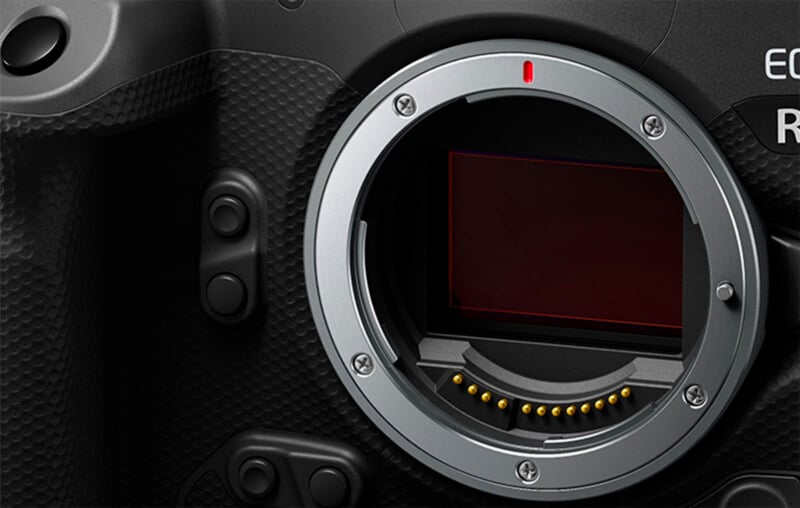 Lastly in order to control any sort of overheating of the camera, perhaps an optional fan attachment would be an ideal way to please videographers who want to shoot long clips of high-res video. At the same time, keeping it optional won't add any extra bulk or cost to the camera body if a photographer didn't want it.
Canon EOS R1: Let's See if Christmas Comes Early
Who knows when Canon's resolution flagship will finally come out and if it will even be called an R1. What we do know is that Canon needs to put out a capable flagship camera and hopefully some of our hopes for this new model will come to fruition.
Almost everything that we want to see improved will come down solely to the capabilities of the new stacked sensor that we want to see in the R1. If Canon does nothing else, it has to at least give us a speedy sensor that can compete with Sony and Nikon.