Canon Says it Can't Meet Demand for the R3 or Any of its New Lenses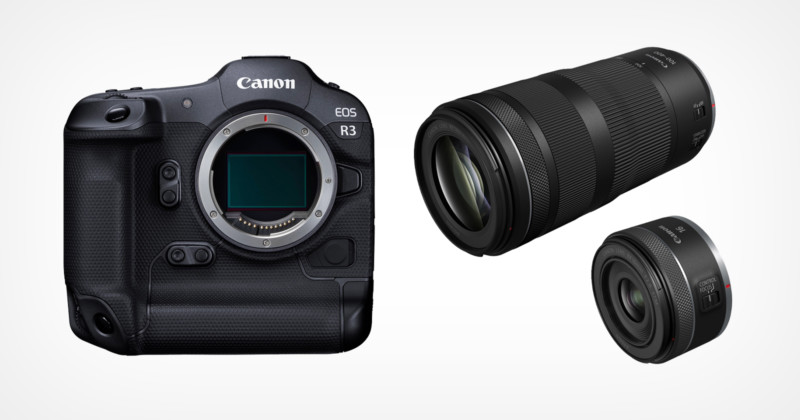 Canon has expanded its list of products that are in short supply to encompass both lenses it revealed this week and the newly-announced EOS R3.
In a notice spotted by by Canon Rumors, Canon Japan has published an apology that now includes seventeen total products that "received more orders than expected" and will be in short supply globally. Below is the notice that was published on Canon's Japanese website, translated into English:
We have received more orders than expected for each of the following products, and it will take some time before delivery.

We thank you for your many orders and apologize for any inconvenience caused to our customers. Thank you kindly look forward for your understanding.
The notice was originally published in July and included several new lenses but was updated this week to include the EOS R3, the RF100-400mm f/5.6-8, and the RF16mm f/2.8 STM — the major products announced during the EOS R3 reveal. The list also includes the new accessories that were developed specifically for Canon's redesigned hot shoe found on the R3.
Below is the full list of products that are listed as taking some time before delivery:
Ring type tripod mount E (B)
Eye cup ER-h
Eye cup ER-hE
Strap ER-L1
Lens hood EW-65C
Multi-accessory shoe adapter AD-E1
Speedlight transmitter ST-E10
Multi-accessory shoe directional stereo microphone DM-E1D
Multi-accessory shoe Smartphone link adapter AD-P1
The new products like Canon's super telephoto or wide-angle 16mm are currently listed as ready to ship on October 14. However, given this announcement from Canon Japan, it is very unlikely that customers can expect the product to ship out to everyone on that date.
The silicon shortage brought on by the coronavirus pandemic has affected the production of electronics across the board, ranging from automobiles to computers. While Sony, Nikon, and Canon have all released some kind of apology or notice about the scarcity of new product availability, none have specifically attributed it to the low supply of parts, however. Instead, most of the public notices published by camera manufacturers cite greater demand than was anticipated.
It is unclear how long it will be before manufacturers are able to ramp production back to pre-pandemic levels.