Sigma Unveils Affordable 100-400mm f/5-6.3 Lens for Mirrorless Cameras
After some very accurate leaks last week, Sigma has officially revealed four products today: an affordable 100-400mm f/5-6.3 telephoto zoom lens for full-frame mirrorless cameras, two teleconverters for L-Mount mirrorless lenses, and a USB dock for Sigma's L-Mount and EF-M Mount mirrorless lenses.
Sigma 100-400mm f/5-6.3 DG DN OS | Contemporary
Sigma dropped a lot on us today, but the main release is obviously the 100-400mm f/5-6.3 DG DN OS Contemporary lens"designed exclusively for full-frame mirrorless cameras." For now that means Sony E-mount and Leica/Panasonic/Sigma L-mount lenses, but these designs may eventually be modified for the RF mount an Z mount as well, given enough time and R&D.
The new lens—Sigma's 5th "DG DN" mirrorless lens—is being hailed as a "Handy Tele Master." Optically, it's made up of 22 lens elements in 16 groups, with one Low Dispersion (FLD) and four Special Low Dispersion (SLD) elements to tackle aberration. In terms of AF, the lens incorporates a stepping motor that has been "optimized to the latest algorithm," and Sigma goes out of its way to point out the "Dual Action Zoom" feature that lets you zoom using the focus ring or by simply pulling and pushing on the lens hood trombone-style:
Finally, the OS in the lens name means the lens is also optically stabilized, promising up to 4 stops of pitch and yaw correction. All of this is packed into a (relatively) compact package that measures 3.4-inches (86mm) in diameter, 7.8-inches long (197mm), and weighs in at 40oz (1.14kg).
Here's a closer look at the new lens: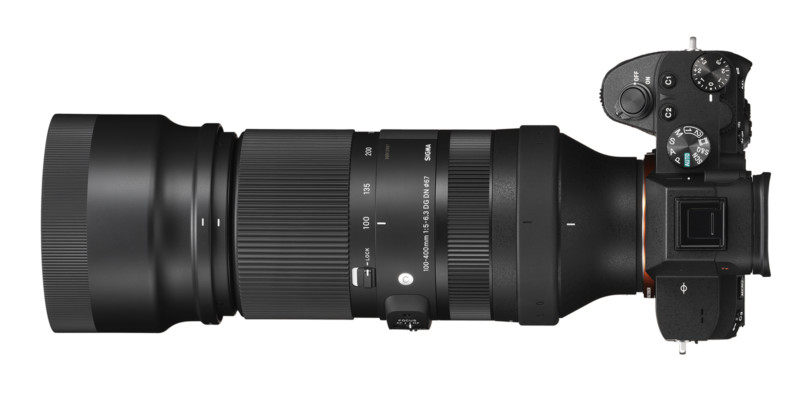 While this isn't one of Sigma's highly acclaimed "ART" series lenses, the company maintains that the 100-400 DG DN deliver "uncompromising image quality" across the focus range, from center to the edges of the frame. If it can deliver the goods, it will compete with Sony's $2,500 100-400mm f/4.5-5.6 G Master… but at a fraction of the price.
The Sigma 100-400mm f/5-6.3 DG DN OS Contemporary lens will cost just $950, and is already available for pre-order. Shipping begins July 10th.
Sigma 1.4x and 2x Teleconverters for Mirrorless
In addition to the new mirrorless lens, Sigma also unveiled two new teleconverters designed specifically for its L-mount DG DN lenses.
The Sigma Teleconverter TC-1411 and TC-2011 are "designed to complement Sigma's renowned optical formulas … preserv[ing] the image quality of the lens while extending the focal length for added zoom capability." They're built to be dust- and splash-proof to the same level as Sigma's lineup of Sports lenses, and
The 1.4x Sigma TC-1411 and 2x Sigma TC-2011 teleconverters will run you $400 and $430, respectively. Both are already available for pre-order, and they are scheduled to start shipping on July 10th.
Sigma USB Dock UD-11
Last and, let's be honest, least: Sigma also unveiled a new USB dock that will allow you to update your lens firmware and customize your lens settings from the comfort of your own home.
The Sigma USB Dock UD-11 is available for L-Mount and EF-M Mount mirrorless lenses and, unlike some previous USB docks, the UD-11 allows you to adjust the sensitivity of your lens manual focus speed. Both versions of the dock also use USB-C connections instead of USB-A.
The Sigma USB Dock UD-11 will cost you $60. Pre-orders are live right now, and shipping will begin (you guessed it) on July 10th.