Sigma Brings Its 100-400mm f/5-6.3 Contemporary to Fujifilm X-Mount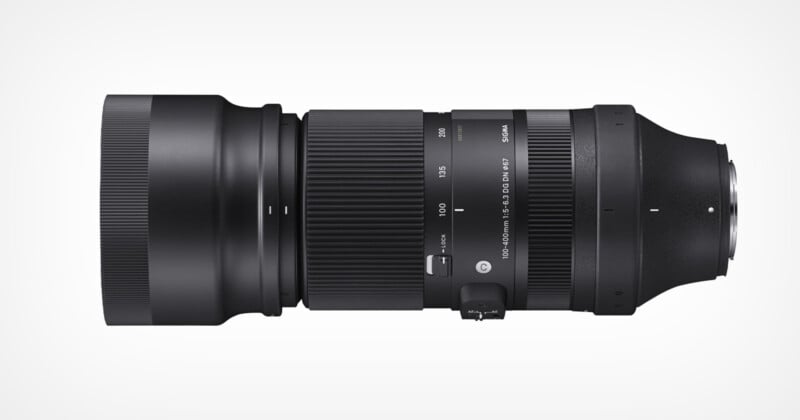 Sigma has announced that it is bringing the 100-400mm f/5-6.3 DG DN OS and 23mm f/1.4 DC DN Contemporary lenses to Fujifilm X-mount, bringing the total number of Sigma optics for the format to six.
The 100-400mm f/5.6-6.3 is the second zoom lens Sigma has brought to Fujifilm X-mount, joining the 18-50mm f/2.8 DC DN. On the other side, the 23mm f/1.4 DC DN joins the 16mm f/1.4, 30mm f/1.4, and 56mm f/1.4 fast primes that are available for the mount.
Sigma 100-400mm f/5-6.3 DG DN OS Contemporary
Sigma's 100-400mm was originally designed for full-frame cameras and was released in 2020 for Sony E and Leica L mounts. Sigma says it has done more than simply adapt it to X-mount and has also added a control algorithm including autofocus drive and communication speed optimization that is specific to Fujifilm's APS-C cameras. As a result, the lens not only has what the company promises as high-speed autofocus, but it also supports continuous autofocus (AF-C) and in-camera aberration correction.
The switches on the side of the lens have also been optimized for X-mount. Sigma says the "AF Function Setting Switch" allows photographers to select a function while the AF Function Button is pressed on the lens side.
While the lens is not new, to recap it features a construction of 16 groups and 22 elements, which includes one FLD and four SLD elements that Sigma says are used for the effective correction of aberrations and distortions. It features an aperture range of f/5 through f/29 (depending on zoom) via a nine-bladed aperture diaphragm. It weighs 40 ounces (1,153 grams) and has a minimum focusing distance of 112 centimeters (about 44 inches) at the wide end and 160 centimeters (about 63 inches) at the telephoto end.
Sigma says that while the lens was originally designed with full-frame sensors in mind, it can deliver extremely high performance on APS-C X-mount bodies too, likely because the best parts of the lens — the center — are all that are required on the smaller sensor.
The Sigma 100-400mm f/5-6.3 DG DN OS Contemporary will be available starting on September 21 for $949. While it is slower, that is a significant discount from Fujifilm's first-party 100-400mm f/14.5-5.6 lens that costs $1,899.
Sigma 23mm f/1.4 DC DN Finally Available for X-Mount
Sigma is also making good on its promise to bring the 23mm f/1.4 DC DN to Fujifilm X-mount, an APS-C lens that is already available for Sony E and Leica L mounts but was announced for Fujifilm X as well back in April.
The wide-angle lens will also be available to purchase on September 21 and will retail for $549, the same price as Sigma currently asks for the other two mount versions.