Apple Unveils the iPhone XS and XS MAX: Smart HDR and Bokeh Slider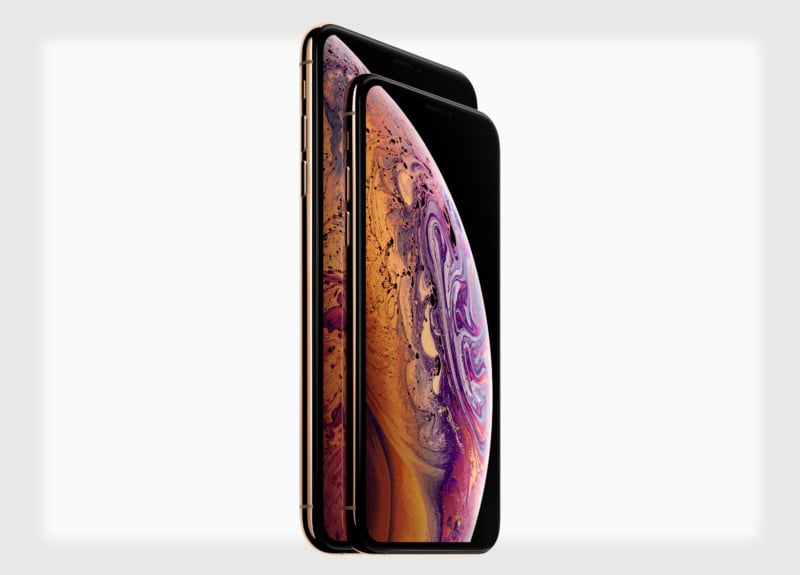 Apple has just announced the iPhone XS and XS MAX, a new generation of iPhones that brings iPhone photographer to the next level.

The iPhone XS and XS MAX are both made of surgical-grade stainless steel. On the front and back are the most durable glass that has ever been introduced in a smartphone.
The phones come in three finishes (Gild, Silver, and Space Gray) and two sizes: the XS features an edge-to-edge 5.8-inch 2.7-million-pixel screen and the XS MAX features a 6.5-inch 3.3-million-pixel screen.
Here's how the XS and XS MAX compare to the iPhone 8 Plus' physical size and 5.5-inch screen:
Both screens are OLED Super Retina displays that pack 458 pixels into every inch, the highest pixel density so far on an iOS device. The displays have a 60% greater dynamic range than the iPhone X, great for viewing the details of photos.
Other features and specs include IP68 waterproofing (submersion down to 2 meters for 30 minutes), 120Hz touch sensing, 3D touch, Tap to Wake, True Tone display, iOS systemwide color management, up to 512GB storage (enough for 200,000 photos), wide color support, and the biggest battery ever in an iPhone (an extra 1.5 hours of juice for the XS MAX and 30m for the XS ).
Camera Features
The iPhone continues to be the world's most popular camera, so Apple focuses a great deal of attention to ensuring that its smartphone camera capabilities stay relevant.
The iPhone XS and XS MAX feature a newly designed dual-camera system with new sensors on the backside. There's a 12MP wide-angle camera with optical image stabilization (OIS) and a 6-element f/1.8 lens. The telephoto camera is a 12MP one with OIS and a 2x optical zoom with its 6-element f/2.4 lens.
Video-wise, the rear cameras can capture 4K 60fps footage.
In between the two cameras is an improved True Tone flash with an advanced flicker-detect system.
On the front of the camera is a multi-sensor system featuring a dot projector, infrared camera, and a main 7-megapixel RGB camera with a faster sensor and an f/2.2 aperture lens.
Smart HDR
One of the major focuses with this new generation is computational photography, or combining AI technologies to improve and enhance photo quality and capabilities.
The new A12 bionic processor in the iPhone does image signal processing every time you snap a photo, and the iPhone combines those functions of the processor with the neural engine for a whopping 1 trillion operations per photo.
This opens to door to new features such as the Smart HDR found in the phones. Every time you snap a photo with Smart HDR, the phone captures a primary 4-photo buffer, secondary interframes at different exposures, and a long exposure for shadow details. The phone then analyzes all the photos, selects the best portions of each, and then combines them to create an optimal version of what you're trying to capture.
Depth-of-Field Slider
Another big feature in the new iPhone XS and XS MAX is improved bokeh. The phone captures "even more sophisticated bokeh" for professional-level results, Apple says.
Apple says it studied some of the highest-end cameras and fastest lenses to characterize the quality of bokeh. It then combined that knowledge with computational photography to create the new Depth Slider feature.
After capturing a Portrait Mode photo, you can open up the Edit feature to find the new Depth Slider.
It allows you to adjust the photo's depth of field after it's captured from f/1.4 to f/16. You'll be able to see the depth of field and bokeh change before your eyes as you use the slider.
Here's a short video that shows it in action:
Sample Photos
Here's a selection of official sample photos captured using the iPhone XS and iPhone XS MAX:
Intro Video
Here's a 4-minute video in which Apple introduces these two new iPhones (as well as the iPhone XR):
Pricing and Availability
The iPhone XS and XS MAX will be available in 64GB, 256GB, 512GB capacities with starting prices of $999 and $1,099, respectively. They'll be available for pre-order on September 14th and will hit store shelves on September 21st.